Reduce daily overwhelm with a Daily Meeze
If you find yourself constantly overwhelmed — or your daily & weekly task lists get longer rather than shorter as you move through your week — it might be time to integrate this keystone habit into your day called The Daily Meeze.
The "Daily Meeze" comes from the French culinary term "mise en place," which means putting into place. I cannot stress just how freeing it is to set aside time each day to put everything where it belongs.
You know the feeling you get when you walk into a beautifully designed and well organized space? That's what we're working toward.
When you set aside time to organize, understand, and outline your day — everything flows better.
You don't need to spend hours building a plan. Especially once you get in the habit, you can easily take 15 mins at the end of each day to put things in place. This way, you wake up to a nice, tidy list of tasks and activities.
You can organize your day in whatever way works best for you. Some people prefer a digital platform. Some people want a planner or simple paper system. The key is to do what works for you. Build a system you like, and stick with it.
Also, don't overcomplicate it. This process can't take too long or be too rigorous — this needs to be something you can do in 15 minutes without too much strain. I do this in *Notion with a Daily Meeze page that I visit at the end of each work day. Here's the workflow.
​
I do all this in Notion with filtered databases, but it doesn't matter what tools you use, the principles are the same!
Close the Gaps
Capture open loops: collect + process
Clear out that email inbox! Send any replies that will take less than 2 minutes, and schedule the rest.
Clear all notifications.
Close all browser tabs.
Add any new tasks to your calendar.
Review pinned emails.
Review calendar for time sensitive events.
Process any inspirations, ideas and media clippings! I save these in my resource library. I have swipe files, notes + ideas, quotes, etc. Later you can add metadata & tags, assign to projects, connect to other ideas. You can do deep work later — the key here is to make sure everything finds the proper home.
Reflect + Review
Review what got completed, and what is still outstanding. Be sure to schedule any outstanding or incomplete tasks. If you're truly blocked, make a quick 2 min plan for how to solve the issue.
Log my day: This is where I record my feelings, energy level, and effectiveness. I also track my physical activity, gratitude, wins, challenges. I reflect generally on what went well and what challenged me. I process by asking questions like, "What went well about the day? What didn't? What can I improve?"
BONUS: Review any testimonials or kind words people said to you this week! It's such a great way to finish the day with good vibes. (We keep a database of love notes like this and the whole team adds to it!)
Plan for success
Reschedule any incomplete actions from the day. Decide what you want to get done tomorrow, and what can wait. It's ok to defer and re-prioritize if you had unrealistic expectations.
Review your backlog of tasks that haven't been assigned a date, or might be overdue, and schedule any in your calendar if it makes sense to do so (I also do this weekly).
Having a calendar view handy can help you visualize your workload over the week and month, to help you reduce the likelihood of over-scheduling yourself.
That's it!
Then, when I am ready to start my day, I take 5 minutes to:
Add an intention to today's journal.
Log how I'm feeling.
Review my daily practices.
Review today's theme (includes different focus projects, studies, and activities).
Review today's focus actions (appointments, tasks, etc.)
It might feel like you couldn't possibly find the time to do this, but a 15 minute Daily Meeze can drastically reduce your wasted time and energy throughout your day and week, and help you get more honest about how you use your time.
Once you get started, you're going to love waking up to a well-designed and carefully planned day. And the more you practice, the better you'll become!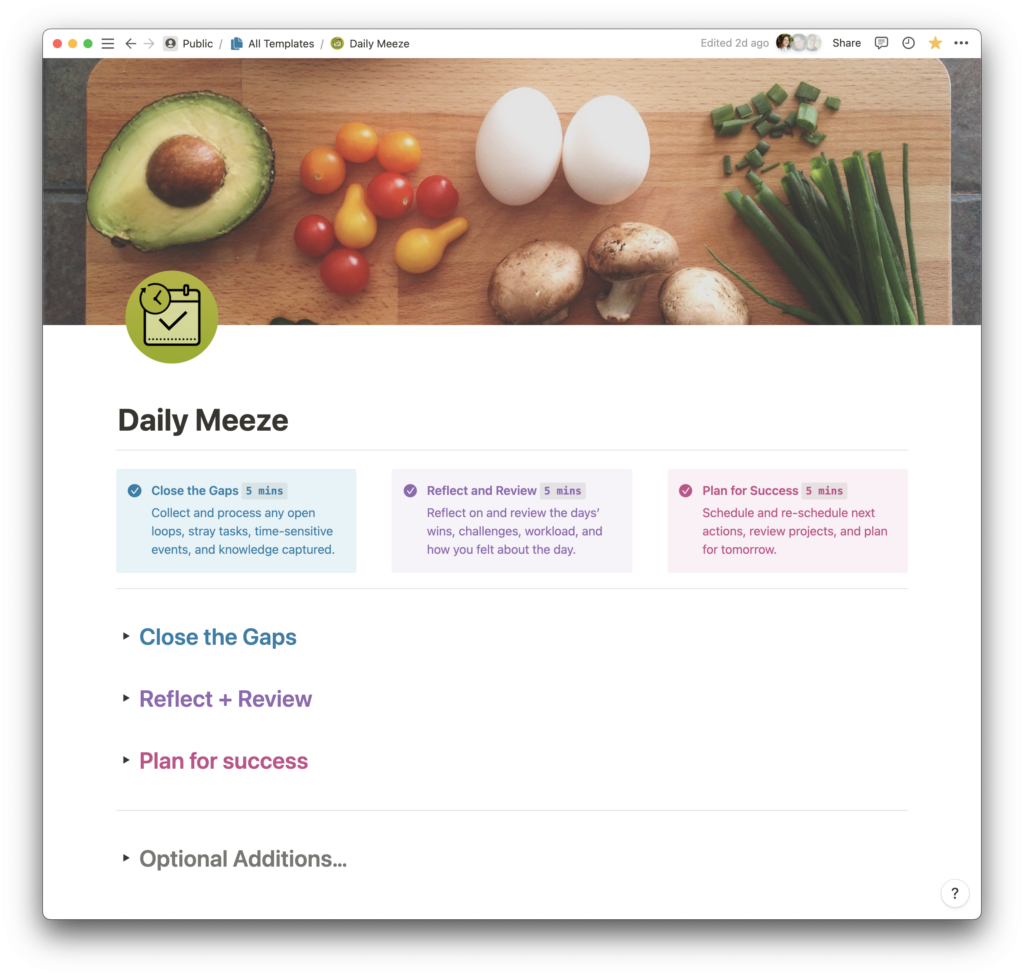 ---
[*For full disclosure, I'm a Notion Partner, so when you sign up with my link, you also help support me and my content!]