Are you feeling overwhelmed? Does your calendar control you and not the other way around? Do you wish there was a visual diary where you could see your progress? That was me before I created a *Notion weekly agenda template. This is now where I spend time, getting a bird's eye view of what is happening, how I am feeling, where I can make improvements, and areas where I have wins. While this is a simplified version, you will see how a weekly planner template starts, as well as tips for tracking  personalized goals.
Where do you want to focus?
Before diving into creating a template, take a few minutes to write down what is most important to you. For many, including myself, there is a desire to be more mindful about how and with whom we are spending our time so we track personal and business, but that's not a rule. As you get started, I recommend tracking a few areas where you'd like to focus rather than trying to track everything. It will give you a good idea of how to create and use a weekly planner template without overwhelming you.
6 steps to Create a Notion Weekly Agenda Template
1. Start with a new database
Go to Notion and pull up a shell dashboard. My preference is to use a database Gallery view and I remove the defaults. Name it Weekly Agenda. The reason I like to use a database is because I can use properties like a date field and any habits you want to track. You can also create a relationship to another database, which I cover in Using Notion's Relational Database Feature.

As you use the template, you will have a list of weekly agendas. Rather than recreating the fields every week, it's more efficient to save a template where you can make changes. I like to have Monday through Friday columns. As you can see in the video [timestamp 2:53] you can drag each day to the side until you see the blue bar. You don't have to do it this way but I like to have quick notes and embed my Master Task database below so I can see each activity to do each day. Then resize and delete properties that you don't need or want to use. Now you've got the beginning of your week.
2. Add in your recurring activities
Rather than recreating your recurring activities every week, it's more efficient to set up a template. Call it 'Weekly Agenda Template'. Start by making a column in your template for each day of the week. You can create a template button for each activity that you want to track, like taking out the garbage. With a template button, you can easily duplicate the task on other days. For example, if you work out Monday, Wednesday, and Friday, you can add these to your template. You can also add a list of tasks or activities that you repeat each week.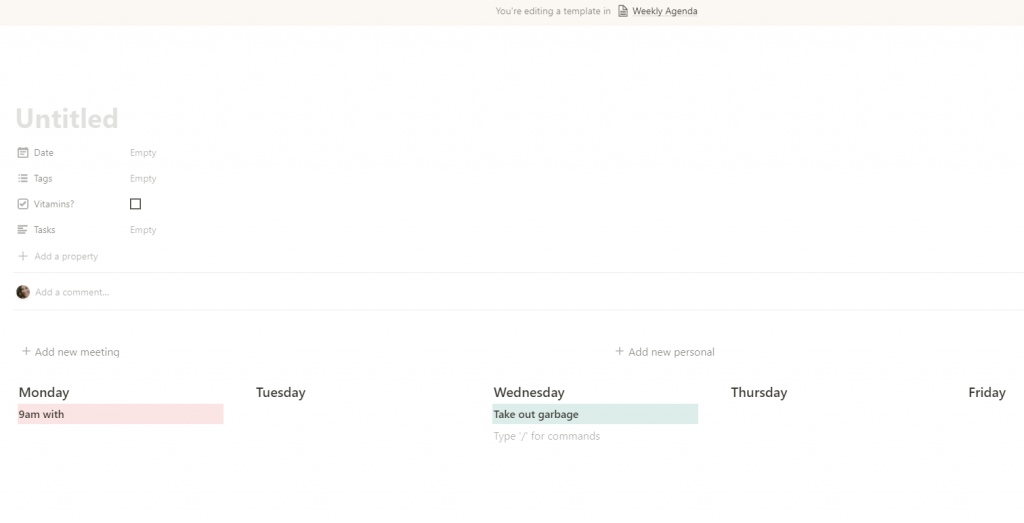 3. Add in your master task database
Embed your master task database below your columns for each day of the week. Then resize your columns so the days of the week line up above and below. Hide any properties that you don't need to see.
Because we're creating a template to use more than once, it is important to think about how you want it formatted. I like the days of the week to be in bold so I highlight the days of the week and hit Command Option 3 to make them header style three. You can add colors and other personalization as well.
4. Add new views to your weekly database
One view I set up is 'Progress Tracker' where I hide all properties, aside from my Effectiveness and any habits I'm tracking. Similarly, you could add in a 'Gratitude' view and hide any properties that don't relate to gratitude.
Over time as you do these week by week and you start tracking the things that are important to you, you can show them in different ways and really surface what's important.

5. Create visual themes
I like to adjust my icons on a monthly basis, so all of September has the same icon, all of October has the same icon etc. You can also add a cover image that represents the week and use colors to differentiate between work and personal tasks.

6. Add in a weekly review
Some people like to do this separately. I actually used to have a separate weekly review database, but I didn't think it made sense to separate it out from the week itself. So it's almost like the top of the week is the planning, the bottom of the week is the review.
In the body of the database entry I add in 'Highs, celebrations, wins', 'Lows, challenges', and 'Anything nagging you?' to prompt reflection.
You could also add these as database properties, so you can more easily track them over time.
It starts to become easier to see over time, what are the challenges frequently coming up? What's been going well? The more that we see that stuff, the easier it is to start taking action with it.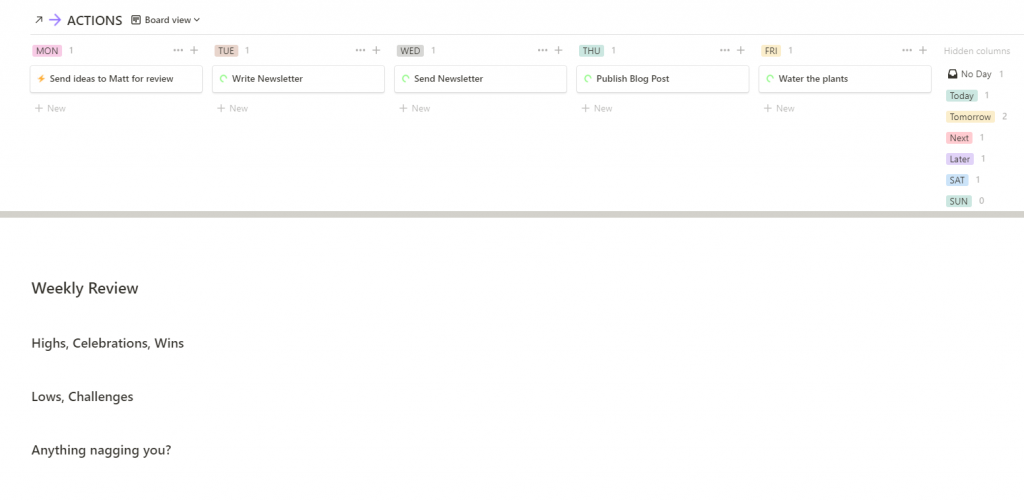 How to start using your Weekly Agenda Template
To create a weekly agenda for a new week, go to Weekly Agenda template, and click New. Change the name Week to the dates of the week eg. April 18-24 2021. Then begin to add in your activities for the week. You can also move any meetings or recurring tasks from your template to other days, as needed.
What kinds of things can I track when I create a weekly agenda?
The beauty of Notion is that you can track anything you want or need! I track gratitude, reading list, habits like taking my vitamins, effectiveness rating, and track my progress. If you don't want to track a particular habit or project, you can customize each week.
Over time, you will see what is important and where you've focused.
Add page colors or page content. I add an image for each week. Any changes I make, I go back to the template and add that element.
Favorite your week so it appears on the left column where you can easily click to the area. That way you can make adjustments whether that's changing appointments, updating an image, or making project notes.
How my weekly agenda helps me focus & be more productive
When I started using Notion for my weekly agenda, I was challenged by how busy my schedule was. I knew that taking on too much would impact my longer term projects so I was able to say no to opportunities. I am more mindful and aware of how I am spending my time.
If you're game to create a more complex agenda or calendar, connect to databases like I do, or keep it simpler. As you experience more of Notion, you may find you want to try using it in different ways.
It will take time to set up your template. Think about what you want to track like health goals, project progress, customer progress, family activities. Whatever you need to see at a glance can go on this agenda. It's up to you!
For more information about building from scratch, check out Office Hours: Building from Scratch so you can see how the tool works, as opposed to working from a template.
To learn more about mastering your life & business *Notion, check out Notion Mastery.
---
[*For full disclosure, I'm a Notion Partner, so when you sign up with my link, you also help support me and my content!]