I have had the pleasure of working in some very interesting offices during my time here in Bali. I made it my mission to find some of the best workable cafes/bars/restaurants/guesthouses. My main requirements were 1. Fast internet access 2. Comfortable/ergonomic seating & tables 3. Good food
Below are some of my favourite spots I've worked at during my time in Bali, in order of preference 🙂
Tutmak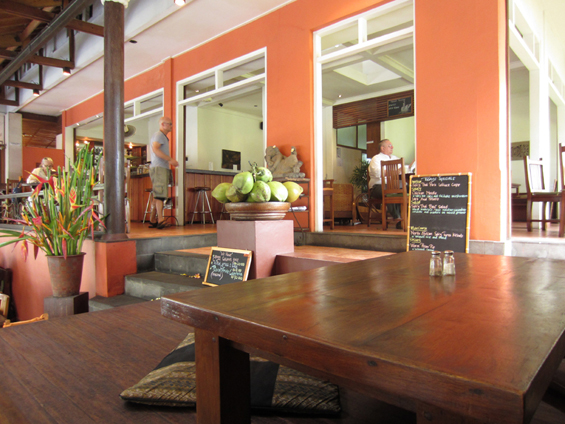 Tutmak is definitely one of the best places in Ubud to sit down and focus. I have spent many work days here (I'm on a first name basis with most of the waitresses). Food and drinks are excellent (try the wheatgrass shot, or the apple/carrot/beet juice), the wifi is by far the fastest and most reliable I've experienced, and the tables are upstairs, away from most of the other patrons. Tutmak seems like a bit of a hidden gem. Not a lot of people seem to know about it, so more often than not, I have the entire upstairs area to myself, which makes it easier to be productive.
Clear Cafe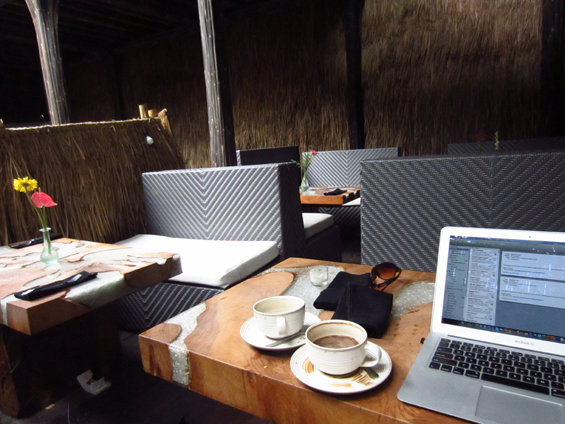 Clear Cafe is definitely my favourite restaurant in all of Bali. The food is outstanding (though a bit pricier than most restaurants, but well worth it), their wifi is fast and reliable, and they recently renovated to include a very comfortable and quiet upstairs area that is perfect for getting a few hours of work done. I highly recommend the Magestic Mushrooms and the Vanilla Bean Latte (with cashew milk). For mains, you pretty much can't go wrong… try the Hint of India, or the Chicano Burrito.
Seniman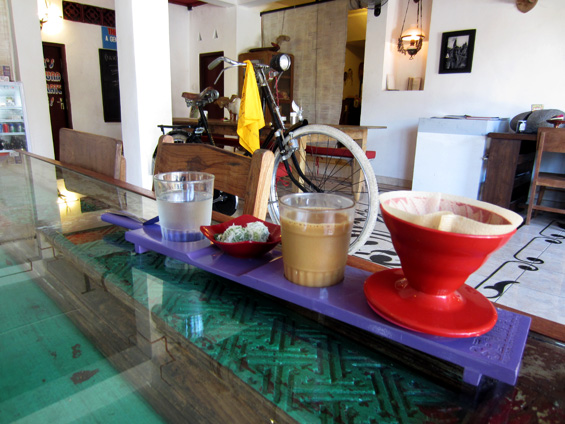 A recent discovery, Seniman is an artisanal coffee shop. You can tell that they put a lot of time into their process/methods, and have very much perfected the art of coffee. Work tables are ideal, the wifi is very fast, and the food/coffee are fantastic (try the brie/cashew panini). The music is also really enjoyable here – so far, the best in Bali. The only reason I didn't put them first was because twice now I have gone and their wifi was not working, though I have heard from other customers that it's never happened before.
Soma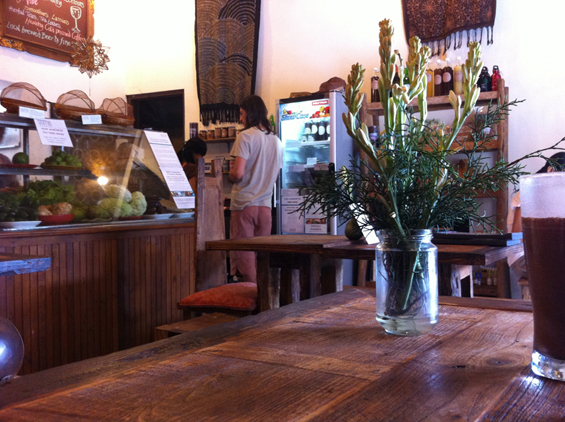 Soma is small, and can get hot, but they have a great selection of vegetarian and vegan food and drinks (though also a bit pricier), and their wifi is pretty good. The sitting tables are not ideal (read: ergonomic) for working, so go early and grab the proper table, and spend a few hours working here. Try the Mochalicious drink.
Atman
Atman is great if you can nab the right tables (they have a lot of sitting tables that are too low/uncomfortable for working, but great for eating/relaxing). Wifi has been reliable, and the food here is really good (though a tad pricey for the portions). Go for a drink and an appetizer.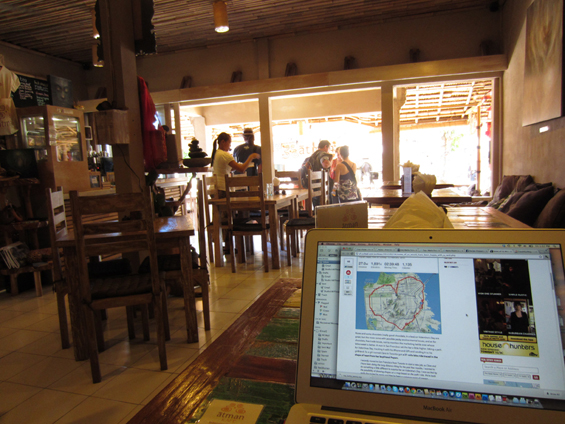 Laughing Buddha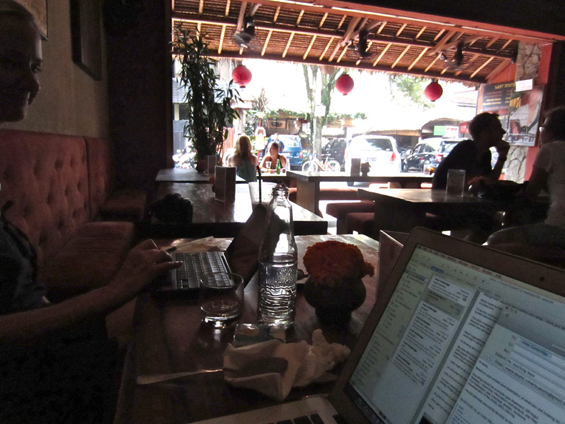 Wifi is fast, tables are good for working. Drinks are a little pricey, though delicious, and the food is good as well. Lighting is a bit dim, and it can get pretty warm if you aren't sitting near the entrance getting a breeze. This place gets fairly busy in the evenings, but it's nice and quiet mid-day.
Cinta Grill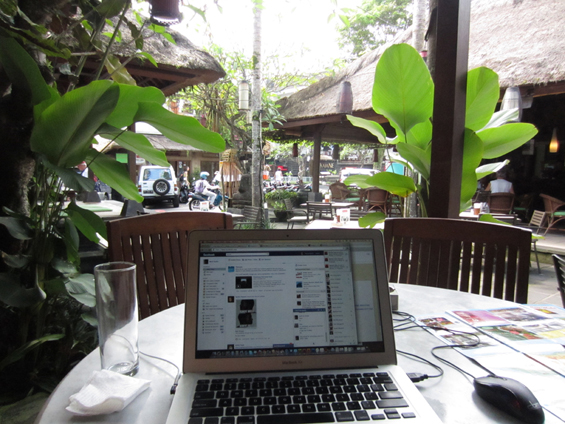 Cinta is definitely more of a bar/restaurant than a workspace, but during the day there aren't a ton of people, and it's easy to find a comfortable table. I have had some successful Skype video chats here, which is more than I can say for most of the other cafes! Pricey, although they do have a great Mojito happy hour between 4-7pm, and 10pm-12am: buy 1 get 1 free.
Juice Ja Cafe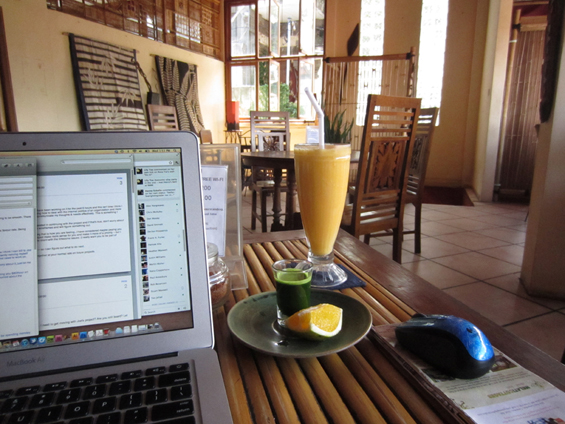 Fast wifi, great food and drink. Seating downstairs is much more ergonomic than upstairs.
Black Beach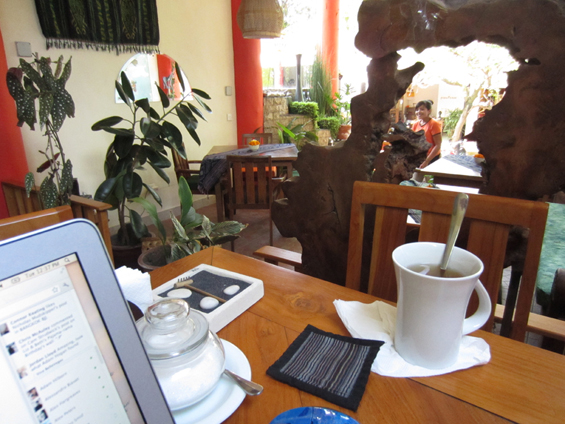 Fast wifi, comfortable seating, but the vibe/food here is… "alright." Good for a productive day.
I am sure there are tons of other hidden gems in Ubud, but these are the ones I frequented the most. If you know of any others, please feel free to comment!