Have you ever thought about what it's like to work with you, from your client's perspective?
From the first email, to the content revisions, to your invoicing and hand-off package, have you thought about how your clients experience working with you, whether they are delighted or inspired, frustrated or confused?
Often designers don't realize how their communication throughout a project impacts their client's experience. And client experience is the one thing you have to get right, because business is all about people, and you can't build a business from unhappy clients! Delight your clients, and not only will they return, but they'll tell their friends.
All designers experience hiccups at some point in the design process; it's inevitable. They don't teach this stuff in design school after all!
One way to differentiate yourself in a crowded market is to strategically and thoughtfully craft your client's experience of working with you.
You have to design the experience of working with you, just as you would design a website.
In my program, Digital Strategy School, each designer (or developer) takes a good hard look at their process, from the first client contact, to final sign off, and maps it out.
From this process, some designers realize that they don't really have a set process. Others notice glaring omissions or opportunities.
Having trouble getting sign-off on final mockups?
Have trouble getting your proposals approved?
Are you sending 10 emails back and forth before getting a client's approval to begin a project, or to get your first payment?
Do you projects grow in scope throughout the process, leaving you underpaid and resentful?
Are you letting your client know what you expect of them during the process (and when)?
That last point is one of the most important. I would venture to bet that most failed projects tend to be a result of not setting expectations for your client.
How can a process map help you see these opportunities?
Let's take a look at Janessa's project map: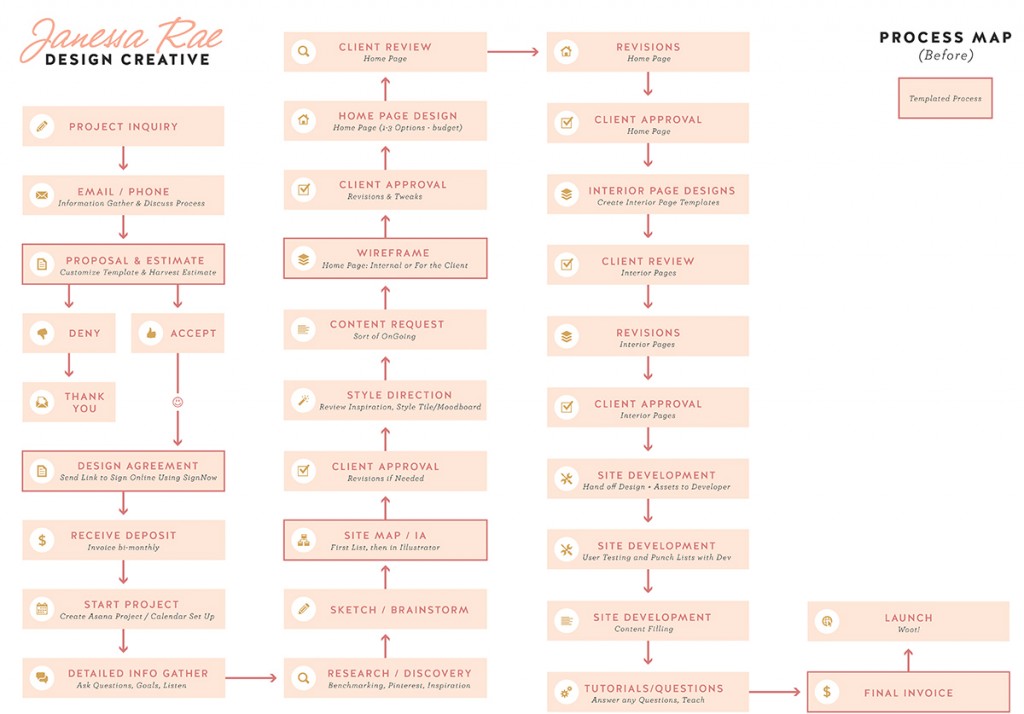 Some of the insights that came out of Janessa's mapping process included:
Need to improve client intake process (+ systems)
Process for client follow-up
Automation of redundant tasks
Invoicing process/timing needs refinement
Overall Janessa realized that she needed to streamline and automate tasks that she was doing over and over again, and to develop a solid process for handling each step of the project, to save her time so she can focus on the work she does best. It became clear that a major opportunity was available to set expectations early with a welcome package for her clients, to establish a clear process for invoicing (so that she wasn't waiting until the very end of a project to receive a large final invoice), and to focus more on the strategy before the project design kicks off. She also realized that by not scheduling on-screen Skype calls, she was missing a huge opportunity to get an accurate feel for her client's working styles and larger business goals.
Kayla created her map, and realized that she didn't really have a system: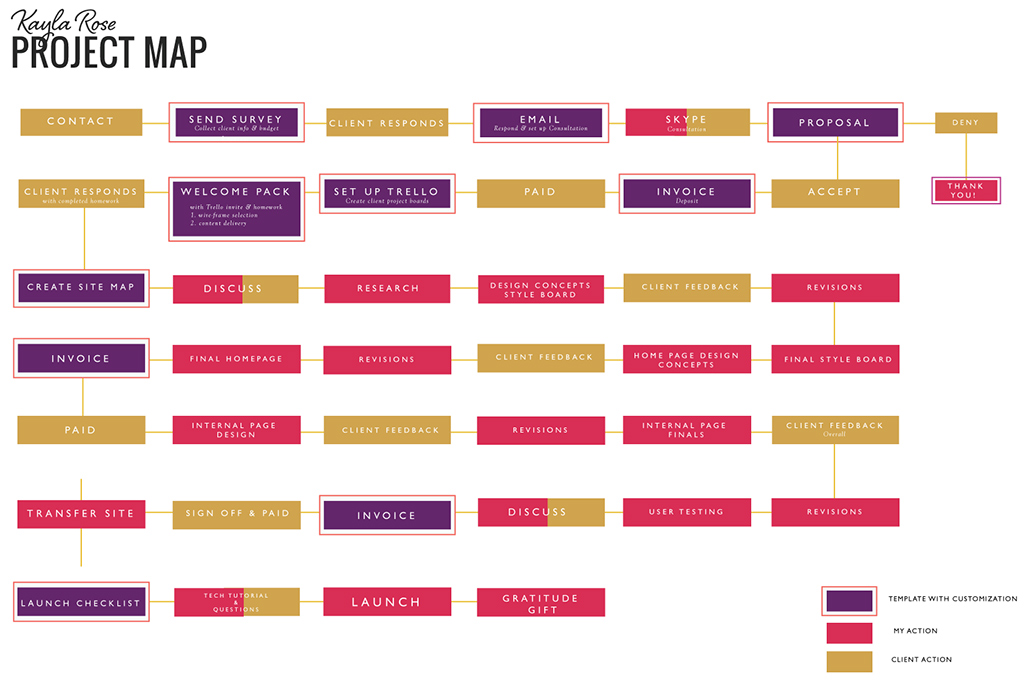 "I was able to see what I was missing and where things went wrong, and to be honest I really had no system whatsoever! I had some natural steps that I took, and a general guideline, but that's it. Creating this map changed my workflow a ton, and the thing that is great is that I can easily change it up when I see things are jellin' like I'd like!" – Kayla Rose
Another student developed hers and realized that she hadn't templated much of her documents (proposals, sitemaps, Basecamp Templates, etc), so she was creating more work for herself with each project. Her chart helped her see where things were falling through the cracks: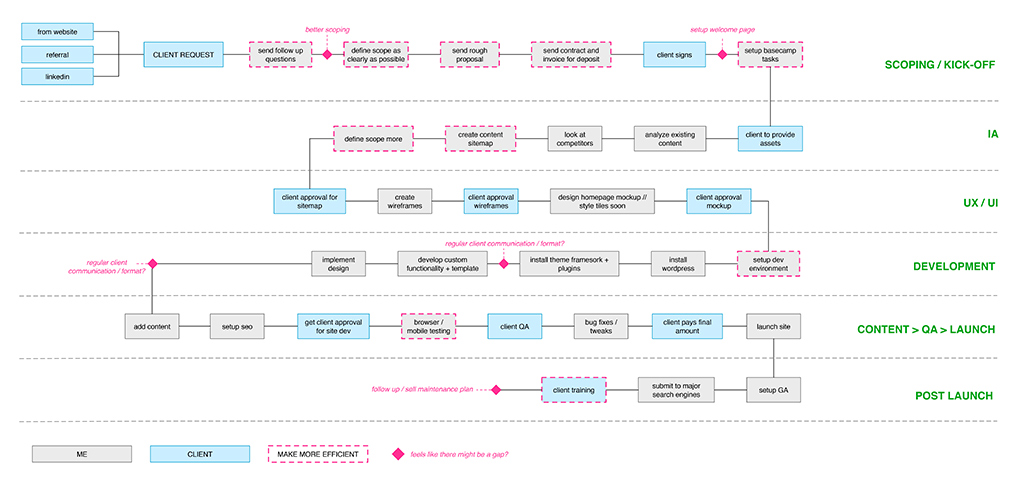 The beautiful thing about these maps is how they illustrate that each designer has a unique approach to each project.
How I handle a project will be completely different from another designer, and while there is no right or wrong way to run a project, there are always opportunities to improve our processes.
Refining your process, automating and templating where possible, and setting client expectations from the very beginning (with a beautifully designed welcome document) can create ease for both you and your clients. You waste less time in the drudgery of managing your projects, and can focus on design, strategy, or whichever other part of the project delights you most. You can go that extra mile for your client because you aren't stressed about much money you're losing on each project because of wasted time. Take a look at how your client experiences you at each stage of the project. If you are consistently having issues with one particular part of your process, it's likely time to investigate how you can improve that part of your process. Sometimes it's a pricing issue, sometimes it's a scoping issue, and more often than not, it's a communication issue!
Your client doesn't know what to expect when working with you, and they aren't typically approaching you just for wireframes, ux design, or development. What they really want at the end of the day is a business that is more successful because of your work together. So focus on how you educate, enlighten, and inspire your client throughout the process of working with you. Make it easier for them to get their content to you (do you need to recommend a copywriter? Do you need to ask about their commitment to copy in your first discovery meetings? Do you need to help them edit, or suggest some reading?). Find ways to delight them (go out of your way to integrate something for them, or send them a fantastic resource, or even a thank-you gift at the end of your project), and show your appreciation. Word of mouth is the easiest way to build your business, so delight is essential.
It's a big up-front time investment to look at your process, but you can't afford not to get your systems in place. Streamlining your process will go a LONG way to helping you reduce your overwhelm! You don't have to overhaul everything all at once; focus on where you'll get the highest immediate returns, and then schedule time every week where you tweak your systems. Improve one part of your workflow every week, even if it's small!
Some of the most common take-aways that the designers realized in the process of creating their maps:
You need to streamline and automate:
Use a service like Calendly or Schedule Once to book appointments and reduce the back and forth emails.
Use IFTTT to automate. (I use it to auto-save email attachments to Dropbox, auto-save Instagram photos to Dropbox, and create Evernote notes whenever I favourite tweets, etc)
Use 1password and save your time/sanity
Use TextExpander to reduce time spent writing the same thing over and over. (I seriously use this hundreds of times per day!)
Create a base proposal that you can work from with a variety of projects. Standardize your terms + conditions.
Create a client welcome package to set expectations and give instructions to your clients
Create a hand-off document so that your clients know exactly what is and isn't included in your services after launch
You need to delight:
Create a beautiful welcome document that educates them about the process, expectations, and even some resources to help them build their business
Design your proposal as you would design an ebook. We all know the importance of design; first impressions are everything
Meet your clients face to face or on Skype/Google+ etc. Don't hide behind email communication!
You want to look at each of the small tasks that make up your projects, but you also want to look at things from a bird's eye view. Factor in both the overall experience, as well as how each component can contribute to an overall delightful project process. Design the experience of working with you; it's what sets you apart!
Are you up for the challenge?
Map out your project process as it currently stands now, and identify where things are slipping through the cracks.
Commit to spending 30 mins every week to improving at least one part of your process each week.
Let me know your progress!
BONUS POINTS: Put a time estimate on each of these steps, and check back to see if you're accurate. You might be surprised how much time you're spending on unnecessary tasks (and how much unnecessary time you're adding to your projects!).