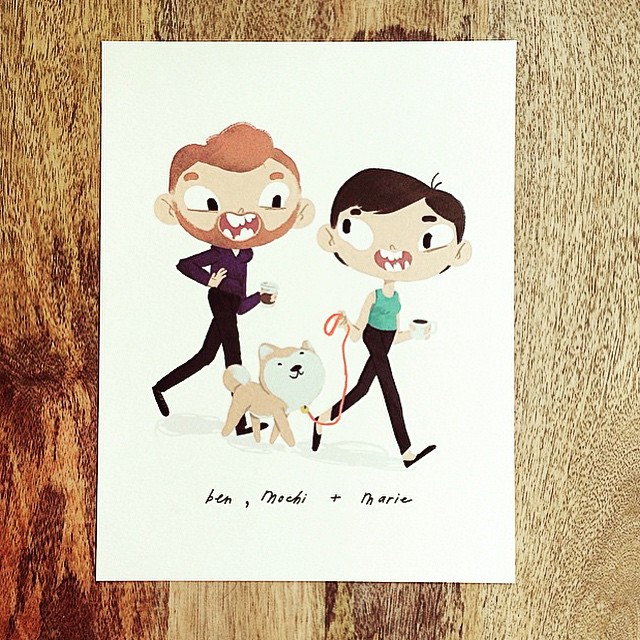 Revised. Originally posted June 2013.
June 2nd 2016 marks my four year anniversary with my partner Ben, and I thought, what better time than now to write a post about why I use Twitter.
Wait— what?
You can probably guess how this ties in to the title of this post… yes, we met via Twitter. I'll explain later. No, I'm not saying you should be using Twitter as a means to meet a significant other, although I'm not discouraging that either.
A lot of people, including friends and clients, have asked me why they should use Twitter. They hesitate, and wonder if it's really worth the effort when they already have a solid Facebook following, or wonder if anyone cares what they ate for breakfast that day. Not to mention… aren't we already over-saturated with email, facebook, push notifications, etc? There is already so much to read, so many blogs… how do you keep on top of it all??
While I do think it is important to selectively schedule time for your social media in an attempt to avoid continuous partial attention, I am going to explain why I think tweeting should be an important part of (almost) every business owners social media strategy.
Reach people that are "unreachable"
Back in 2010, I learned about Marie Forleo through a client of mine. Marie had sent out a tweet asking for some recommendations on vacations spots in a particular city, and my client responded with a few suggestions. Soon after, my client mentioned to me that Marie Forleo's team had checked out her site, and told her "by the way, our team LOVES your website!" This was encouraging; Marie Forleo had a large following (40,000+ at the time), and had quite possibly checked out my website, since it was a credit in the footer of my clients' website.
What did I do? I sent out a strategic tweet. Within seconds I got a reply:
<a href="https://twitter.com/mariepoulin">mariepoulin</a> OMG - I was actually checkin YOU out for some web stuff!!:)</p>&mdash; Marie Forleo (marieforleo) June 27, 2011
I responded: "hit me up if you think there's any chance for a collaboration!"
Within 24hrs of sending that tweet, I had a signed contract for what was then to become the RHH Live website, and a ticket to the conference. Sure it was a bit of luck and a bit of timing, but you just never know who you can reach online. That project put me on the radar of some very interesting clients, and my client roster has been jam packed ever since.
Similarly, another future client noticed a tweet of mine right around the time she was looking to do her website revamp. She said it felt serendipitous that she saw my tweet, and loved my work/style. Within a few weeks of our first Twitter encounter, I had a signed contract for what was then my largest project yet.
Learning and research
"Curate who you follow." — Tiffany Shlain
I use Twitter as my curated news, inspiration, and education. A few ways to use Twitter to your advantage: I follow clients and potential clients, learning about their needs/habits/desires, as well as to connect with them personally. I follow colleagues, and learn about their struggles, successes, and process. I follow my mentors, learning from their wisdom, experience and reflections. I follow people that have similar values and beliefs, who can and will spread my message and content.
Twitter has been an invaluable resource for me in terms of learning more about responsive web design, marketing, strategy and development. It is the quickest and easiest way for me to learn about new things happening in my industry.
Build resources
When I needed some development help, I sent out a tweet asking if anyone knew any developers available for work. Within a few days, I met up with a local developer (who had been recommended via one of my Twitter connections) who then became a huge asset for me, collaborating with me on multiple projects for several months. I've been able to make some really solid connections with other designers, developers and strategists via Twitter. What kinds of people could you meet if you reached out and said hello? Paid someone a compliment? Or asked them a question?
Build reputation
You have a voice, opinions, and experience. Twitter is a chance for you to voice all of that to a wider audience than you might be able to reach otherwise. I use it as a chance to share content that I find relevant or interesting, post occasional images that are either heart-warming or hilarious, voice my opinions, and even engage in heated debates.
Sure it takes a while to build up your following, but if you don't speak, no one will listen.
I've even had some amazing clients thank me via Twitter for the work I do for them, totally unprompted! This definitely doesn't hurt:
@sloanerhodes @mariepoulin Ditto on that! My wife and I love her and we've only just begun working on our site.

— Benjamin Fox (@dblaquarian) May 30, 2013
Working on the new SheTakesOnTheWorld.com today with @mariepoulin! It's an epic project that is rocking my world. It's gonna rock yours too 😉

— Natalie MacNeil (@nataliemacneil) February 12, 2013
3yrs ago a trusted friend said I must hire @mariepoulin, but she got snapped up. Finally we got a chance 2 collabo & now I know Y he said it

— Tommy Humphreys (@tommyhump) July 9, 2012
Build relationships
When I first moved to Vancouver, I needed a way to meet new people, and work through some of my social anxiety (most people are shocked to hear that this was ever an issue, but it was, believe me). I went to a Twitter meet-up organized by Canadian artist James White. I almost didn't go because I was mildly terrified that I would be the only one who didn't know anyone, and what would I talk about, and what if it's awkward, etc etc. It turned out to be a great night, and I ended up meeting my now good friend, Justin.From there, I was introduced to his girlfriend, one of my best friends, Michelle. We began organizing ongoing Twitter meetups, and looking back, a good chunk of my friend base in Vancouver is largely the result of those Twitter meetups!
I met friends Rachel and Travis because I reached out to them via Twitter, and wanted to pick their brain about their work/travel lifestyle. They ended up being a big part of my decision to move to Bali to work temporarily.
I met a truly great friend of mine, Gloria Roheim randomly via Twitter, when she tweeted me after seeing that I was in Paris! Alas, I missed her by one day, but we agreed that we would meet in person the next time I was in town. I still haven't met her in person yet, but we have regular Skype chats, and help each other out with strategy and business. We talk passionately and often about what it means to be a self-employed female entrepreneur, and she interviewed me for her upcoming book. We scheme regularly; I feel like I've known her my whole life.
@mariepoulin we just missed one another 🙁 was there yesterday and now back to Budapest for the month. Drink on us if ur coming this way 🙂

— Gloria Roheim McRae (@gloriaroheim) November 11, 2012
And lastly, I met my partner Ben via Twitter. Enter Cliff Notes version of how it happened:
Ben stumbled upon my website for the first time when he was researching Hawaii for his honeymoon (ha!), and stumbled upon a blog that I had created for my own trip in late 2008. He thought to himself, "who spends this much time on a website for their vacation?" Yeah, that was me. I had used it as an experiment for learning how to work with a Content Management System. He noticed that I was a fellow web designer, also on Twitter, and he messaged me to compliment me on the website. We chatted a bit about Hawaii, and continued to keep in touch casually via Twitter over the years. It wasn't until the Event Apart Conference in Seattle in April 2011 that we would actually be in the same city, and for the same event. So we all agreed to meet up at the kick-off party, followed by some grub at a nearby restaurant. By "we" I mean him and his wife, myself and my boyfriend, and my boyfriend's coworker, Elie.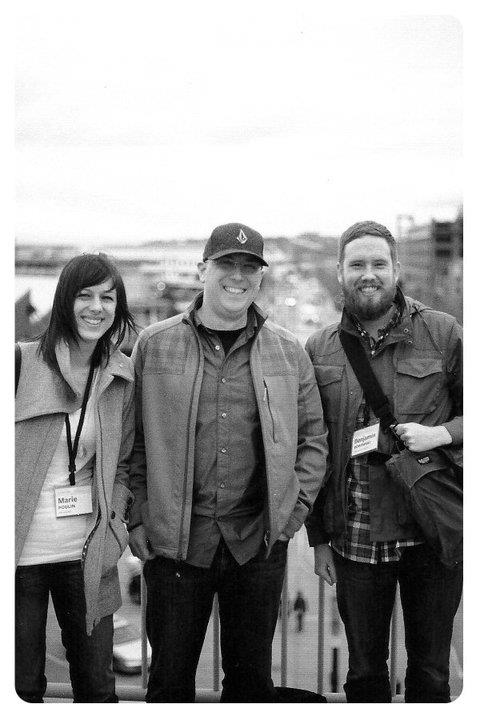 Not sure I would have believed in that moment what would happen over the next year or so!
I ended up sitting across from Ben, and inevitably, both being self-employed and working in similar fields, we had a lot to talk about. Little did I know that that evening, when Ben and his wife went home… she bluntly told him that he needed to be with someone like me. "You need to be with that girl." She told him that she could see the chemistry at the table, and said that they would never have the kind of chemistry she saw between us. Ben brushed it off, but there must have been a twinge of truth to it…
Ben hired me for a small contract in the fall, and so we worked together, and continued to get to know each other "remotely" via Skype, Twitter and Email. Over the next 6 months or so, we both went through our respective breakups, and I did my solo Asia trip in the early Spring.
It wasn't until I returned from Bali in April 2012 that we touched base again, and I learned of his divorce. I had a gaelic football tournament in Seattle nearing in a few weeks, and it was also his birthday weekend. I suggested that we meet up, and invited him to come watch our games. He seemed excited, and even offered his place for me to stay. I hadn't seen him in person in over 14 months. I was a little nervous and excited, as I had a great deal of respect for Ben as a person, and as a professional, and I knew he was recently divorced.
When he walked through the door at King's Hardware in Seattle where my friend and I were meeting him for birthday drinks before our tournament, my heart skipped a beat. He looked so different than I remembered! His gigantic red beard was gone, he was taller than I recalled, and he had a huge beaming smile. He wasn't the sad, divorced Ben I envisioned. He gave me a delicious hug, and one to my friend as well, and we all sat down for several pints in celebration of his birthday, our tournament—and why not—his divorce!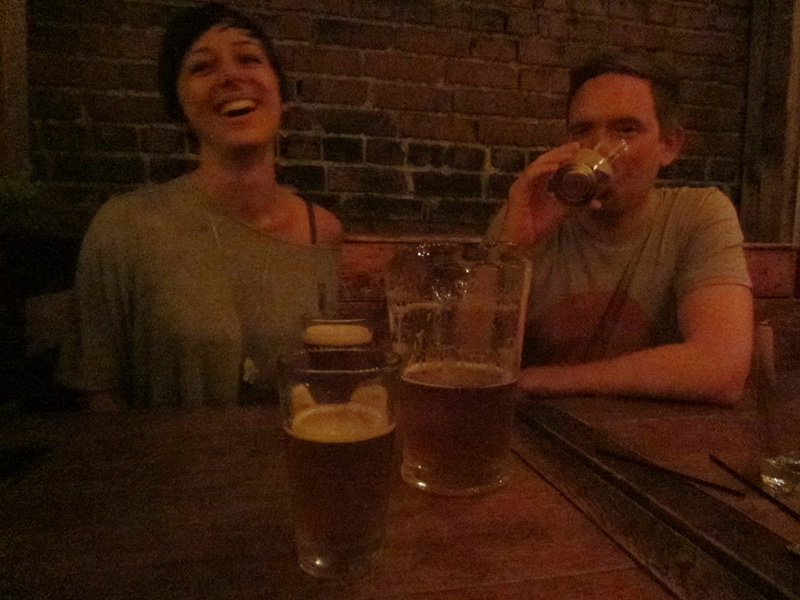 Fast forward to game day—Ben came out and watched all of our games, cheering us on with his mascot, Mochi. At one point he congratulated me with a quick half-hug, arm around the shoulder, and I realized I had a crush that was growing bigger by the minute. I was still feeling a bit conflicted about whether or not it was appropriate to make a move on my recently divorced and yet oh-so-beautiful and talented friend…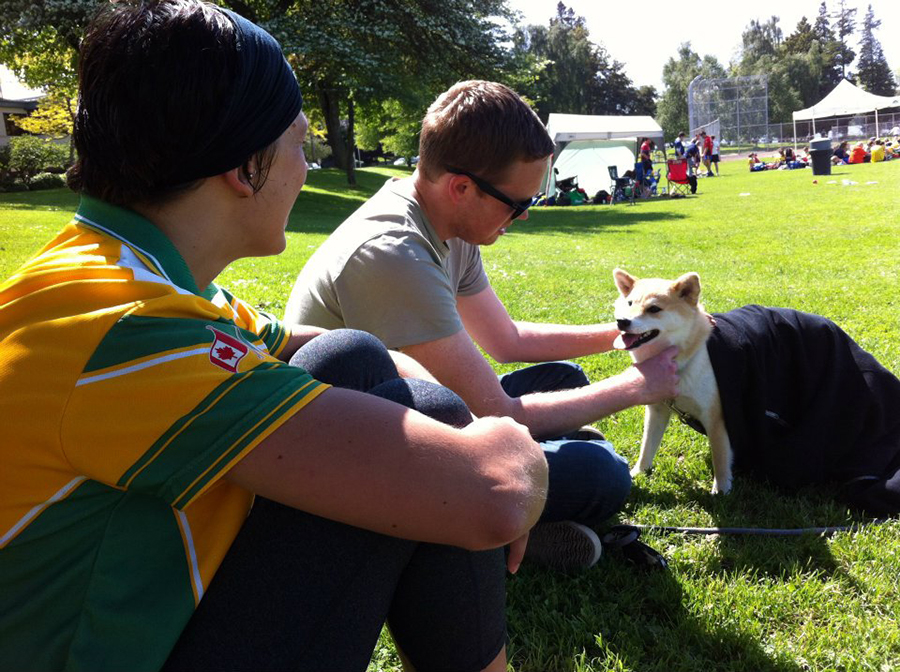 That evening, Ben joined us as we celebrated our victory with pints at an Irish Pub. I was drinking a little quicker than usual because I was nervous, and knew I was likely to do something "ballsy," like attempt a kiss. OH, and there may have been a Victory cup full of rum. Anyway…
Sure enough, at some point the time felt right. I remembered something he had told me in our chats— that he was going to be open to trying new things, not saying no to anything.
"Remember that whole 'not saying no to new opportunities' thing…?" I asked.
"Yes," he replied.
"What if I were to kiss you?"
"I would not say no."
"Right here? Like, if I kissed you right here in the bar?"
"I would not say no."
And so I kissed him.
And I was officially hooked. Enamoured. Twitterpated, if you will (see what I did there?)
So there you have it.
I fell in love with an amazing guy I met via Twitter.
We still argue about who made the first move…

We've since teamed up over at Oki Doki, and just recently launched our platform, Doki, to help people deliver online courses!
Are you using Twitter yet? Feel free to follow me if you enjoyed this post!
Have you had any awesome, entertaining, or downright strange connections via Twitter? I'd love to hear about it!