Being a student in a course is one of the most under-leveraged growth strategies.
If you sign up for a course, especially a cohort based course, you have a huge opportunity in front of you. The majority of people do not fully harness this opportunity, and are unaware of the possibilities in front of them.
There are very clear second and third-order benefits to participating in a course as a student, well beyond learning the specific skills within the course. The same goes for coaching programs or online communities.
I would argue that a good majority of my initial business growth, traction, and community-building came from stacking the benefits of showing up actively in other people's communities and courses.
As per usual when I have a ranty rant, spiky point of view, or a theory… I like to check in with Twitter:
Some of the replies:
"Active participation means more externalizing of ideas, thoughts, and learning."

— David de Céspedes
"Feeling like part of a group that loves the same thing as you and so you keep contributing and learning forever!"

— Luisa Fernanda
"Hate to sound like a broken record, but community. @anthilemoon's collector to creator course. Came for the course, stayed for the community. I got: A developer, a partner in creating a course @yinahuang , the first customers for my app, countless customer interviews."

– Andrew Nalband
"Becoming closer with the teacher and surrounding yourself with models of possibility."

– Carrie Melissa Jones
Carrie pretty much nails my strategy: entering the orbit of the teacher, becoming a memorable contributor, and eventually, a possible collaborator with the instructor.
One of my favorite replies came from my lovely friend Stef (oh hey, shout out to Shine Bootcamp!) who shared an old copyhackers article where Joanna Wiebe talks the long-term impact of showing up as a speaker for Microconf:
You can see how just one "decision" to show up has serious ripple effects.
The same concept applies whether you're talking about a speaking gig, an online community, or an online course.
One of the first things I ask struggling new founders who want to grow their network and audience is, are you active in any online courses or communities?
Showing up generously and with intention while going through an online course can open up all kinds of doors for you.
You can lurk passively, or you can show up and be fully engaged in the learning experience, getting noticed by both the teacher and students.
Are you being a helpful contributor?
Of course you can be a generous contributor via social channels, but inside an online course, people are highly engaged, often for a very short focused burst. They have paid to be there; they're showing up differently than they do in other spaces.
Noticing the sparkles
As a teacher, I can share that I am always noticing students who show up generously with their time and attention, and look for ways to reward them or bring them into the team.
The evolution of my team has been an organic process of hiring and creating roles for shiny students.
DJ Carey joined the course as an early adopter, but didn't have a chance to dive in for some time. He expressed excitement for helping visualize elements of the course to make it more digestible for beginners, and is now supporting the curriculum development journey. Having a "beginners mind" weigh in on the course structure and learning journey has been invaluable!
Mike Kilcoyne was another early adopter who was so excited about the course and wanted to give back. He is now running weekly co-working hours, and a few other emerging side projects.
Cat Mulvihill is a strong facilitator and teacher, and a few of us (NM students) even signed up for her delightful Elevate course (affiliate link – it's an excellent course for helping you elevate your Zoom facilitation!). I've been so delighted with Cat's contribution and abilities that I decided it was time to create an additional instructor role with Cat in mind! Cat now facilitates beginner office hours and is a co-instructor for live events.
Karaminder was a stand-out participant in ODCC; he wasted no time offering to help others with their Zoom setups, and helped me co-pilot my peer support sessions. He's just an all around care-bear who knows how to bring good vibes to any group.
Karaminder and Cat are now helping me co-create a small, digestible, cohort-based Notion course with Maven.
Lucía Júdez Serrano became the first Chief Notion Officer at On Deck. She may have gotten this role anyway, but I made sure to put in a good word for her as I had seen her work in the forum and was happy to recommend her!
Homesick Mac may have attended more Office Hours calls than any other participant, and he has been a joy to have in the community! Knowing that he's a super talented musician (and had even wrote a song about Notion), I referred some work to Mac from a musician that had questions about how he might set up his Notion workspace.
These are just a few of the more visible opportunities that have emerged. There are no doubt tons of connections and opportunities happening behind the scenes that I don't even get to see!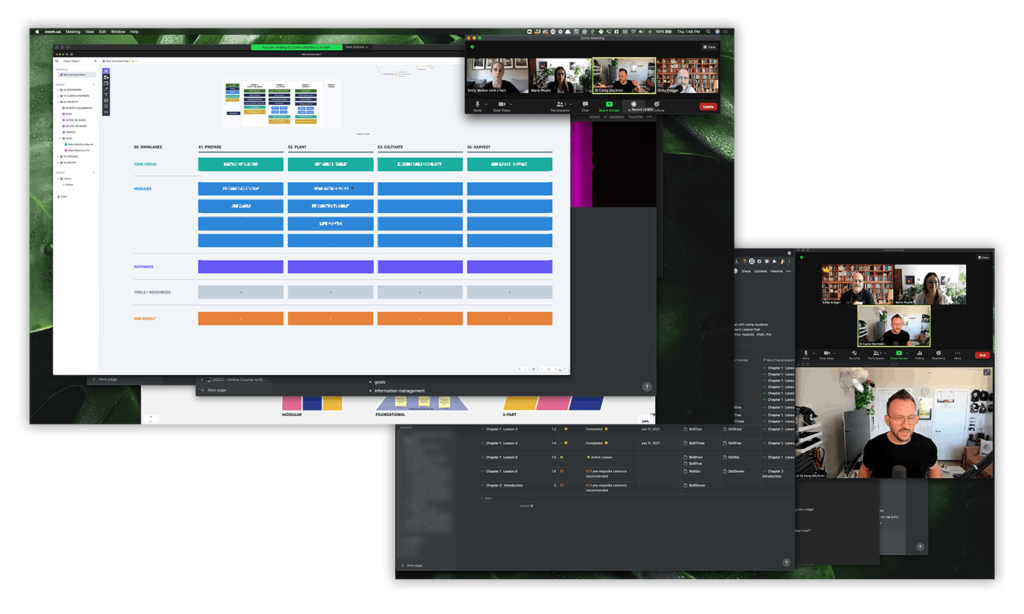 Kirby, DJ and I working collaboratively with our curriculum designer, and then again the next day to clarify our ideas.
---
---
Be memorable by being a helpful contributor
What happens when you become a shiny, sparkly student?
Opportunities open up.
You get amazing feedback on your ideas.
Contracts get signed.
Job offers emerge.
Friendships are formed.
Money exchanges hands.
Reputations are built.
Collaborations develop.
Podcast invitations land in your inbox.
You get invitations to be a guest speaker/presenter.
You get beta participants in your online course.
People are excited to support you.
Your network grows organically.
These are all much more likely to happen when you show up fully as a highly engaged participant in the courses that you purchase.
When I purchase a course, I'm not usually showing up passively.
Every course I take is added to my schedule as a Project, and connecting with the course + community is built into my schedule. **It's time-blocked as Connection, and part of that time is checking forums, seeing who needs help, and offering resources where it makes sense.
I ask myself:
How can I make the other students lives easier?
How can I make the teachers life easier?
How can I make someone's day, or surprise and delight?
How can I amplify others who don't have as big of a reach?
Being a mindful and engaged course-taker can be an excellent way to not just level up your skills, but dramatically increase your serendipity engine.
The majority of my business network is made of folks I've met via online courses and coaching programs. I keep taking online courses because they keep helping me find my people.
If you are a course creator yourself, you would be surprised how many people you'll meet in other communities who need what you have to offer, and will become your students, customers, and collaborators.
Are you under-utilizing the courses, programs, and communities that you sign up for?
---
[For full disclosure, I'm a Notion Partner, so when you sign up with my link, you also help support me and my content!]