Much of my *Notion work involves helping teams get up and running quickly with Notion. Since my own small team is growing (yay!), we've been doing a lot of revamping of how we organize our workspace to accommodate different levels of access across core team members and contractors.
Here's a sneak peak at some of the changes:
I renamed Areas to Functions, which feels more accurate (and leans more toward Permaculture/Systems language). I still have an Areas database in my own personal MarieHQ which encompasses more of my personal areas of interest (this deserves its own walkthrough + video), but these are essentially the core functions of the business: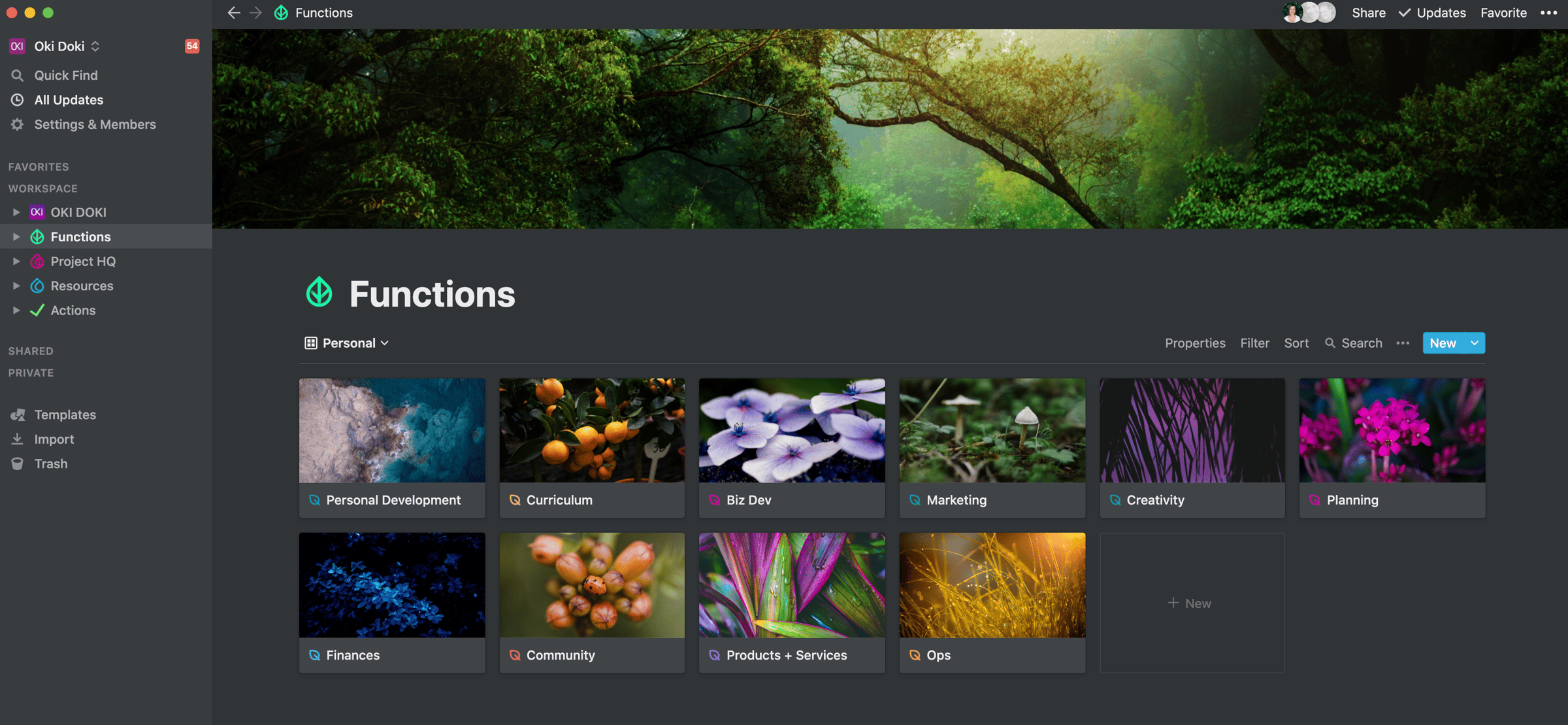 Not too long ago Notion made some changes to their permissions, which now allows you to restrict access on a per-page basis (vs being based on the Parent permissions).
Each of these Function entries have several dashboards, databases, and pages embedded within them. For example, Marketing has a Video HQ, Editorial Calendar, Media Kit, etc.
Now, even though the whole team has access to the Functions database, I can restrict access to individual database entries, like Personal Development, so that only I can view it.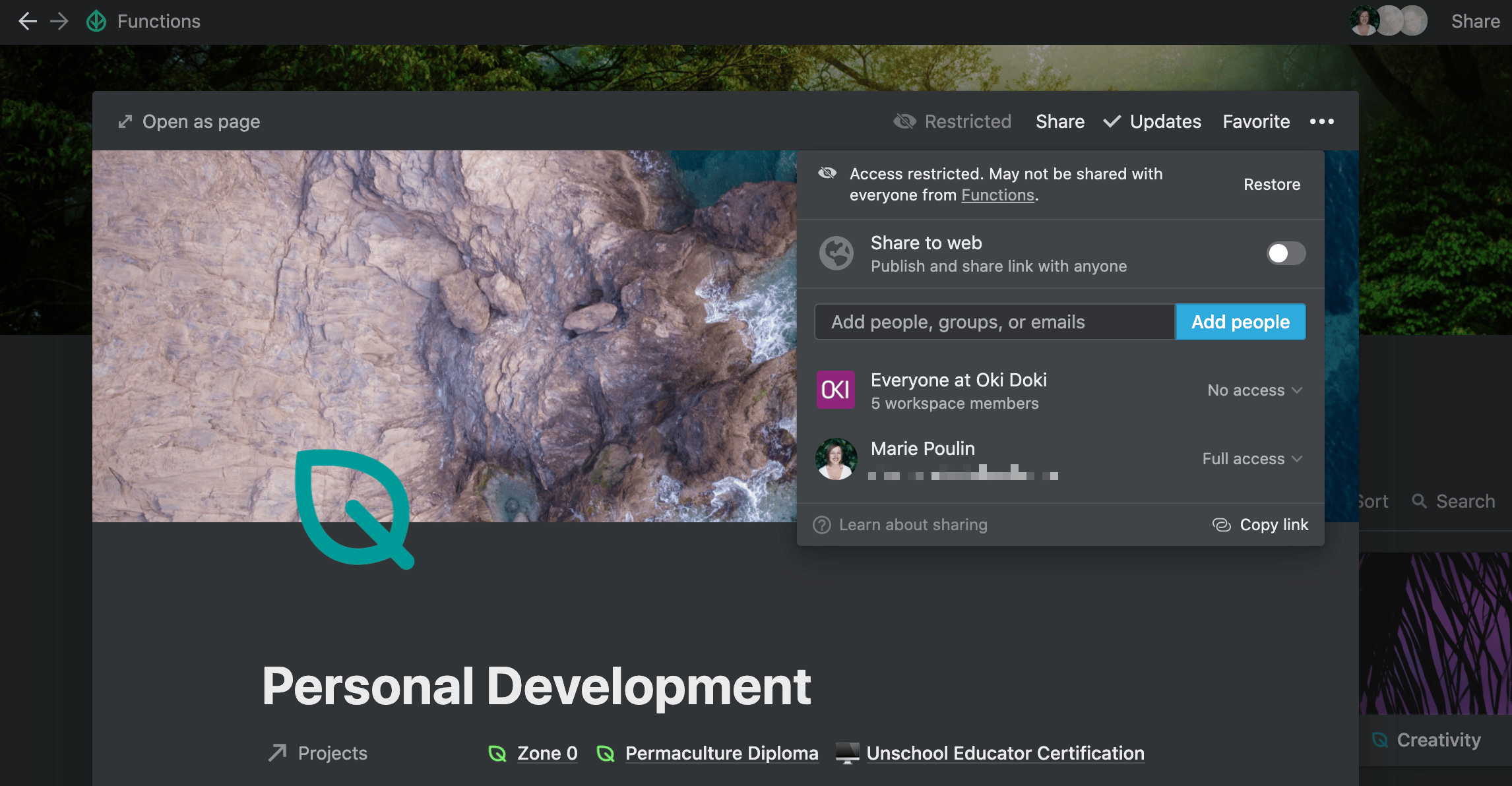 This way the content can stay within the core database, but I can take private notes without having to worry about sharing with Team members if I choose not to. I can even make certain Projects restricted access, allowing them to stay in the same database, but they're only visible to me.
This is just one of the many ways that you can mix business and pleasure within your Notion workspace. Every business is different, of course, so this approach may not work for everyone, but you have a ton of flexibility to move data and change your mind after the fact.
Then, by quick-linking to each of these on our Team homepage, we can access any of these pages quickly without having to click "open as page" (reducing the number of clicks it takes to get where you want to go).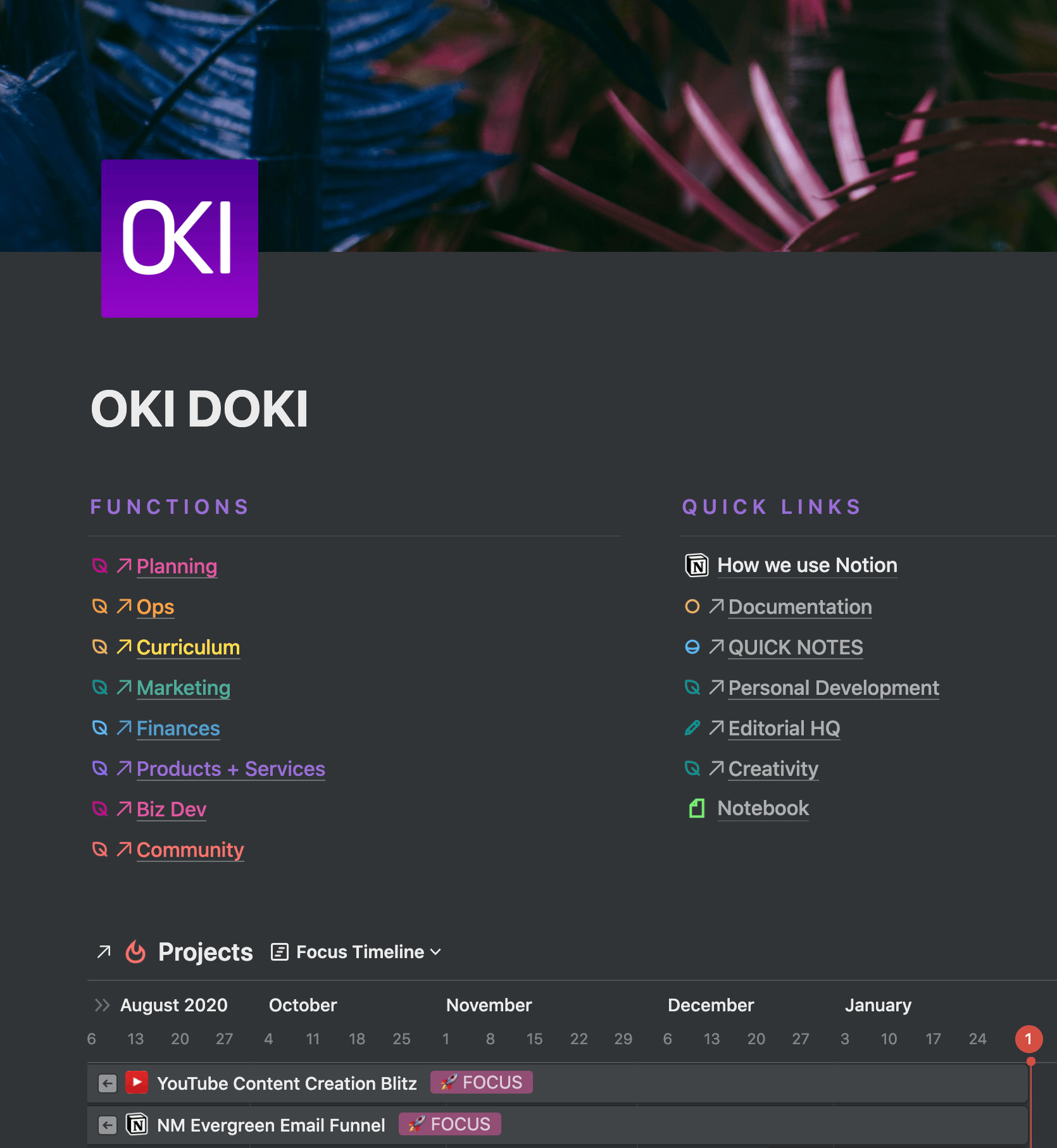 We also created a new How we use Notion to help team members get up to speed quickly: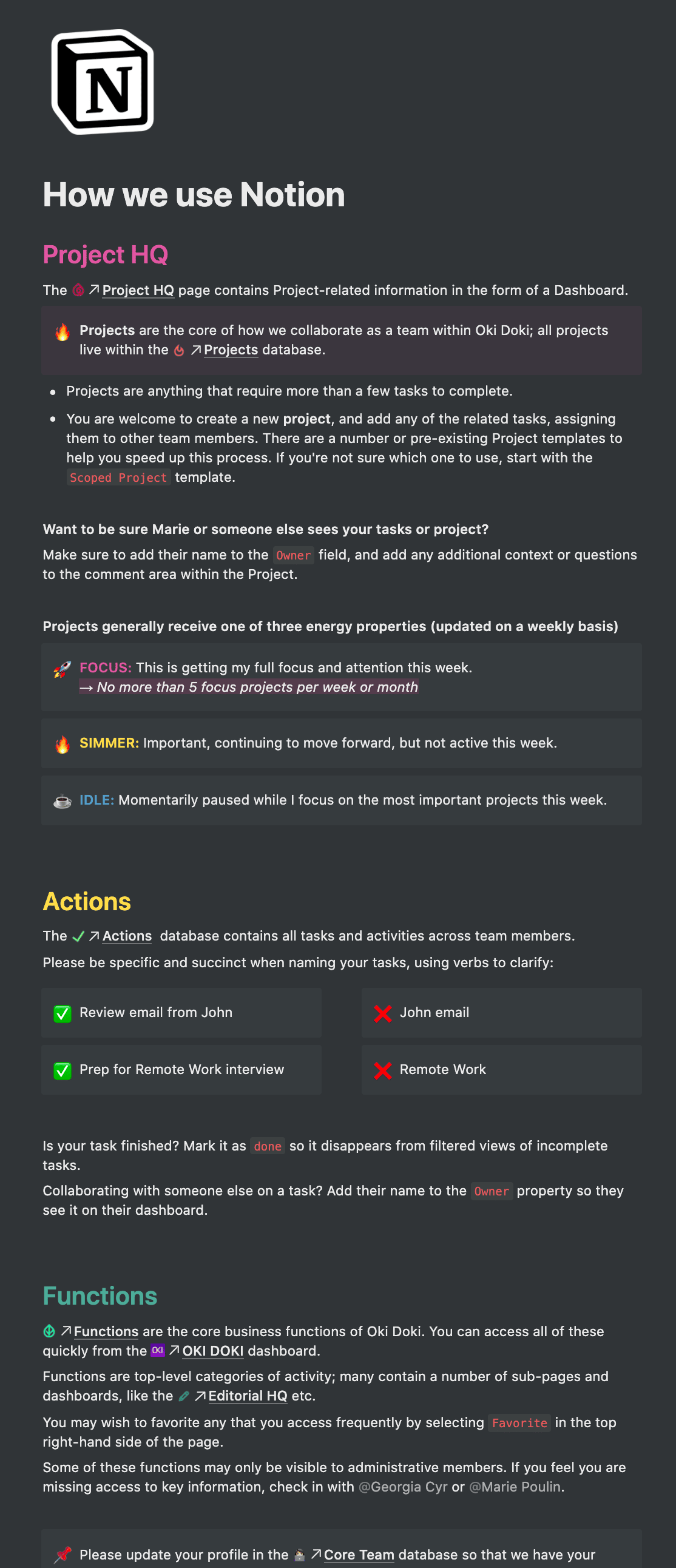 We're still working on some of these pages to make it even easier for our collaborators, but so far this is majorly streamlining our workflow!
Kayla, my super talented designer, has only been using Notion for a few months, but she whipped up some beautiful + functional pages to help us keep our branding + design assets organized: 😍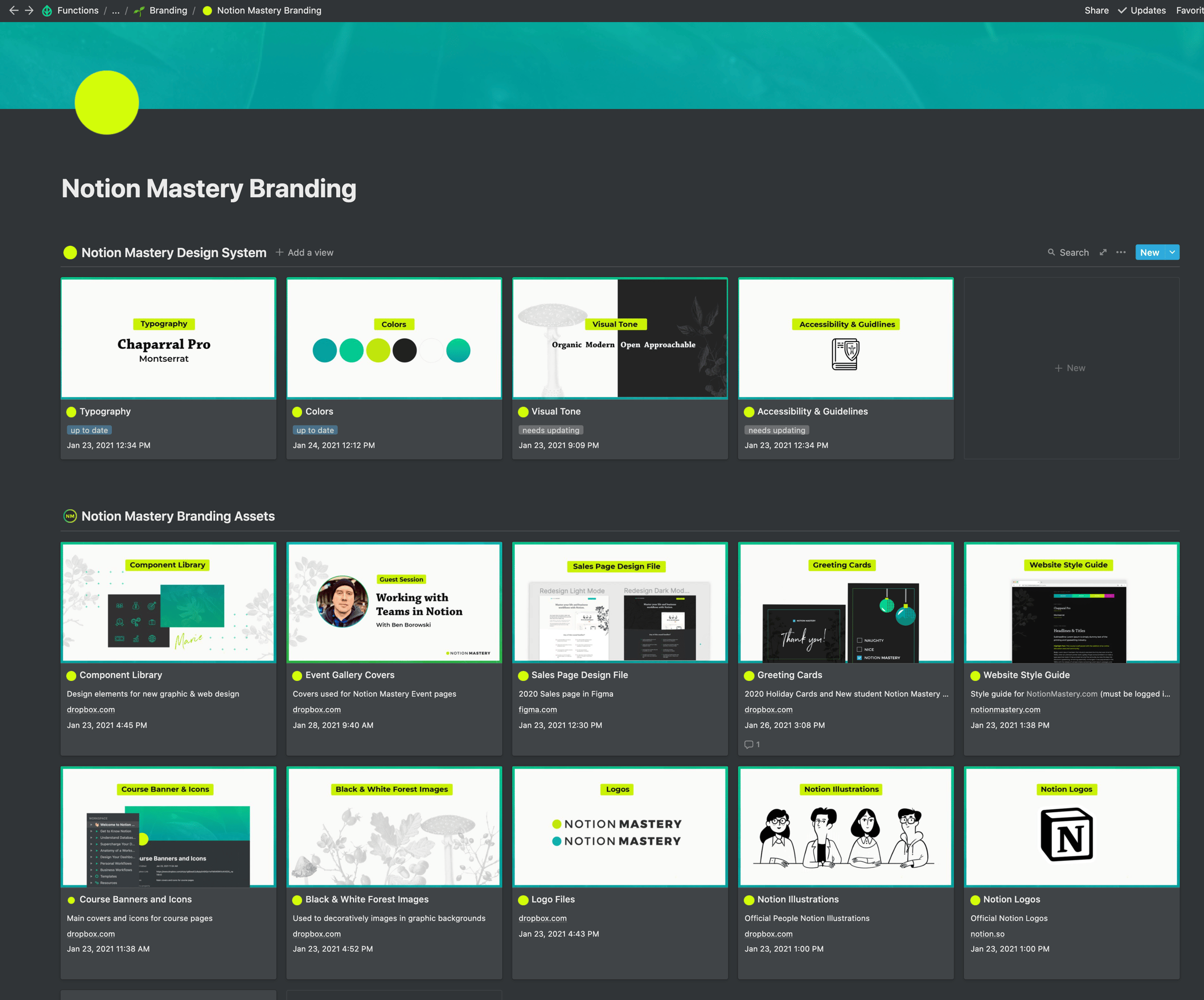 And last week in Notion Mastery my partner Ben did a guest session where he shared how they've been using Notion to manage team-wide documentation at a company of 100+: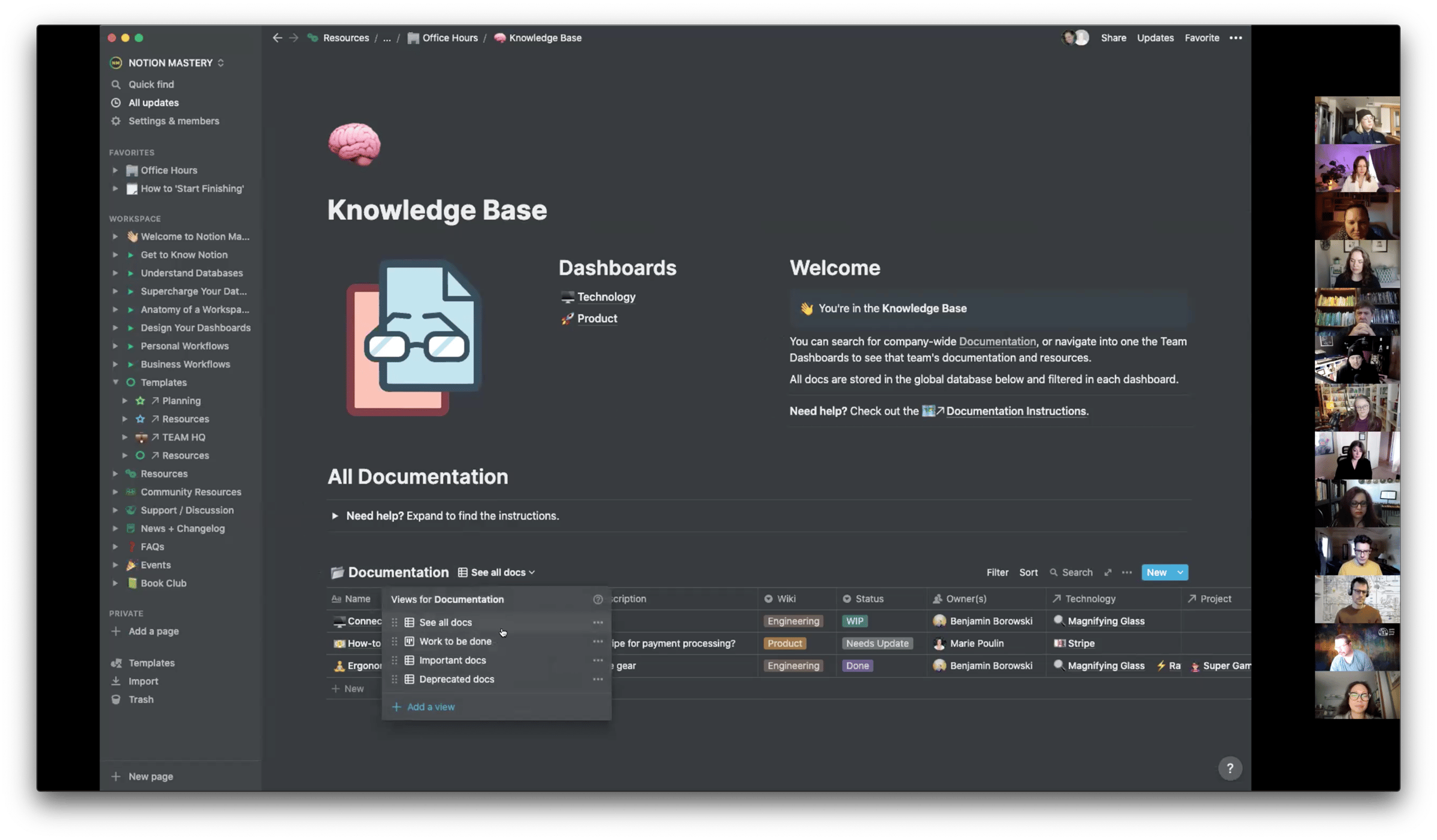 Want some help getting your team on board with Notion?
Join us in Notion Mastery! Even more team focused content is coming soon.
---
[*For full disclosure, I'm a Notion Partner, so when you sign up with my link, you also help support me and my content!]