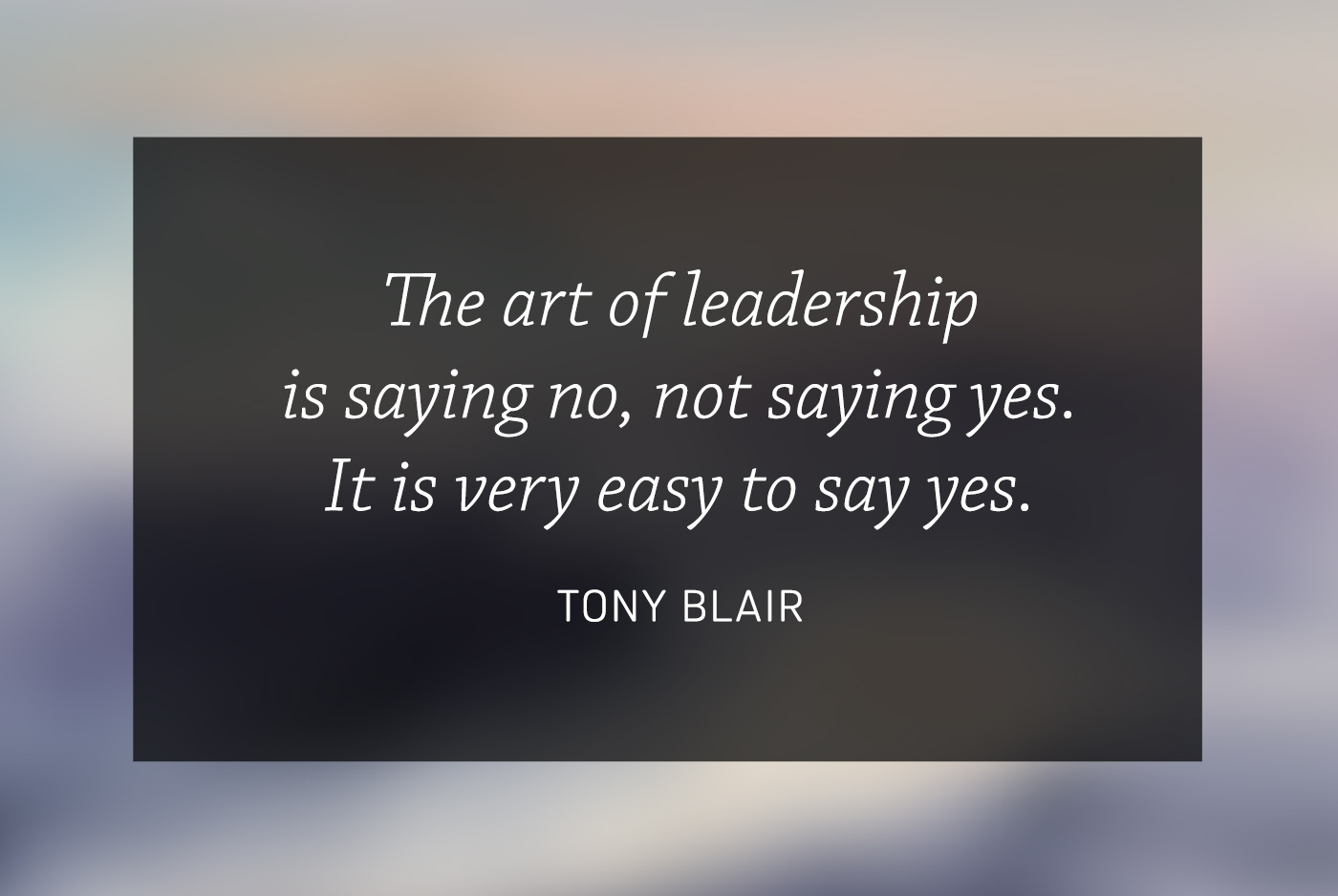 One of the most important things you can do as a business owner is to get ruthlessly honest about who you work best with, and for whom you are the best fit.
What this means:
You need to know your criteria for an excellent client fit.
And that won't be the same as mine, or as any other business owner.
It also means that you have to be willing to often say no. Which can be really. damn. hard.
And initially this can seem impossible if you're in a position where cash-flow is an issue.
You will be defined more by the clients you turn down than those that you work with.
You're not giving your best to clients when you feel resentful, annoyed, under-appreciated, or under-paid. Either remove what is causing the resentment (under-charging, too-quick turnarounds, bad habits), or be at peace with letting that client go, and move on with your business. Don't take on any new projects where you already feel resentful (about their budget, their aesthetic preferences, or anything else for that matter) or plan to half-ass the project because you need the cash. Everyone suffers when you do this.
How do I decide who to work with?
I have my own criteria based on years of experience, observation, personal development, and self-awareness. I look at:
The business or idea/vision:
Is it interesting/unique/revolutionary and marketable?
Does it provide an interesting challenge for me professionally?
Does it provide something good for the world?
Is there potential for this idea to grow?
The client:
Are they passionate about their idea?
Are they open to collaboration?
Are they open to the organic nature of my process?
Do they value my contribution as an expert (or are they looking for a pixel pusher)?
Are they flexible, curious, and committed?
Do they have the required budget for the work involved (are they being realistic about desire vs cost)?
Will I be able to help them get a return on their investment?
Do I really enjoy them as a person?
My schedule/energy:
Do I really have the time available to do an excellent job on this project?
Do I have the mental space or energy to take on this project?
Does taking on this project feel expansive or constricting? (Yes, I always check in with my gut!)
Over the years I've learned a few things about the way I work, and it now informs who I choose to work with.
I know I am not a strong fit for:
rigid or tight timelines
traditional corporate clients
short, one-off projects
formal communication
people who are looking for the cheapest option
You are doing a disservice to yourself and others by taking on projects that you know are not a great fit for you or your working style.
The wonderful thing is, there are so many people who would be such a great fit for any of those clients! I am able to refer clients to other business owners who I know would be a great fit, and it's win/win/win.
"I realized that even the process of saying 'no,' and sending the client to another designer could in a way be part of my 'service' to the client." — Jessica Bloch-Shulman, DSS Student
Just as saying "No" to a client is a yes to something else on your plate… it's also a yes for your client. Yes to another service provider who can give them what they need, and better serve them.
Everything in your business will change when you commit to letting go of clients/projects that cause you to feel resentful.
You have a lot more control over your business than you think you do.
It all starts with the clients you work with. Without clients (or customers), you don't have a business.
So what kind of customers do you want to have?
What matters to you in your business? How do you want to feel during and after your projects? And how do you want others to feel when they work with you?
Get clear on who aligns best with what you've got to offer, and start saying NO to anything less. You owe it to your business and to your clients. This is you moving into a bigger leadership role, and making space for great.
So, who is a perfect fit for you?