So if you followed along from Part 1, you'll know that I ran a small beta version of my group program which helped me learn a metric ton.
I learned that there is a market for teaching digital strategy to designers.
I was able to create content based on what participants wanted to know, not just what I thought I needed to teach.
I was able to build my own confidence based on the changes I was able to help my students see.
I learned so much about digital strategy, beyond what I already knew.

Learning from the participants
I had no idea how many different pieces and decisions would go into the whole process of launching. I've always been on the tech side of a launch, pulling all the aesthetic and technical pieces together while my clients were quietly having mild panic attacks. I never understood the panic and uneasiness — until I did my own launch! It gave me a whole other level of empathy for my clients.
Now, through my beta testing, I quickly realized that the content was not going to be quickly consumed within 4 months as I had originally intended! The beta group had really only gone through 1/3rd of the content by the end of 2014, and many of them were still behind on the first few modules! I realized that I might need a bit more time to make it digestible. So the decision was made to turn it a 6 month program that I would launch January 19, 2015.
This is part of why I'm a huge proponent of experimentation. There is no right answer. Just try it and see what works; you can always shift gears next time. START SOMEWHERE, even if you don't have all the details figured out.
The Beta had started to feel comfortable, because everyone was extremely supportive, and very grateful to get access to the resources I'd created. It felt more like a peer to peer relationship, and I was sharing my personal/business experience with my participants very openly. In all honesty? I had no idea how to be any other way.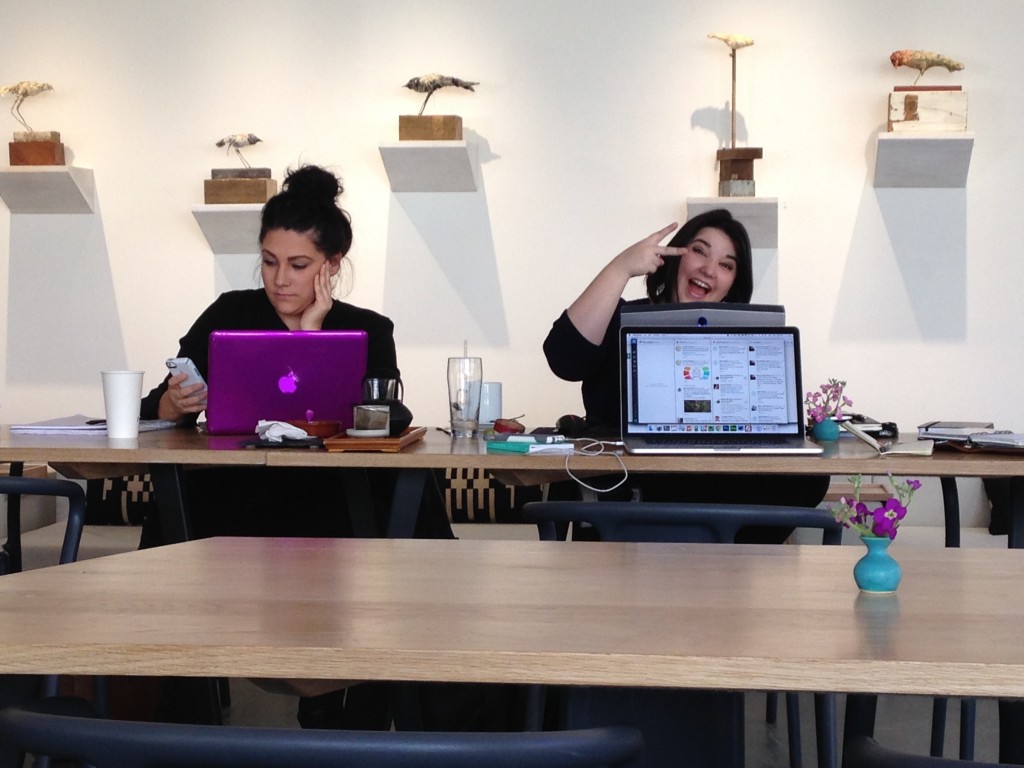 I do believe the openness and honesty with which I shared my own experiences, insights, processes, and even revenue with the participants was not only part of what helped build my trust and credibility (not to mention, confidence!), but also helped the participants realize:
that they didn't need to be perfect to be successful
that they had permission to be in progress.
Ultimately, I was myself. Open, honest, and vulnerable. I believe my willingness to show the "dirt under the rug"—the edges, the imperfections, etc.—was actually empowering for my students. I believe this was one of the most important things that I learned:
Skills, knowledge and know-how is 20%. Mindset is the other 80%.
It didn't matter if I gave my participants all the tools and tactics to go make change in their business if they didn't know how to get out of their own way. The mentorship time allowed me to really start to notice patterns, habits, and mindset limitations.
I realized that mindset was going to be a bigger piece than I had envisioned.
I couldn't teach designers to move into a premium pricing and services if they didn't have the mindset to match.
The best part was hearing thought patterns that I knew had limited me only 3-4 years earlier. I realized that I had an opportunity to move beyond just "tactics," and really bring my insights and perspectives into the program. It was what almost all of the participants seemed to be resonating with, and it solidified for me that this was bigger than just "digital strategy."
There's a reason the very first Expert interview was with Tanya Geisler and Lauren Bacon…
I actually struggled quite a bit with deciding on the structure and final module outline, because I was seeing a need for more foundational business-building work, but wasn't sure if that should be a different course or not. It was extremely ambitious, but in the end, Digital Strategy School essentially became two courses in one: Prepare Your Business, and Practice Digital Strategy.
Beta testing helps you check your assumptions, and learn from your participants.
Now it was time to move from Beta into Pilot.
Knowing that the program was going to evolve to include more mentorship time and more content, and knowing how much of my time was really going into creating the content, meeting with participants, and email support, I knew it was going to have to be a premium price. I always give more than I'm being paid for, so I was going to have to charge accordingly.
I also really wanted people who knew that it was time to invest in themselves and their business, and were ready and willing to do the work.
Would I be able to deliver the same value to those paying 4x the cost?
Deciding on the price
There's no question that deciding on a price was extremely difficult. I knew I didn't want to compete on cost (I mean heck, it's a core tenant of the teachings in my program – I'd be a hippocrate!), but I wasn't sure if I had the credibility to charge premium pricing (it's a good thing I have good friends and coaches who smacked some sense into me).
I knew that what I was teaching was not surface-level information, and I knew it was a fairly unique offering in the market. I received random emails from people telling me that as soon as they stumbled upon the sales page, it was like I had read their mind, and they KNEW it was exactly what they were looking for. People were reacting strongly, and the interest list was growing swiftly.
Thank goodness I had a "Launching" Mastermind with Natasha Vorompiova and Constance Lynn Hummel; the three of us were able to offer perspective, insight and support for all things launch related.
Looking back, I had some ridiculously low pricing ideas when I first started planning, but Natasha was able to convince me that I could no longer give my time away so freely as I had with the beta group. "I know you!" she said, "You're going to be giving your time away freely in the Facebook group. That has to come at a premium!". (I knew she was right.)
It was time to put on my big girl business pants.
In september 2014 I posted my January Launch pricing:
I ended up offering 2 versions of the program:
The Solo version was $1,050 US, spread out over 6 months ($175/mo)
The Mastermind version was $3900 US, spread out over 6 months ($650/mo)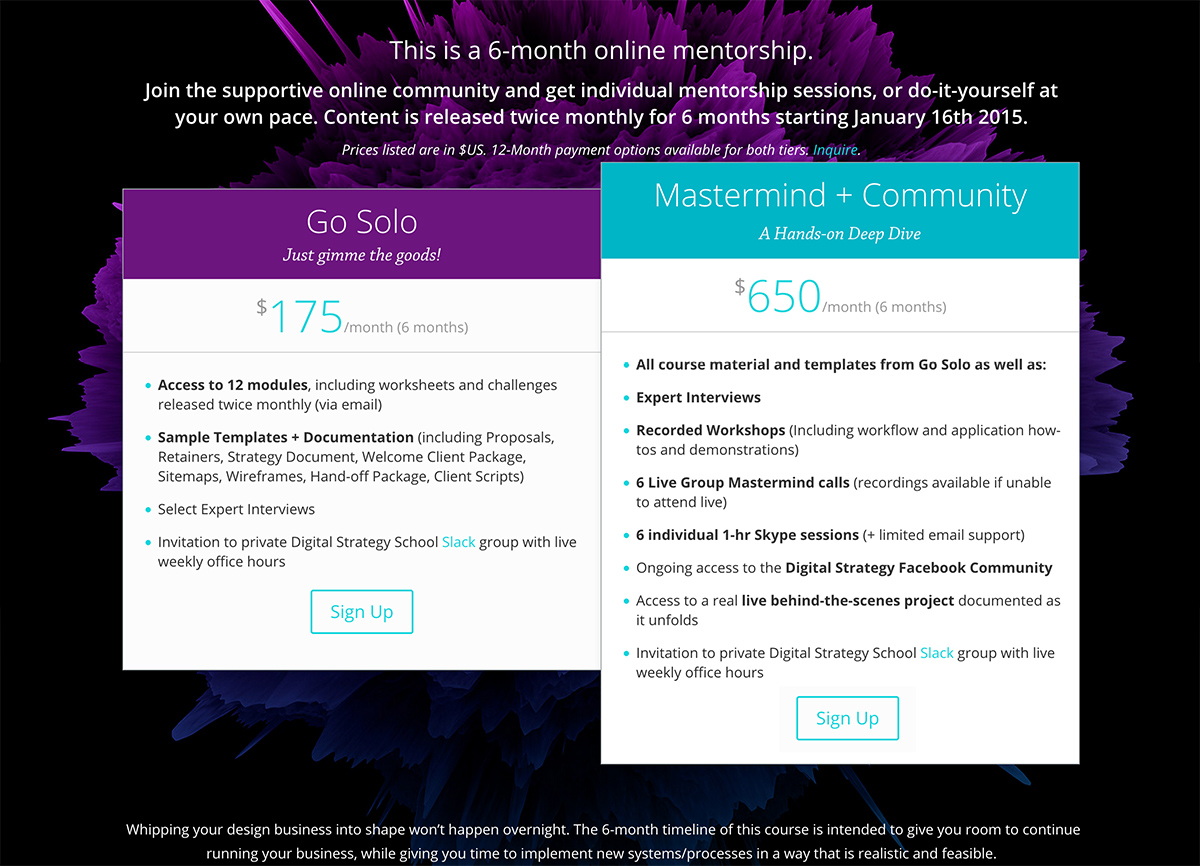 Since we're being honest here, I will admit that yes I had a mild heart attack when I put up that pricing.
I had absolutely NO GAUGE for how it would be received. I knew that I had significantly under-priced the Beta, but I also knew that I might never have built such raving fans had I not taken that chance (of under-charging and over-delivering).
Was I completely crazy? Will people sign up for this? Will they see the value?
The self doubt creeped in…
In the meantime, my focus was:
keep the beta participants happy
finish working on the content
figure out how to fill the january launch!
Now, I had used the Living Room Strategy to fill my beta launch, but would I be able to use the same strategy to fill the Pilot?
I've been mostly an online introvert in the past; keeping my opinions to myself and blogging inconsistently. I knew that I was going to have to take a stand and be more brave about my opinions online, and continue to provide value for others.
Filling the seats
I was so busy working with the current participants and building out the content that I didn't have a solid launch strategy in place. How did I fill seats in the program? BE. EVERYWHERE. I knew that I didn't want to feel sleazy about selling, so I was going to take a somewhat softer approach. I knew I needed to get my opinions and ideas out there in a bigger way, and step out from the background.
Webinars
In October 2014 through a chance connection I was invited to create a webinar presentation for Clients from Hell. Someone had cancelled, and they needed someone to step in with just under a week's notice. This was entirely my target audience; the opportunity was being handed to me on a silver platter. Not to mention, their last guest was Brennan Dunn! I had a huge fangirl moment. WOW, they're asking ME to go after Brennan Dunn?
TERRIFYING.
But also, pretty cool.
Being seen was a very new thing for me, but I knew it needed to happen.
You can't start a movement from the background.
I wasted no time in agreeing, and went to work on my presentation. There ended up being a few hundred people on the Hangout, which was led by Bryce Bladon. I felt really good about how it went! I was actually really glad that you couldn't see my face because I was very nervous! There weren't any direct signups as a result of this webinar, but I did have a few students tell me that they had heard it before they signed up, and I believe it was a step in establishing my credibility to audiences beyond my immediate circle. This was reputation building 101.
Podcasts
I did a podcast interview with Prescott at The Busy Creator, and another with Nathan at Under the Radar. Initially Nathan and I were just talking, and he asked permission to record our conversation to share as an episode, so it's a very off-the-cuff interview. Who am I kidding, I'm always off-the-cuff…
Liz Andrade and Niki Brown recorded a podcast snippet on their Page Break Podcast based on a blog post I had written on the importance of designing your client experience, and I can trace this connection back to a full Mastermind signup!
Interviews, Guest Posting
In November 2014 I did an interview with Carrie Green of the Female Entrepreneur Association on ways to move from idea to action. Again, Carrie has a huge audience, and I knew it would be a great opportunity to get in front of more business owners in a different market. This was my first video-based interview, and I was SO nervous, I felt like my voice was trembling. If you're not crapping your pants, you're probably not trying hard enough. I can actually trace a few signups back to this interview!
I did a written interview with Nathan from Nusii again on my process and workflow, and went into detail about my proposal process.
Breanne Dyck included me as an in-depth case study for her program, which gave us both some cred, and I participated as a hot seat participant for her Elevate webinar series.
I even got a few signups from people who found me via the footer credit on Natalie MacNeil's website(s)!
In December, Elegant Themes did a customer spotlight on me, and this has led to a tremendous amount of traffic that still continues to send ideal participants to my site. I can trace a few signups to this interview!
Blogging + Content
I made a more concerted effort to blog more often about topics I knew would resonate with my audience, and I included a mention and graphic of Digital Strategy School at the bottom of every post.
I later switched up the footer of my site to include a mention about DSS, and even changed my micro footer tagline to include "Chief Mentor, Digital Strategy School."

I also updated my email signature for both my gmail and my mariepoulin.com email:

I used whatever ways I could to make it obvious and clear: THIS IS MY THING. DO YOU KNOW ABOUT MY THING? MY THING IS HERE.
Nothing about this was easy or comfortable, in case that wasn't clear!
Social
Tara Gentile mentioned Digital Strategy School on Creative Live during her Market, Launch and Sell Your Next Big Thing because I had used what she coined as the Living Room Strategy to fill the beta by personally inviting participants. I noticed a small bump in signups to the interest list upon the mention (thank you, Tara!)
I made sure to update all of my social profiles to include DSS as my primary url instead of mariepoulin.com.
Facebook (groups, not ads)
Facebook was by far the most valuable way that I was able to connect with potential participants.
While I didn't have a "strategy" per se, I can safely say that I have spent the last 2 years sharing everything I know across different Facebook groups. Anytime I would see major pain points, I would document them in Evernote and use them as research, points to cover in DSS, or even future blog posts. I would share my process, proposals, resources and anything else anybody asked for or needed. I wanted to be as helpful as possible, and I think people remembered this. I was generous with my knowledge and my time, and most of the beta participants were people I had met in various Facebook groups.
Some of the participants were people who had written to me personally via my Facebook business page.
I never shied away from spending time answering anyones questions, or providing resources that I knew could help someone. For me, Facebook was a way to connect with people in a bit more of a personal way, and in case you don't know me that well, that's totally my style: with clients, friends and hey, even strangers! I consider myself mostly introverted, but I adore connecting deeply with others. I am deeply empathic toward others, and I really do want to help! That's why DSS is a mentorship program, and not an ebook. The connection with others is hugely important to me, and it's how I know if the work I do is really resonating.
YES, it was a huge investment of my time (and still is!), but Facebook continues to be the place that allows me to connect best with the participants. Our Facebook group is incomparable!!
Twitter
I did have a few Twitter followers that ended up signing up for the program. I would say hello and engage with anyone who followed, and I made efforts to share the content of people who might be interested in DSS at some point, even if it wasn't for this round.
Instagram
I shared several "behind the scenes" of the making of Digital Strategy School on Instagram, including photos of my desk and workspace, related quotes, and work in progress:
Google+
I have no idea how this happened, but I did end up getting a full Mastermind signup via someone who found me through Google+! I cannot explain this. It pays to be everywhere!
Interest List
Confession: starting Digital Strategy School was really the beginning of my list-building efforts. That sounds crazy, right? In late fall 2013, I added an opt-in to the bottom of my website, buried in the abyss, afraid to be seen. As a primarily service-based business owner, I had no idea what I would even DO with a list, but I put it up there grudgingly knowing that it was something I was supposed to do.
When I launched the program on January 19th 2015, I had 113 people on my list.
The big "jump" in May 2015 was me combining my Marie Poulin list with my Digital Strategy School interest list (which are now grouped and segmented based on where they signed up).

So what does that mean?
I didn't depend on my list for filling my launch. I still believe that growing your list is a no-brainer, but it wasn't how I filled the seats for this launch! You don't need a big list to get started and create impact.
Scholarship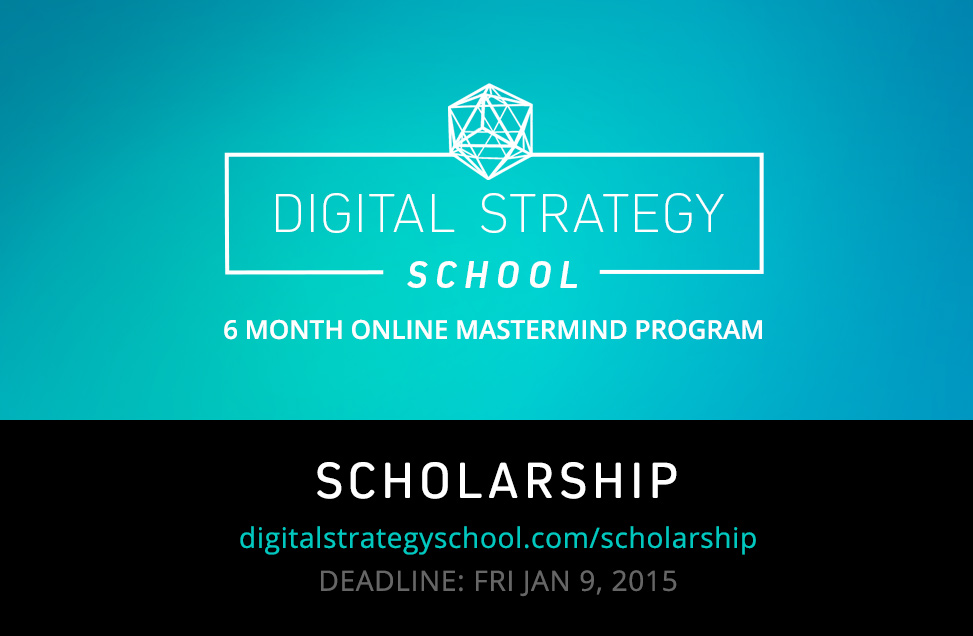 In the few weeks before the course began I decided to run a Scholarship for the Solo version of DSS. I know the program is a big commitment of both time and money, and I wanted to gift the program to a designer in need. Enter the Scholarship! I ran it for 1 week and invited designers to submit an application, and a winner would be chosen based on financial need and demonstrated potential. I asked applicants to submit their details along with their earnings from 2014, and answers to a number of other questions including where they were struggling most with their business, and how they had discovered the scholarship.
I shared the scholarship across all social media channels, and got quite a bit of interaction via Instagram.
The submissions were completely varied: they found me via Facebook groups, instagram, my blog, various interviews, Google+, client websites, etc etc. Someone even mentioned that it "seemed like I was everywhere."
In the end I received 42 submissions, 1 of which was a video submission. I decided to gift a full Mastermind scholarship to Mylene because she put together such an impressive video submission, I couldn't resist! For the remaining submissions I did a randomized selection, and Amanda Schoolfield won the Solo scholarship.
For everyone that submitted an application, I made an offer for a 6th month free if they signed up using the link I provided, and this resulted in roughly 5 sales.
Word of mouth + Forums
There were a few people who had heard of the program through their friends and other participants, as well as through other online programs like Natasha's Systematic Success, and Tara's Kick Start Labs.
Another unexpected sign-up came via someone in the Fizzle Forums who read about my beta launch!
Some of the beta participants brought their friends in and said "you need to sign up for this!"
Personal Invitation
I made a few personal invitations to people who I thought would be a good fit, and I reached out to a few people who were interested but couldn't afford the program, and offered them a more flexible payment schedule. There are also a few students that I granted complimentary access in exchange for either services, reviews, publicity and/or facilitating participation, as well as a few friend discounts.
The first signups happened in late November and then early December, and almost all other signups happened the week before launch closing, with the majority occurring on the final signup day, January 19th.
Sales Page
I believe the sales page is one of the biggest and most important factors in a launch. After years of being in Tara's Kick Start Labs (Seeing her Sales Page Kickstart and watching her review enough sales pages), and watching her Creative Live, I felt really comfortable with what I needed to say, and how I needed to say it. The work I did with Breanne in identifying the learning outcomes also was crucial to getting specific about the results participants could expect, and I was able to write the copy relatively quickly.
I gathered as many testimonials as I could, many of which were taken from personal emails I got from the participants, which felt more honest than a formal testimonial.
Launch Day
One thing to note, is that I had actually "opened the cart" in October, so technically I didn't really have a "launch day" so much as a "launch period." I'd probably do this a bit differently in the future, and offer a shorter window of time.
When the course began on January 19th, there were approximately 40 or so students (11 Masterminders) with a few late sign-ups in the following weeks. In the spring I opened up DSS again for a limited Summer School run. There are now a few September 2015 signups, and so as of the writing of this post, there are 54 students in total. Between the Beta launch, the January launch, and the Summer School participants, DSS grossed just over $50,000 US (over the span of one year).
Considering DSS took nearly a full year to create from start to finish, and occupied ~60% of my work time, I was exceptionally happy with the results. In the fall of 2014, I had no idea if a single person would sign up! I wasn't sure if I had the community and reach to launch such an ambitious project.
What I did know for sure: the work I was doing was making a huge difference in people's lives and businesses.
The success of this launch really hit home for me how we really are our own worst enemies. I had been working on my own for so long, that I wasn't even aware of my own value and what I had to contribute! Oh the irony… This is why I believe design community is so important!
This week a participant sent me a bar graph of her income increase since she signed up for DSS and said "I am still wrapping my head around the past 6 months of DSS, it feels like it was a years worth of learning and progress!"
Shay Bocks wrote a post titled 5 Online Courses That Will Rock Your Freelance World, and had this to say: "This chick takes Digital Strategy to a whole new level with her in-depth course for designers. On her homepage, she calls it a "Design Business Accelerator for Freelancers". And "accelerator" is more than appropriate. Halfway through the course, I picked up on a few of Marie's strategies for selling digital strategy to clients and won my largest contract yet – signed and paid for in less than 30 minutes flat." 
A few others wrote:
"Thanks Marie for your sheer honesty as it gave me the permission to look at and investigate myself."
"I want to kiss your cheeks!! You've just helped me get so freed up here. Thank you!"
Launch night
It was also my business buddy Constance's launch day as well, so we went out for dinner and drinks to celebrate everything we'd accomplished. Don't forget to celebrate!!! Couldn't have done it without both Constance and Natasha's launch support.
New Possibilities
In the fall of 2014, I signed up for fellow strategist Michelle Martello's email list. Within a few moments she reached out via Twitter and said she was so thrilled to see my name! We connected immediately, and decided to meet via Skype. I adored her instantly. Honest, down-to-earth, and so easy to talk to. It felt like we could talk for hours!
Now here's what is super interesting: Michelle has a very similar skill set as myself, and in fact, she's been at it longer than me. She is a digital strategist for entrepreneurs, not unlike myself.
There were no weird competitive vibes between us. We just had so much to relate to!
Michelle told me that she was really impressed (and even envious) of what I had created with Digital Strategy School. In fact, she admitted to having an idea for something similar, but she never had the guts (or ovaries as she put it) to launch. Meanwhile, I was envious of what Michelle had created. She had a large community, a gorgeous body of work, and passive income products! I made the invitation: what would it look like if we put our heads together? How could we make DSS even better?
I'm going to go ahead and guess that she was more than a little surprised! Even some of my friends and coaches were surprised. Be careful! You've already created it, why would you let someone else in on it?
But here's the thing: Digital Strategy School is bigger than me! It's a community. An idea. A movement.
Why not let it grow? Why not let the community evolve?
I know I can create success and abundance for myself. But what would it look like to help shape an industry? Now that's an idea worth collaborating on.
I nearly cried when my mentee said this today: "You're revolutionizing an industry. You already have, you just need to wrap your brain around it."
UM, thank you Tanya Geisler for helping me name and step into a role I was way too scared to name but could hear a faint whisper…
For helping me see myself the way my peers, mentees, and colleagues see me.
And so, with all that being said, Michelle Martello is coming on as a co-mentor in September 2015 for the next round of DSS, and we're brainstorming what DSS could be (we're also planning an in-person retreat in Vancouver in late October – more details coming soon!). I could not be more excited about this collaboration, and to see how the community evolves!
Things I learned along the way
We are all our own worst enemies.
Done is better than perfect. Iterate, iterate, iterate.
Accountability. Get it. Give it.
Give freely. Kindness pays off in spades.
Be everywhere: diversify your marketing tactics.
Connect and engage! People don't want to buy from strangers.
Don't launch alone!
The process of creating, launching, and marketing this course has been one of the most ambitious projects that I've ever undertaken. I've learned so much that I can't even fully articulate here! I've been able to gather market research, become a better coach and mentor, and overcome some of my own fears around selling, and "putting myself out there."
Three years ago, I would never have believed this possible. I didn't have the courage (yet), the know-how, or the community.
One thing I know for sure: don't launch alone! Get the support you need, whether it be friends, coaches, or colleagues. People who've been there before. Ask around and don't be afraid to get outside opinions.
BUT. That being said. There is no one size fits all approach to sales! I was hearing a lot of different advice, techniques, opinions, etc., and in the end, I trusted my gut and made the decisions that felt right for me. I cannot stress this enough. You get to do your business in a way that suits you. No one knows your business better than you.
Also, building community takes time. I knew DSS would take time to build. There's no shortcut to creating an audience. You have to keep showing up, day after day, and be willing to play the long game.
Technical Stuff
I used WordPress Wishlist for the online course platform. When people sign up and pay via Paypal payments, they're automatically redirected to create a Wishlist Member account (there were a couple glitches here: 2 people weren't re-directed properly, so I has to resent the link).
Wishlist integrates with Mailchimp, so all new memberships would trigger a new signup to my list, and segment them according to their level of purchase.
I used Typeform to collect applications for both the scholarship and the Full Mastermind.
I used Divi Theme from Elegant themes to create course pages.
So now you know how I took the course from the Beta to the launch of the Pilot.
Perhaps you are curious about how to actually run a 6-month program. Did I finish all the content before I launched? How much time did it all take? Did I sleep at all?
________________________
Running the Program
Read Part 1: The Evolution of an Idea.
Stay tuned for Part 3: Running the Program.
http://digitalstrategyschool.com
________________________
Some of the links contained in this post are affiliate links. This means that I may receive a commission if you click on the link and make a purchase from the affiliate. I only recommend products and services that I know or trust to be of high quality, whether an affiliate relationship is in place or not.