The last few weeks, or so it seems, I've had an incredibly difficult time waking up in the morning. I've found myself sleeping until 10am, 11am or sometimes noon.
This morning I set my alarm for 8:45am, and hit snooze until about 9:45am.
Perhaps it's the change in season; not enough sunshine, not enough vitamin D… Ok maybe part of it is going to bed at 1am…
UPDATE: I Finally rearranged my blinds so the windows now let in much more light, and hey, I've actually been able to wake up much earlier than usual!
Either way, I found myself getting increasingly frustrated, as though my inability to wake up early in the morning was symbolic of laziness or un-productivity. I suddenly felt guilty, angry at myself and restless. My partner was quick to remind me: "You DID just launch your new website in 3 days last week, built 2 client website prototypes, went rock-climbing, did an interview, spent the weekend outside…"
I laughed a little. He was right. When I look at what I had accomplished in the last 2 weeks, I was proud! Why was I giving myself such a hard time?
Maybe I've read one too many books on productivity and efficiency. In Manage Your Day to Day, one chapter recommends not checking your email first thing in the morning, and instead, doing your best, most creative work first. This way you don't spend the morning wasting energy on the drudgery of email and administrative tasks, leaving yourself feeling drained in the afternoon.
The problem with this, however, is that I can safely say that nothing about my brain is creative first thing in the morning. That's not to say that I am not open to the possibility of this, but for as long as I can remember, waking up in the morning has been a struggle. Picture 3 alarm clocks at various places around the bedroom, all going off at the same time, while I zzzzz away. Then, enter irritated family member/flatmate/partner, totally dumbfounded that I could possibly sleep through such noise. Sometimes I feel like I could sleep forever, and the thought alone makes me so happy.
When I worked at Thinkhouse many moons ago, getting to work for 9am was a serious struggle for me. Gordon was so kind and flexible, and never said a word when I strolled in late. Of course I would stay later to make up for my time, eventually working something closer to a 10-6 work day.
Many years later, when I moved to Vancouver, I took on a position at a small digital agency where my work hours were 8-5. The stress of the job was one thing, but believe it or not, being required to be "on" at 8am in the morning was a serious struggle for me. My boss at the time even commented as I stepped through the doorway one morning after yawning:
"Yeah, you can't come in here looking like that. Were you up all night?"
My jaw dropped. Did he actually just say that? I'm not allowed to come into work looking tired? I only lasted for 4 months before I realized that the stress of that position was going to shave years off my life. It was the job that sealed the deal for me; it was time to be my own boss full-time, and honour my own creative rhythms, whatever they may be.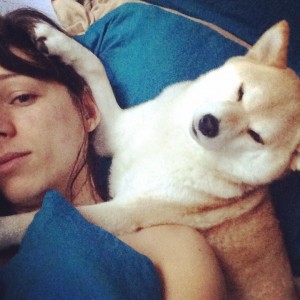 If I had complete and absolute freedom over how I choose to plan my day, I know this for sure: I love slow mornings. Slow mornings make me insanely happy. I love waking up to snuggles (whether they be from my partner, or pup). If I have snuggles in the morning, it totally sets the tone for the rest of the day. Then I love shuffling out of bed, putting on my robe, and making breakfast. I enjoy eating it slowly, ideally near a sunny window where I can look outside and breathe deeply.
Wait a second.
I DO have freedom over how I choose to plan my day.
SO, what's the problem? Why am I beating myself up over not being a superhero at 8 in the morning?
One of the biggest reasons I decided to be my own boss was that I wanted the freedom to choose how I spend my energy each day. And I AM my own boss. So today after much reflection, I've decide to go a little easy on myself. I'm forgiving myself for being a night owl. If a slow morning gives me great joy, then I'm going to take a slow morning. If I enjoy a midday climb, because it energizes me, I'm going to do it. If I reach my creative peak at 7pm, and decide to work until 11pm, so be it. I don't need to be on call 8 hrs a day with my clients.
As long as the work gets done, it's time to stop feeling bad about when it happens.
I'd love to hear from you: Are you a lark or an owl? Do you have a time of day that you're consistently "creative" or "on"? When are you most productive and inspired? Do you think it's in our biology?