A last minute visa run in Cambodia
You can only stay in Indonesia for 60 days at a time with a Visa on Arrival, and then you need to leave the country if you want to return again. I was thinking about maybe doing a small side trip to Thailand (rock climbing in Railay? visit Cody McKibben…), and then a university friend (Steve) informed me that he would be heading to Cambodia at the end of March. This aligned perfectly with my schedule, so with about 5 days notice, I booked tickets to Cambodia with a stopover in Malaysia!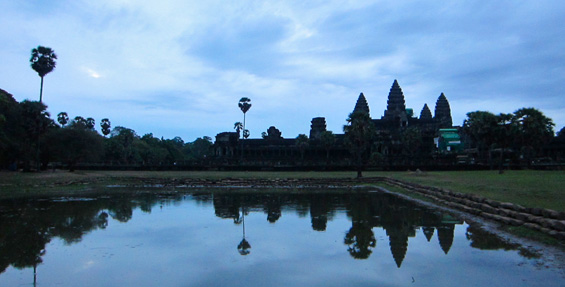 I didn't have time to do any research on Cambodia… All i knew were the rave reviews that I had heard from many other travellers in Bali. I had no idea what to expect, and I will say that Cambodia truly blew my mind.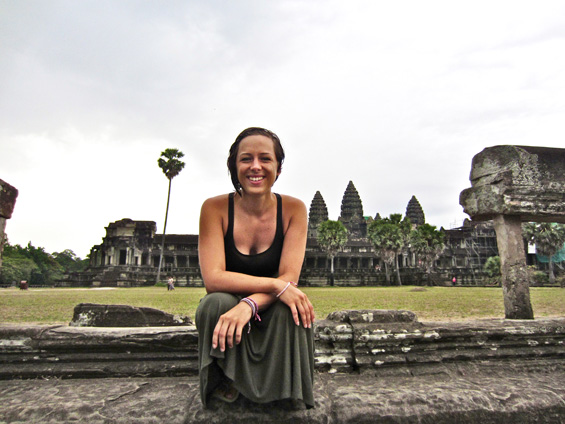 The plan was to meet up with Steve at Monkey Republic Bar in Sihanoukville, in the south of Cambodia on March 27th. I had no way to reach Steve other than via occasional facebook messages. Neither of us would have a phone that we could use, so my fingers were crossed that everything would pan out as planned. If he wasn't at Monkey Republic, I was to look for him at the Blue Mean Leap guest house.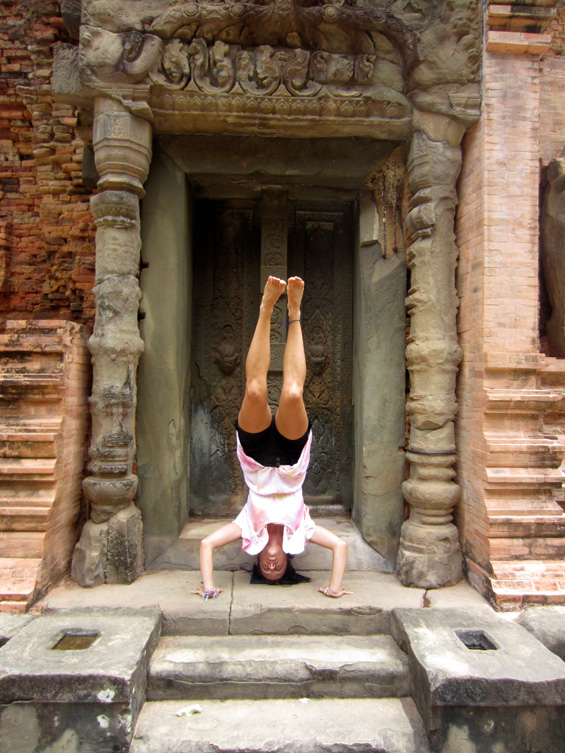 I get to the Airport in Pnomh Penh, Cambodia, and take a tuk tuk to the bus station where I'll need to catch a 4 hr bus ride to Sihanoukville. Well, it just so happens the last bus of the day has already left. My options are to stay a night in Phnomh Penh, and catch a bus in the morning, or pay $45US to take a 3hr taxi ride there. I foolishly opted for the taxi ride, thinking it would be way too difficult to coordinate with Steve if I had to come the next day. At the time, I felt very intimated about being in Cambodia by myself! I got a lot of stares and glares while I was in the tuk tuk… and just wanted to make it to my destination without hassle.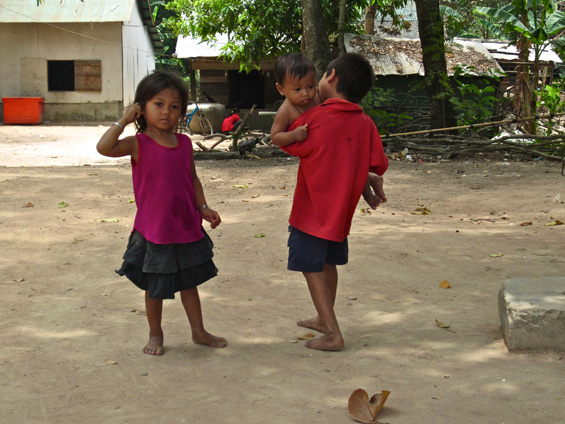 3hrs and $45 later, I arrive at Monkey Republic. Steve is nowhere to be found, but the place is bumpin'. I order dinner and a beer, and I sit by myself, struggling to break the ice with anyone. I leave at 11, and figure it's best to make my way to Blue Mean Leap. The only problem is, none of the local tuk tuk drivers recognize the name! After asking several people, and feeling a bit silly for not knowing where I should be staying and how to get there, finally one of the locals comes by and recognizes the name. It's a quick tuk tuk ride away. I check at the front desk, and there is no record of a Steve checking in, so I check in on my own, exhausted and defeated.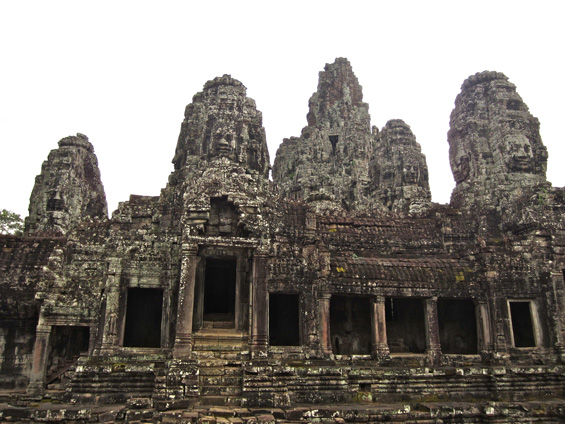 The next day, with no sign of Steve, I walk toward the beach with my laptop and do a bit of exploration. I check out the beach, and the many stalls and restaurants, and finally find a neat looking bar/restaurant called "The Big Easy" which has free wifi. I message Steve to let him know where I am, and proceed to get some work done. I park myself there for a good 5-6hrs, catching up on emails and Basecamp tasks. With no word from Steve still, I head back to the hotel to drop off my laptop. There is Steve, playing guitar (with an old guy named Roger who just came from 10 years of living in Thailand) at the hotel restaurant. I breathe a sigh of relief that he hasn't in fact been eaten by crocodiles. Turns out he got stuck at the Thailand/Cambodia border, and had to stay the night in a small town with one bar, and no internet access!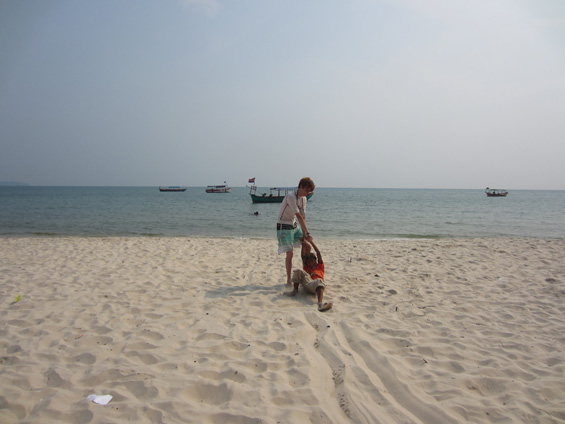 We spend the next day on the beach in Sihanoukville, and this is my first "real" day in Cambodia, as the previous day was a bit of a write-off because it was a work day. There is of course a dark side to Cambodia, as a result of the poverty. The air quality is pretty bad, and you tend to have people begging you for money, and harassing you to buy their goods. It is easy to get ripped off if you aren't sure what things are worth. We were foolishly expecting a relaxing beach day, HA! Within seconds of laying down on the beach chairs, we were swarmed with children asking us to buy their bracelets and trinkets. Then some of the older kids and young adults came by to sell sunglasses, drinks, massages, manicures, and threading. These kids are GOOD salesmen and they know how to put on a real pout! The two of us had a group of nearly 12 people hanging around our beach chairs, each begging us to buy THEIR product/service. It was entirely overwhelming. I eventually gave in, and bought some sunglasses, bracelets, and let one of the women thread my legs and armpits (ouch!). But hey, I won't have to worry about razors for a while… I think I must have fed a few families for a week! One of the kids wouldn't leave Steve alone, and began throwing sand at him, stealing his shoes, and tickling him. We eventually had to leave as it all became a bit too much to handle. We had headaches that night! We left for Pnomh Penh in the morning to see the Killing Fields and S21. This was a heavy day to say the least. The Khmer Rouge were responsible for killing nearly 3million people across Cambodia. They secretly tortured and murdered over a million innocent civilians and buried them in mass graves, some of which were found without teeth or clothing, and with severe skull injuries. Images of the victims were taken for documentation; some before, and after they were murdered. I had trouble keeping it together when I saw some of the photographs. Seeing the piles of skulls was one thing, but once I saw the faces of the people (so so so many beautiful children…) it really hit me. I definitely wiped away some tears that day, and found it difficult to keep composed. The images still haunt me… Google it. It's absolutely chilling.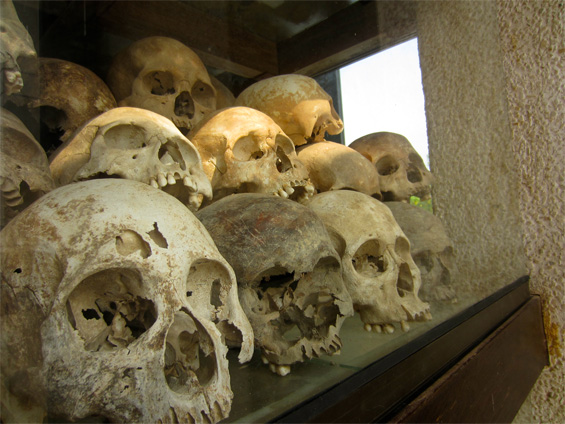 After our gloomy day in Pnomh Penh, we take a 5hr bus north to Siem Reap for 3 days of temple hopping in and around Angkor Wat. In Siem Reap we are recommended a hotel (Siem Reap Temple Villa) by our tuk tuk driver. At 12$/nt for the two of us, with wifi and a pool, we're sold! The place is full of other travellers in their late 20s, and our room is cleaner than any other we've seen. We're pretty excited to be spending only 6$/ea per night!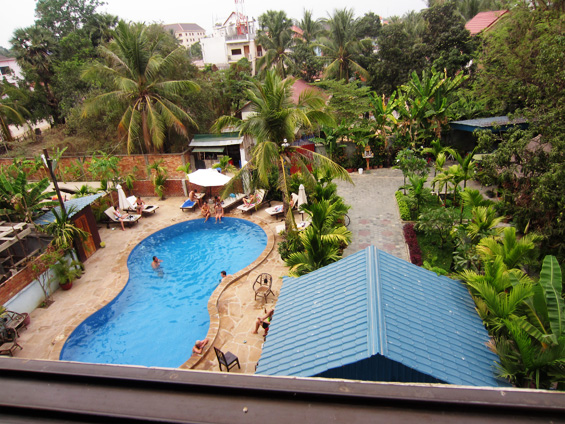 We buy a 3-day pass for the temples, and hit up pretty much every temple in the circuit. Now while Angkor Wat is one of the most well known of the temples, I have to say that some of the other lesser known ones were my favourite! I definitely felt like I was in Tomb Raider or Indiana Jones.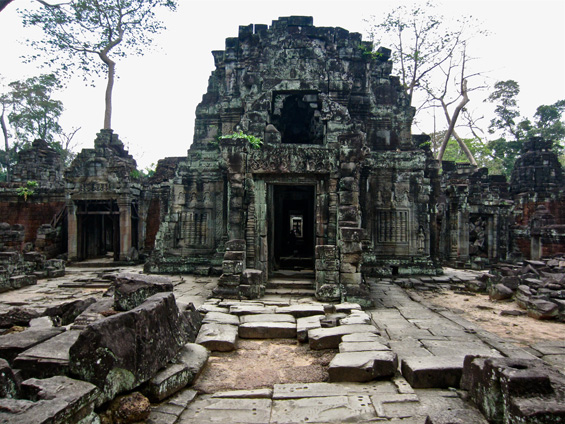 The stone work is absolutely mesmerizing. The pictures don't even begin to capture how epic the sights are. And funny enough, some of our favourite photographs weren't even of the temples, but of the people of Cambodia. This country is beautiful, and so are the people. This 8 day visa run has flown by. I already know that I'll want to return here someday, and spend more time getting to know the city of Siem Reap. The temples are magical, and the people's smiles are friendly. You do see the poverty first hand, and it can be a bit overwhelming at first, but it is truly an eye-opening experience. Accommodation is cheap, meals are even cheaper… we spent $4-$6/night on hotels, $6-$8/day on food, $7/day for our tuk tuk driver (Most days that meant driving us around from temple to temple from 10am until 5pm), and $40 for a 3-day pass to all the temples.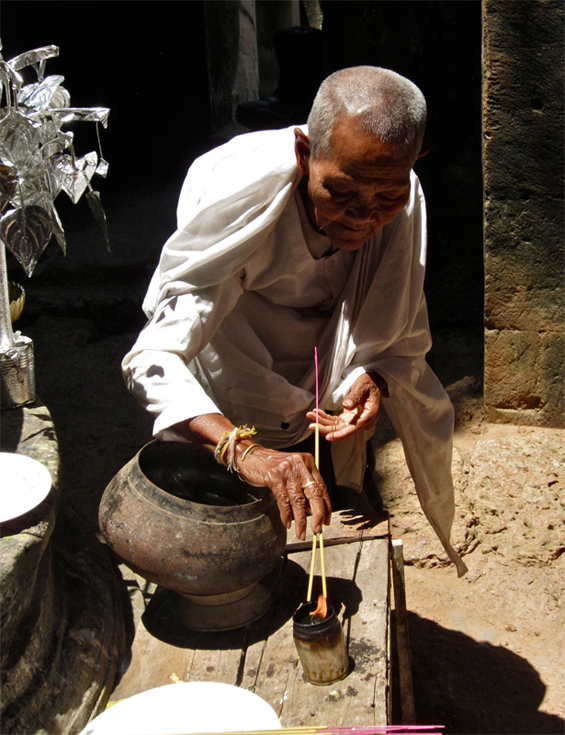 By the 2nd or 3rd day into our trip, I already felt comfortable in Cambodia. I ended up meeting a few other solo female travellers, and quickly realized that Cambodia is not the threatening place that I thought it was. Obviously it's important to use common sense when you are travelling (poor steve had his wallet stolen while he went for a brief swim), and not put yourself in danger, but this country is surprisingly inviting to new travellers. I really think that this country is a place that everyone should visit at least once.
Goodbye Cambodia, it's been a blast! xoxo Back to Bali…