For the last 5 years or so, I've done an annual retrospective, where I look back on the year and reflect on all my favourite experiences, reflect on lessons learned, and identify areas of improvement.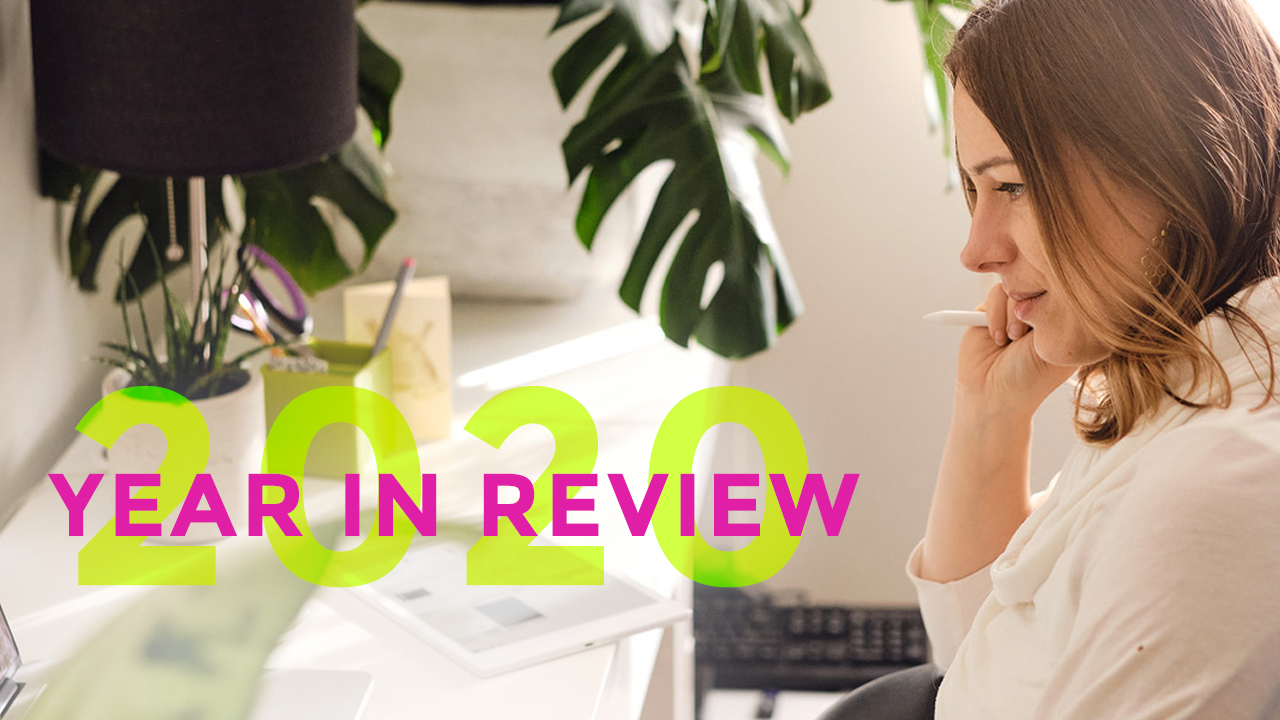 This process has become a lot more fun (and easier) since I have been using *Notion to store all of these insights on a daily basis, and have developed so many routines around reflection, journaling, etc.
I've got a TL;DR summary at the top with highlights and numbers, and more detailed narrative below. This is as much for myself as anyone reading this, to provide a sort of time-capsule of my thinking and experience, to watch how my focus changes over time.
If you found this interesting, feel free to let me know on Twitter.
TL;DR
You can check out the short/sweet visual version of my Year in Review here:
or read on for a more detailed and personal review.
Best of the Year
Highlights
Proudest accomplishments:
Growing Notion Mastery to over 700+ students, bringing on an associate coach, hiring a small team.
Biggest challenges: Capacity, growing pains, follow-through, overcommitting, online trolls.
Miscelanious Moments:
VIP day with Tanya Geisler in Toronto
Friends dropping off seed starters
Relaxing in the hammocks
Making Sushi with Ben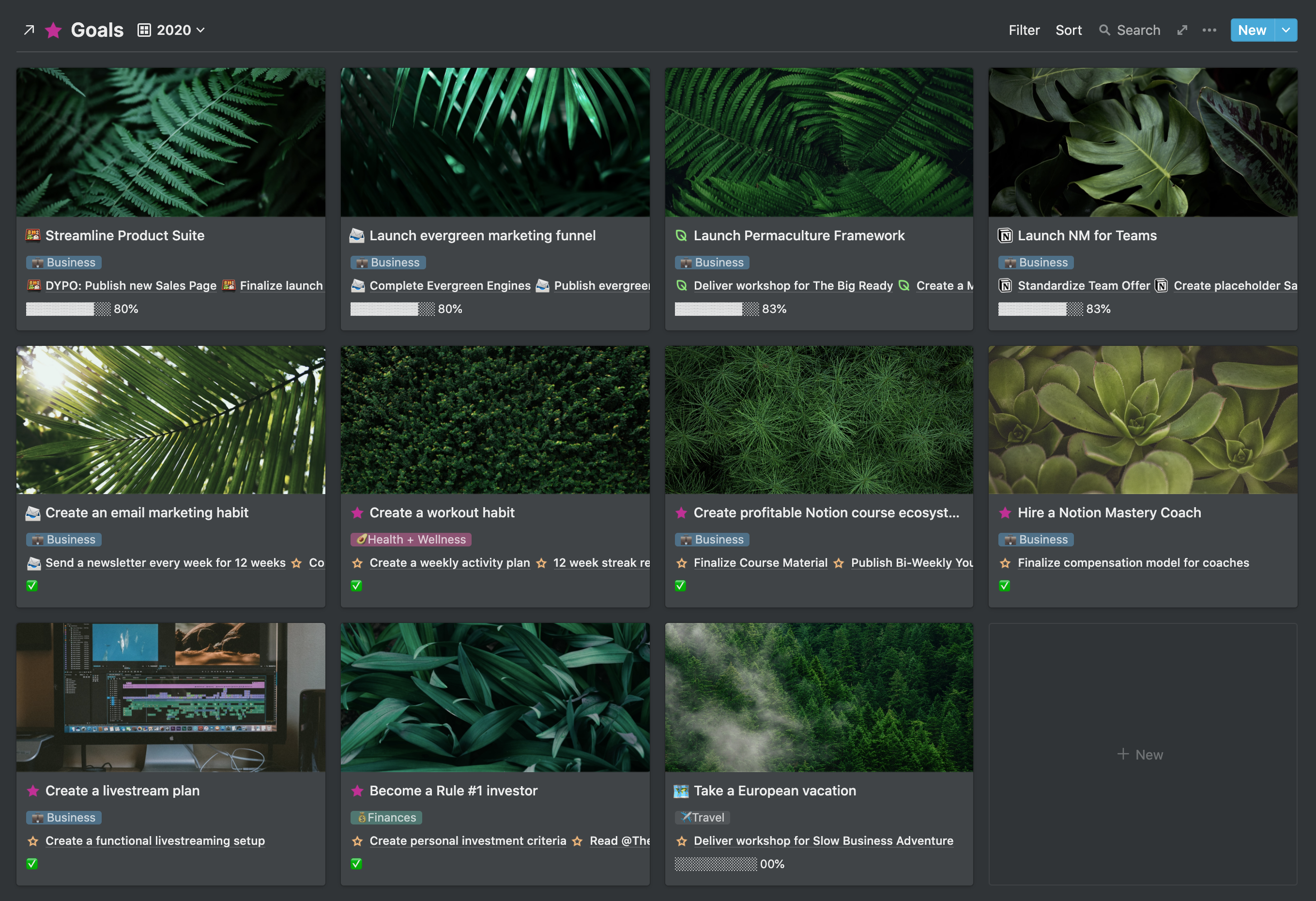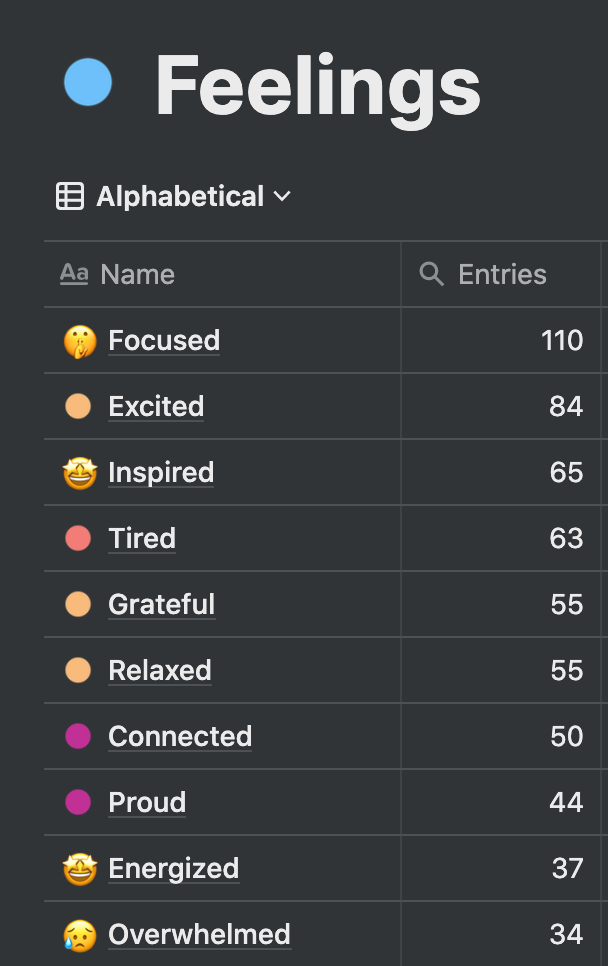 YouTube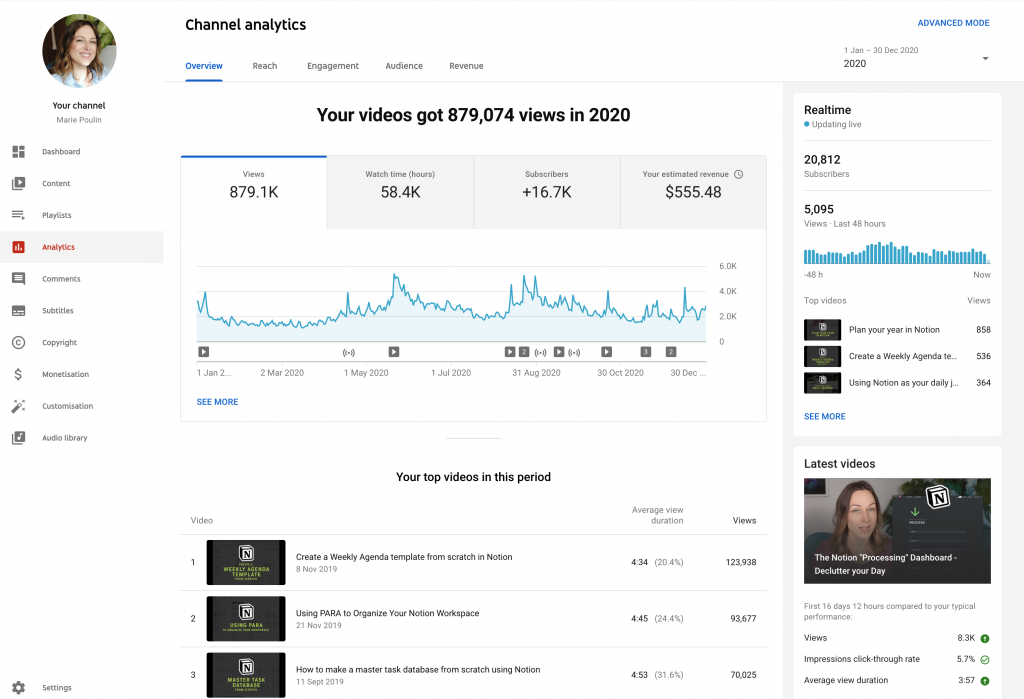 Notion Office Hours Sessions: 42
Most popular Notion Office Hours episode: Notion for Freelancers
Guest appearances: 21
Notion templates:
1,774 sales
$25,774 revenue
2,485 customers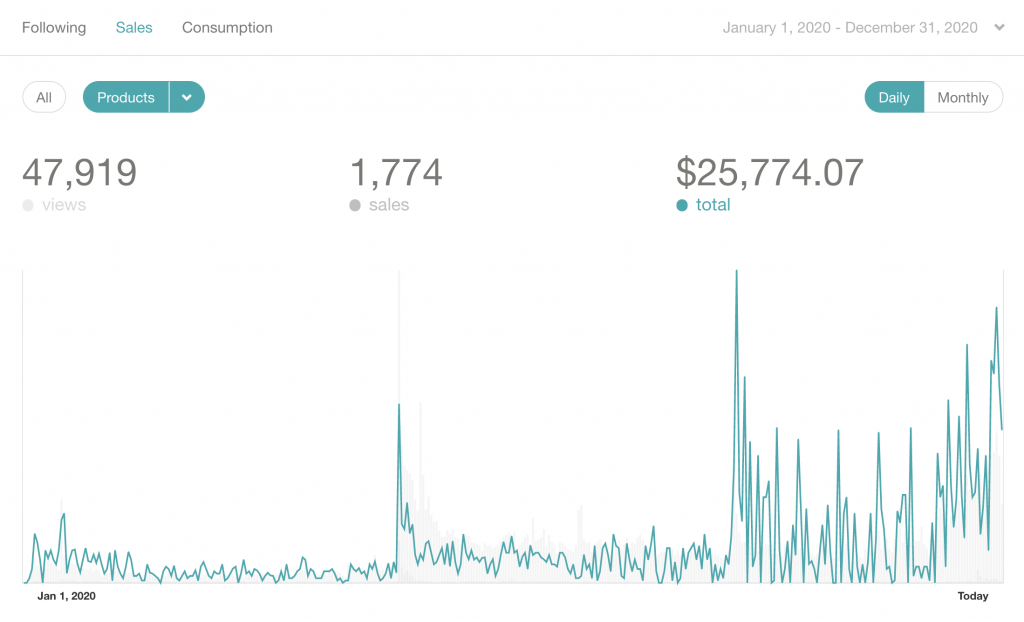 Top 3 tweets:
And bonus: the tweet with the highest engagement ratio:
Top 3 Newsletters (most engagement, replies, click throughs):
---
The Year of Courage
Every year I choose a word to help me anchor into my goals, and in 2020 I chose the word courage. Mostly this represented my desire to come out of my shell, stop hiding, and make courageous choices.
Let's dive in to what happened this year.
Obviously COVID put a damper on everything, so I threw myself into my work, while also giving myself permission to enjoy some hobbies and downtime without too much guilt.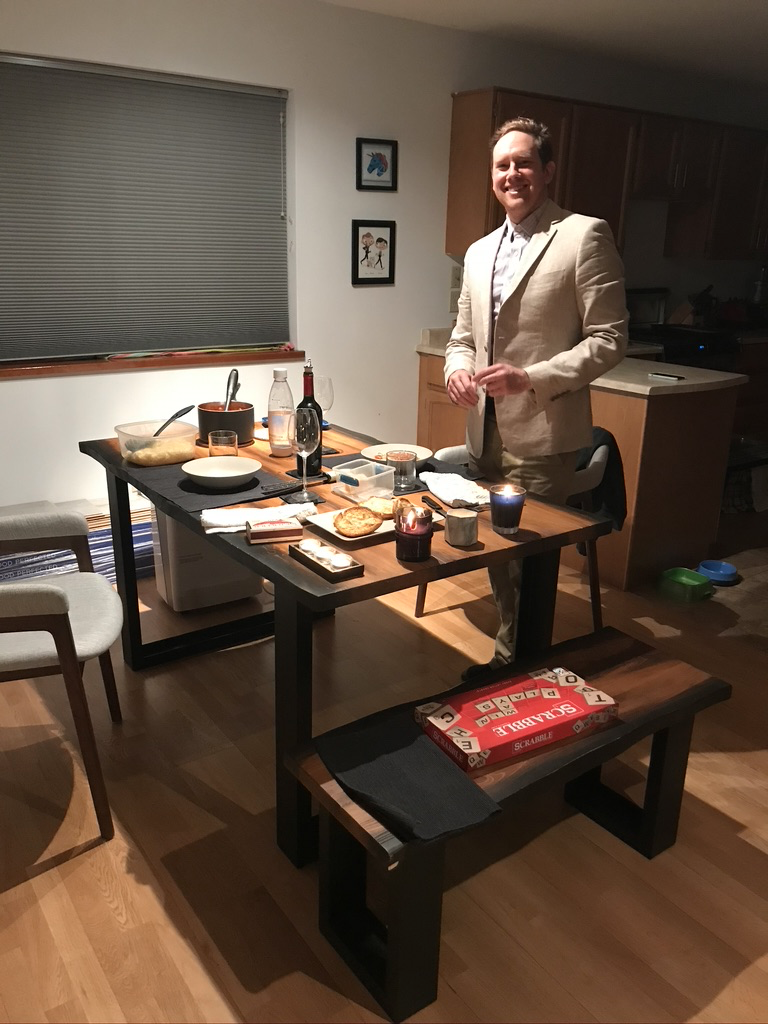 Hobbies + Creativity
Little did we know just how much this would come in handy, but my husband Ben and I decided that we each needed our own office space.
Between our meetings, podcast interviews, video recording and livestreaming, it was becoming more and more distracting for each of us to not have a space of our own to focus quietly.
We decided to turn our spare bedrooms into offices. It would mean that we'd no longer have room to host friends or family if they visited, but hey, the pandemic made this a non-issue, so we're both pretty glad we made this call.
We pulled up old carpet, installed new flooring, bought a few key pieces of furniture, and upgraded some of our tech.
Ben's before + after: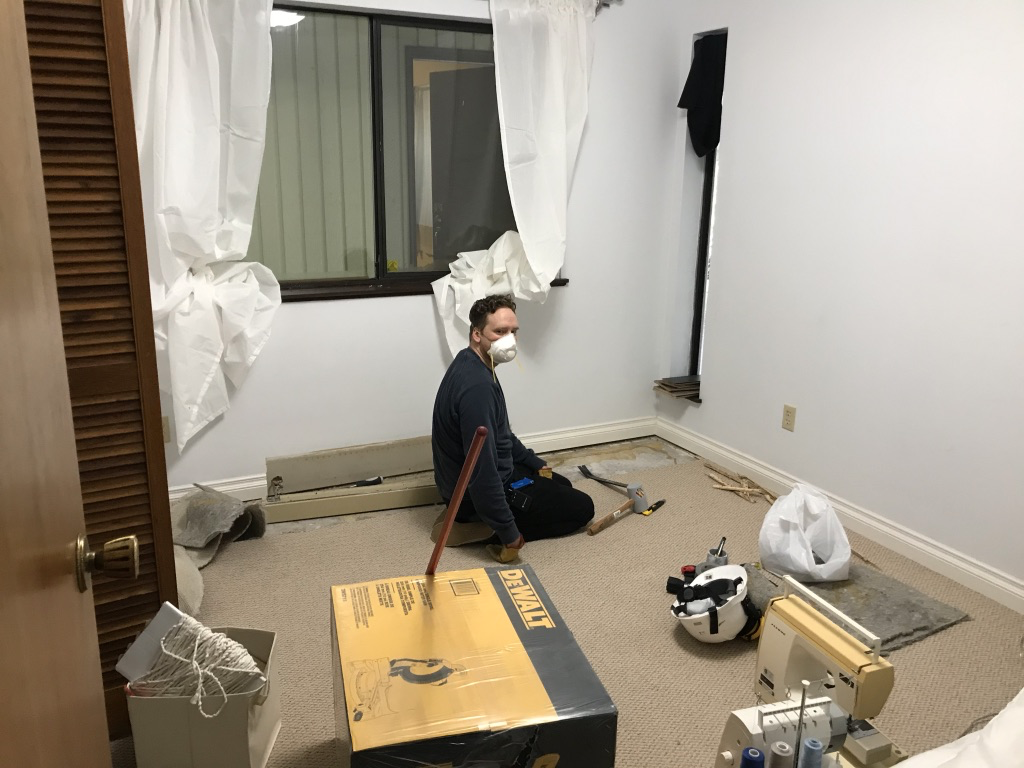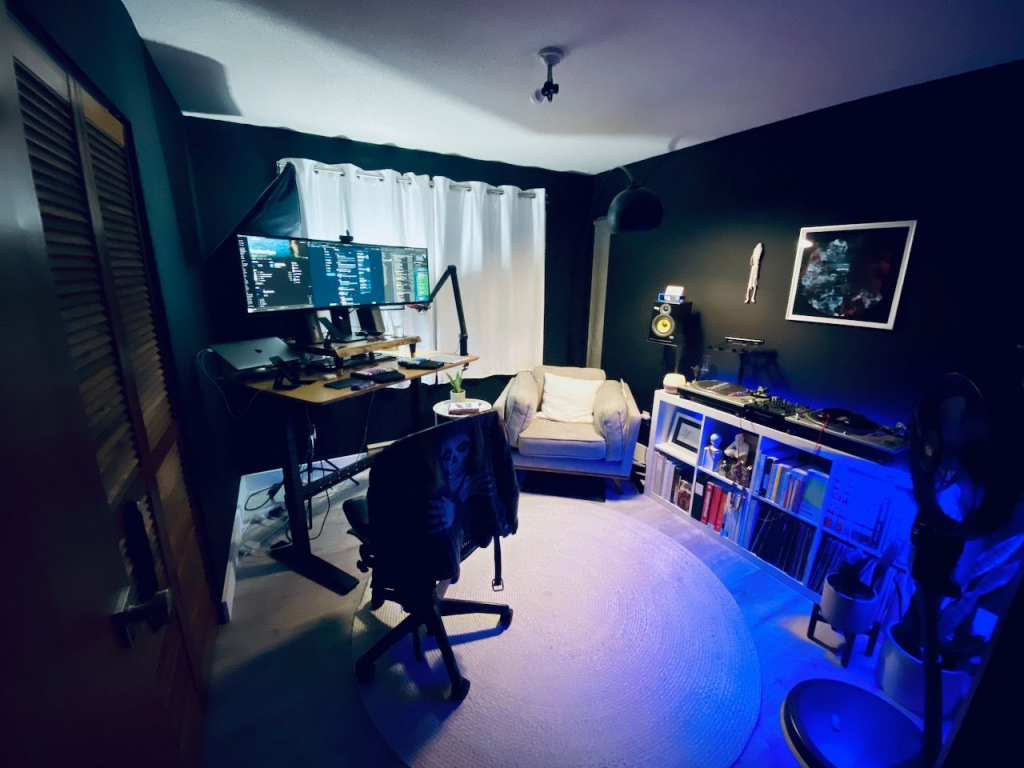 I focused on plants and light while Ben went with dark mode.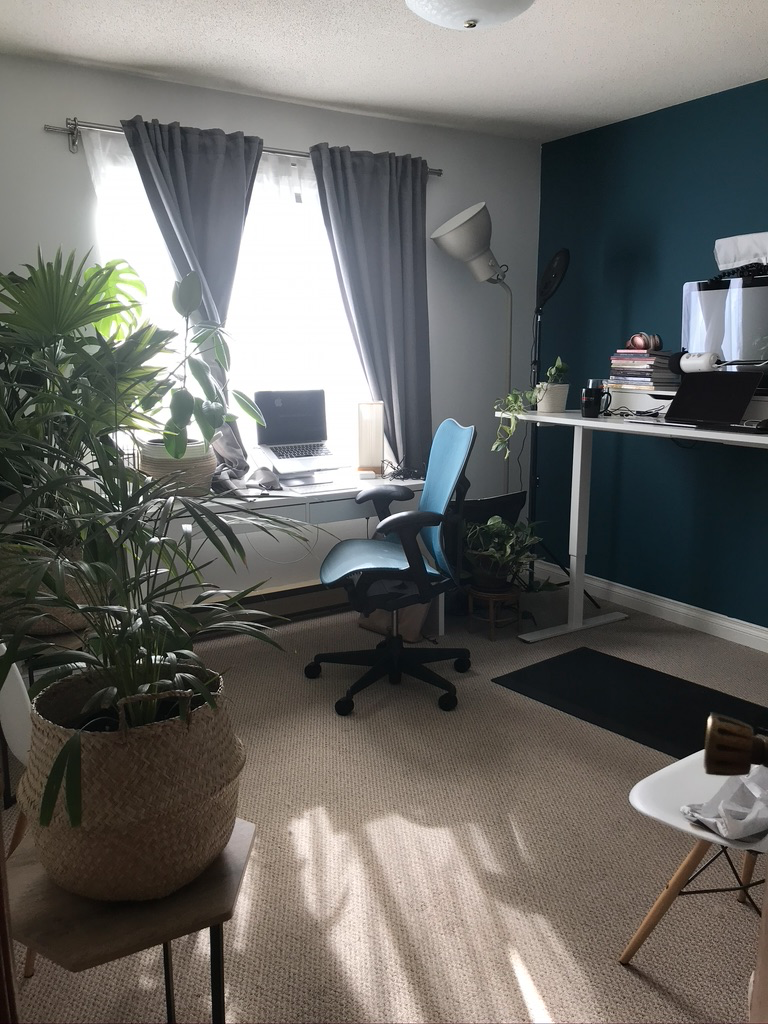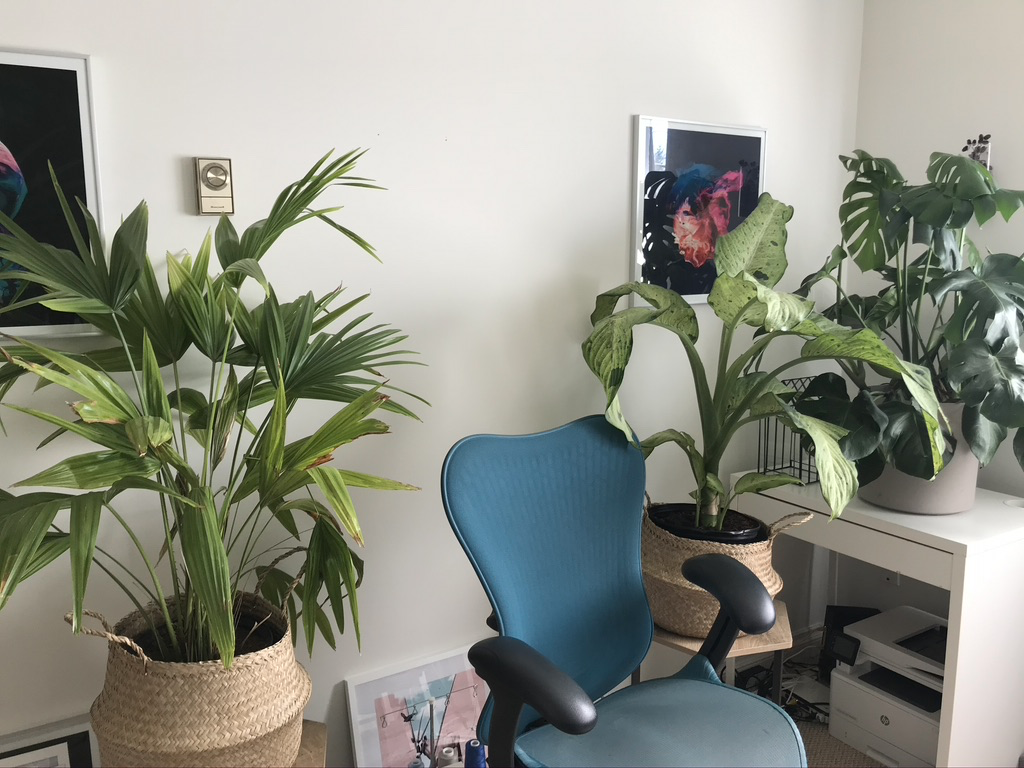 Plants, Gardening, Permaculture
I continued to work on my permaculture diploma which is exploring how we can apply the principles of permaculture to business.
You can check out the Notion doc I put together for Mike Vardy's The Big Ready back in February 2020: Ecosystems at work: Using Permaculture to design our work, life, + legacy.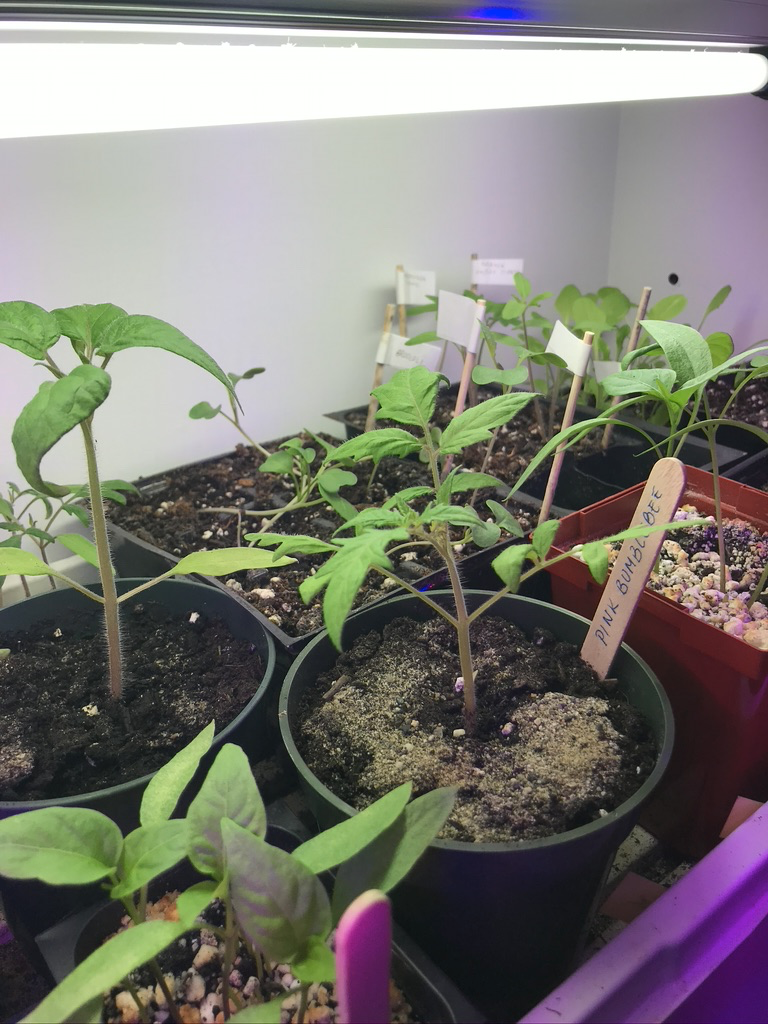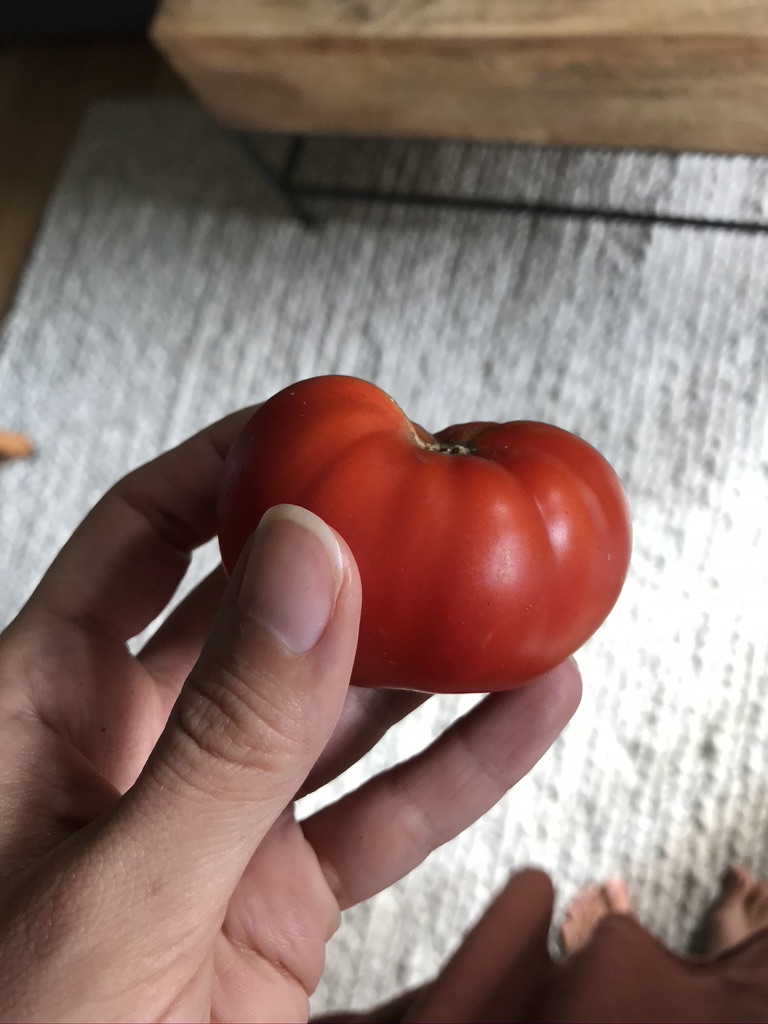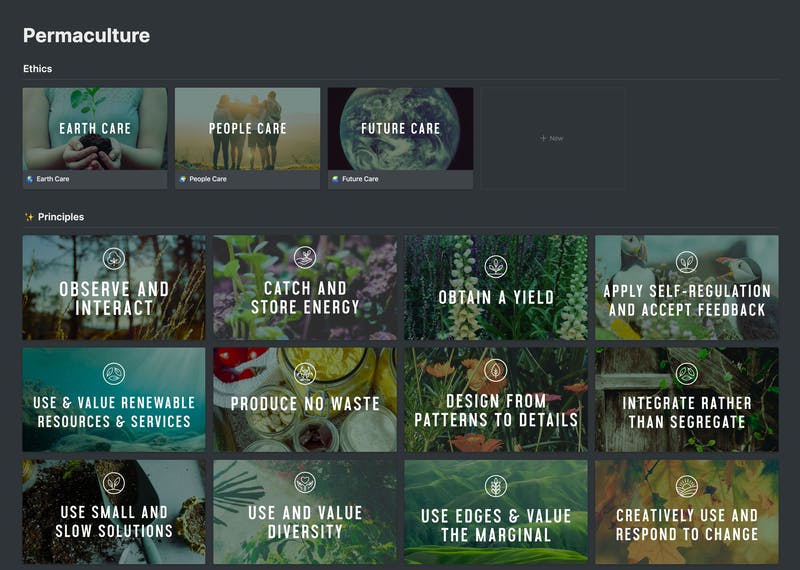 And I splurged on a Tower Garden. This is definitely the most hilarious indulgence, I love it so much. And best of all, the deer can't eat it!
Now whenever we're cooking I just walk over to the tower and snip off some delicious greens.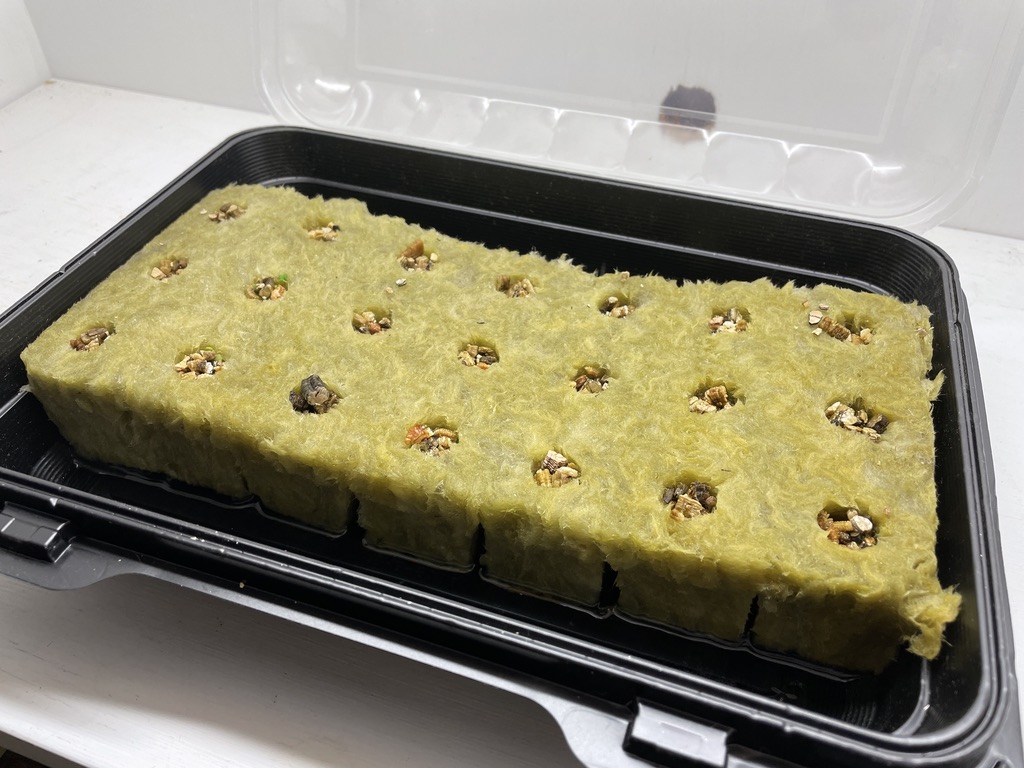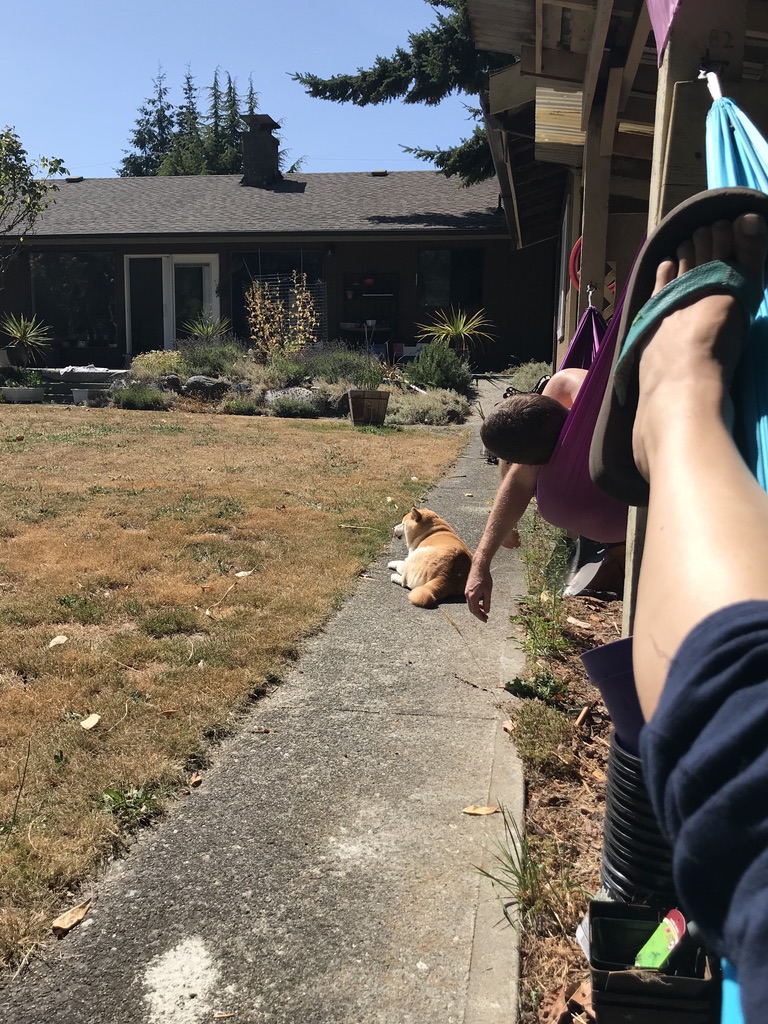 Media + Entertainment
There was a lot of Netflixing. I used to feel guilty about this, but I love film and television, and am endlessly fascinated with everything that happens "behind the scenes." The production, scripting, cinematography, actors' experience, and the sheer teamwork involved in bringing these massive projects together. I often go down multi-hour rabbit-holes to read about how these projects come to life.
Yes, I want to know how Tom Ellis felt when he heard that we would be cast for Lucifer, and what changes Netflix wanted to make when the show changed networks. Yes, I want to know what the chemistry is like on set for the actors. I want to know what it was like for Gabriel Macht and Sarah Rafferty to play convincing lovers when they have a "brother-sister/best buds" relationship in real life. I want to understand the transformations people go through personally and professionally to be the person you see on screen with unflinching credibility.
As someone who signed up for the Supernaturally Shy Intro to Acting classes 5+ years ago to work through my stage fright, I have a complete fascination and admiration for the work it takes to embody a role… while bringing your whole self to it. And not just one role, but multiple roles over a lifetime.
I laughed hysterically and cried through the majority of those classes, out of sheer nervousness and the emotional roller coaster you embark on as part of the process.
Ooops, I'm getting off track…
Media Faves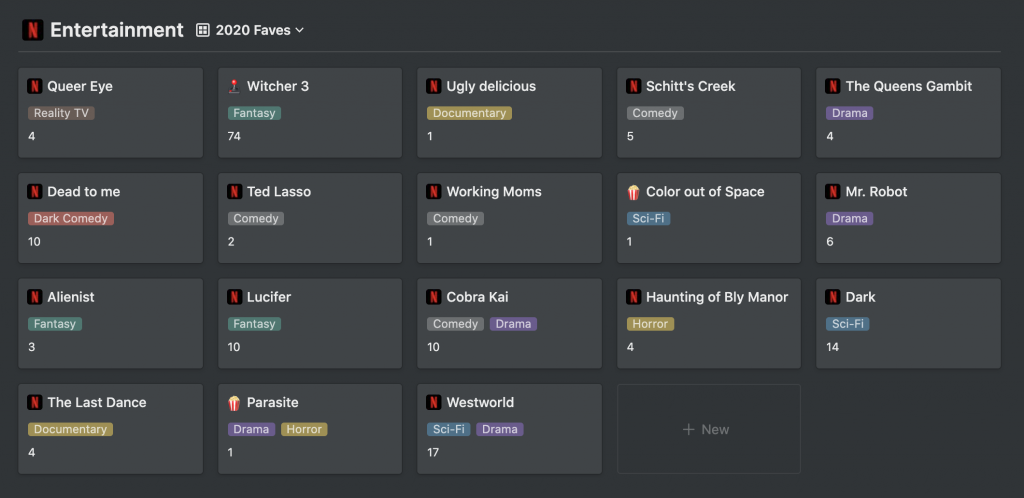 (Color out of space is probably the only on that Ben marked as a favourite that I wouldn't have put in my faves…)
This year I started playing Witcher 3, which I absolutely loved! We watched the Netflix series, and I enjoyed it so much I decided to play the game. I'm fairly new to these kinds of third-person exploration games. I grew up on Super Mario bros, but in the last few years I've really started to enjoy the storytelling and open world exploration of games like Witcher.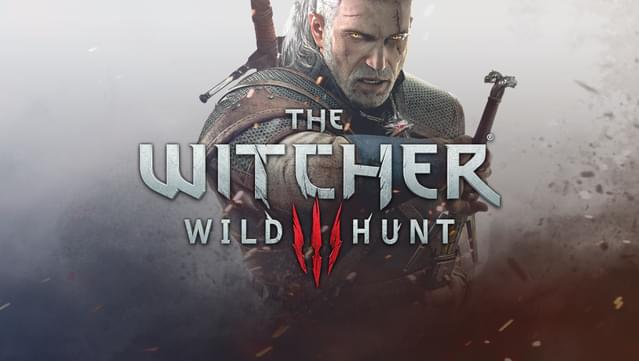 Witcher 3 and gardening were some of my "unwinding" activities.
Fave song:
Reading
I tend to dabble quite a bit, and often have several books on the go at once. Reference represents books I've read (either partially or completely) that I know I am likely to come back to, and/or have taken many notes on.
This year I especially loved Systemantics, Clockwork, and The Regenerative Business.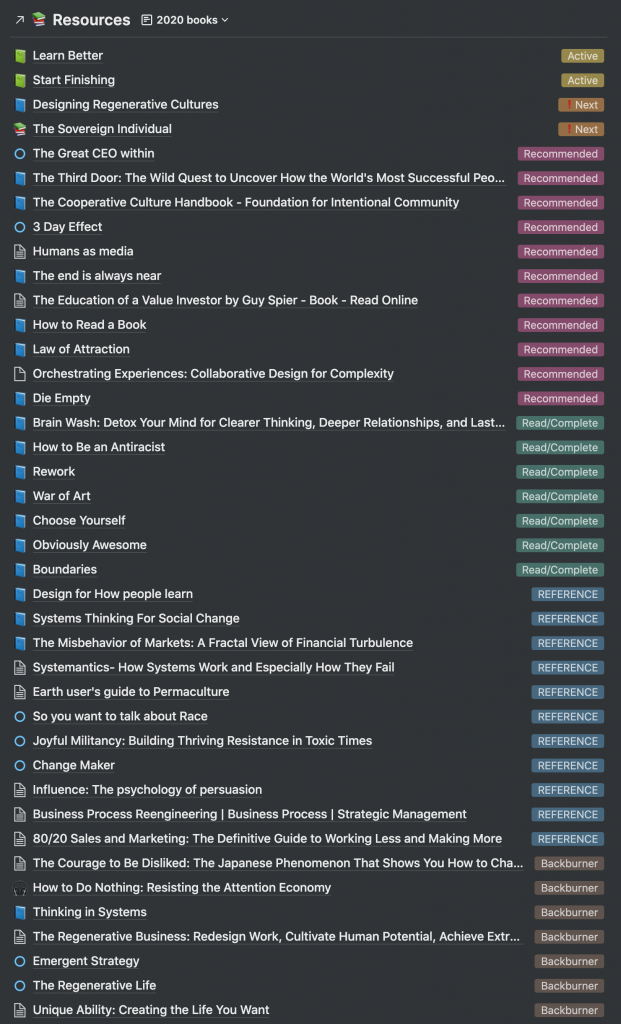 Courses, Masterclasses, and Online Learning
An overview of the courses, classes, and communities I invested in, and the topics + skills they relate to. This is where the majority of my business spending goes (there's probably ~$30k in business expenses listed here).
The biggest and most impactful investments for me in 2020 were:
Mariah Coz's High Ticket Hybrid program
I did her Accelerator program in 2019/2020, which I think is a must for anyone serious about creating a course-based business model. I got so much out of that program (it really helped me grow Notion Mastery, which is now over 800 students strong!) that I was ready to renew for another year… until I saw her offer to join the High Ticket Hybrid program.

Doing both of these programs has completely transformed my relationship with money (a topic for another day/post/video), and I'm immensely grateful I joined.

Mariah doesn't follow the rules, and doesn't do things because "you're supposed to." She has fresh takes on course development, format, and marketing, and her programs have been pivotal to my personal and professional growth.

Megan Minns' Empowered CEO program
I started this year-long program in the spring, and having Megan's insights around prioritization, systems, and team building were foundational for me this year. I'd always thought of myself as a lone wolf, but seeing how Megan runs her business, and getting her insights about scaling and growth opened my eyes to the possibilities.

Part of anchoring into Courage meant letting go and trusting others to help me make things happen. I credit this program to helping me scale intelligently by growing my team, saying no to projects that are not in alignment with my goals, and ruthlessly focusing on my best work.

Both Megan and Mariah's programs have been hugely helpful with both mindset and strategy in delightful ways I hadn't predicted.

Ali Abdaal's Part-Time YouTuber Academy (affiliate link)
This was a no-brainer purchase; I think I snagged the course the first day he launched it so I got it for a steal of a deal.

This is definitely one of the most valuable courses I've ever taken. The quality of the teaching was top-notch, Ali was incredibly transparent about everything from his process and thinking, to how he executes, to what to ignore and what to pay attention to.

It felt like he and the team threw everything they had into the course experience. I take a LOT of courses every year, and this one was seriously impressive and thorough, and the community element was huge.

Most surprising is how much value there was well outside of the YouTube ecosystem. He addressed branding and messaging, productivity, systems, outsourcing, monetizing, and everything in between.

If anything, I'd say this course was so packed with content and value, that it was difficult to keep up; it almost felt like a part-time job! It will be a course I'll come back to again and again.

There are tons of others of course, but those were the biggest and most impactful.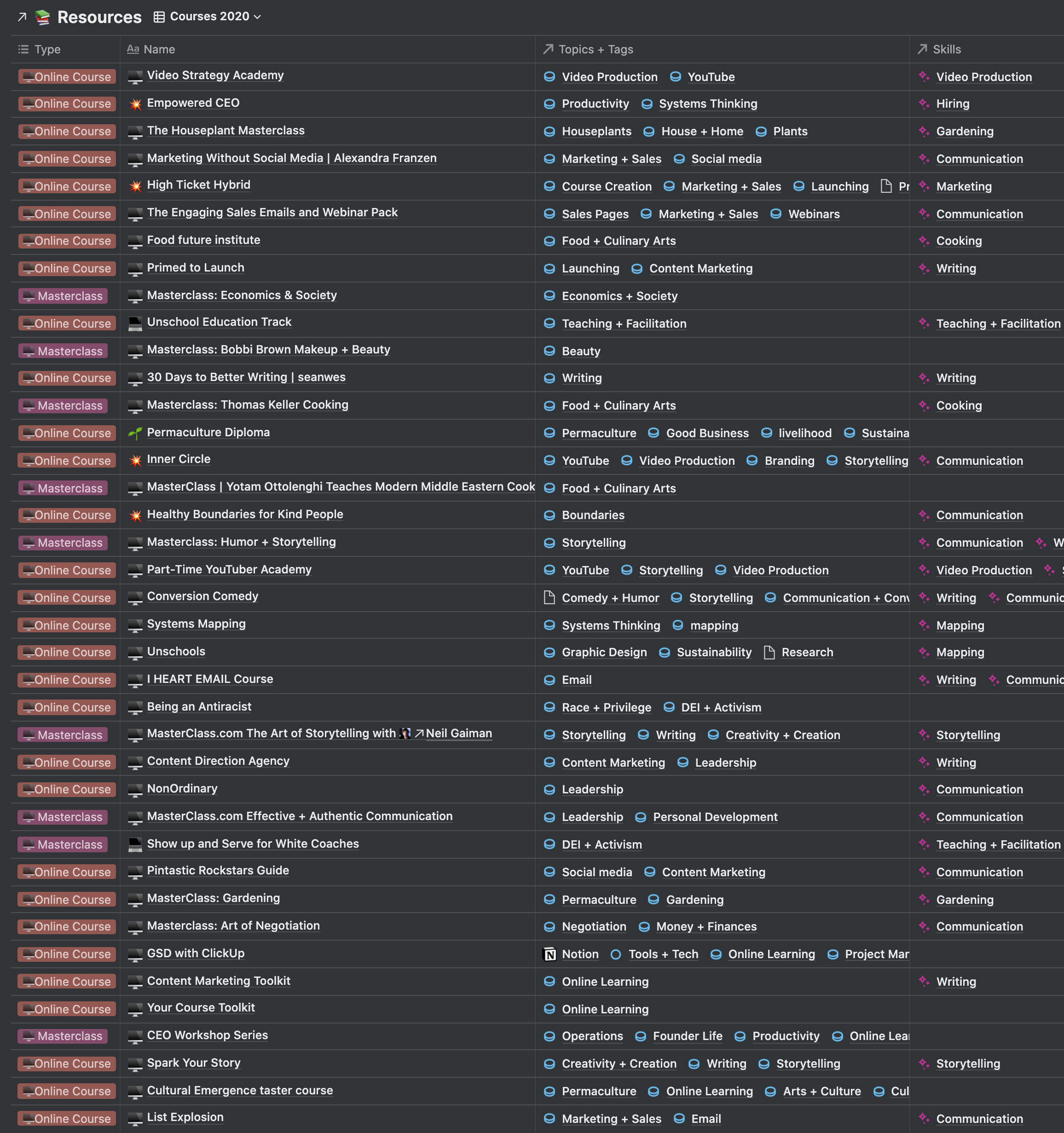 Topics + Tags
A list of the most commonly used tags across my workspace, sorted by # of times the tag was used. This is essentially an "attention map" — it shows me what I'm paying attention to.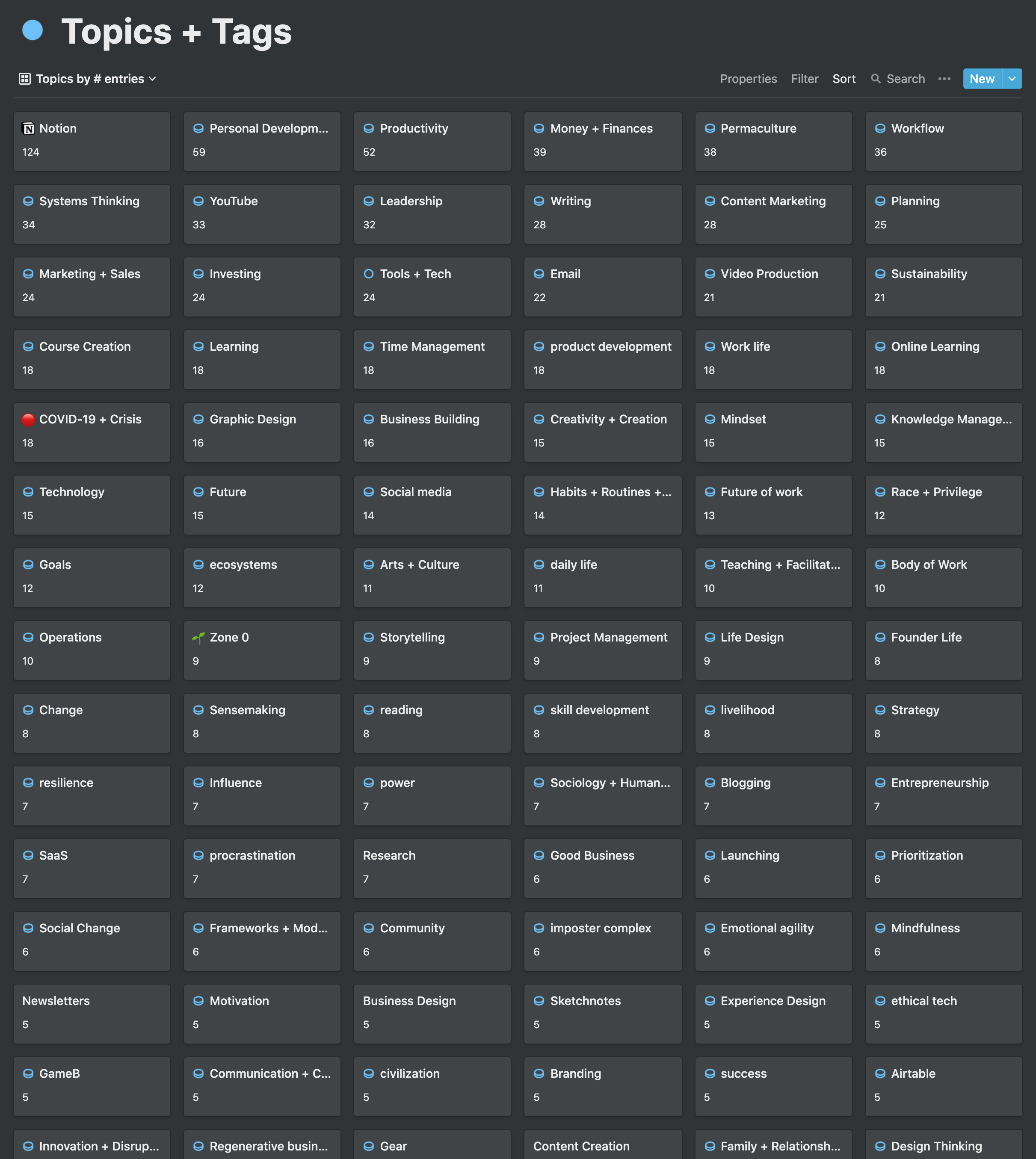 Business exploded
I worked on a lot of projects this year, but Notion Mastery is where the majority of my time, energy, and attention went. I launched the course in late 2019, so in Q1 the course was just beginning to pick up steam.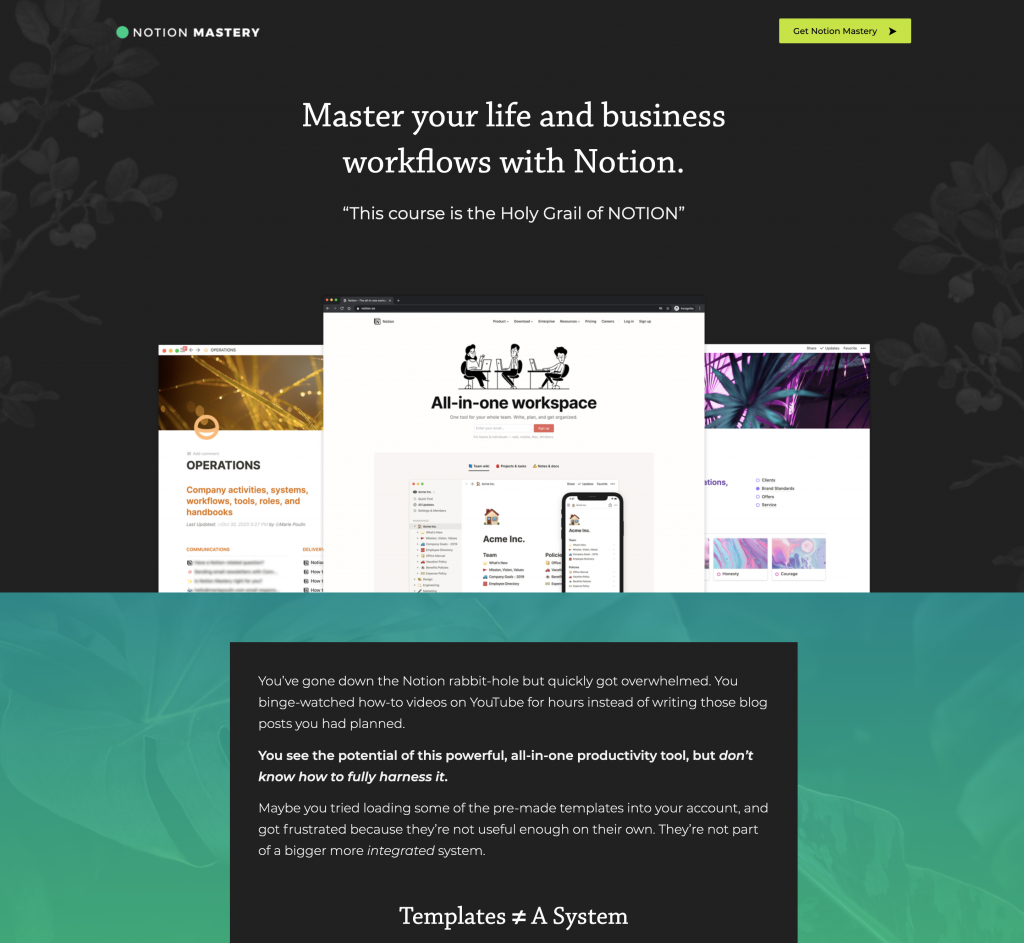 Notion consulting was a big part of my work in early 2020; it's how I was able to notice many of the underlying patterns and needs across different types of workspaces, individuals, and teams.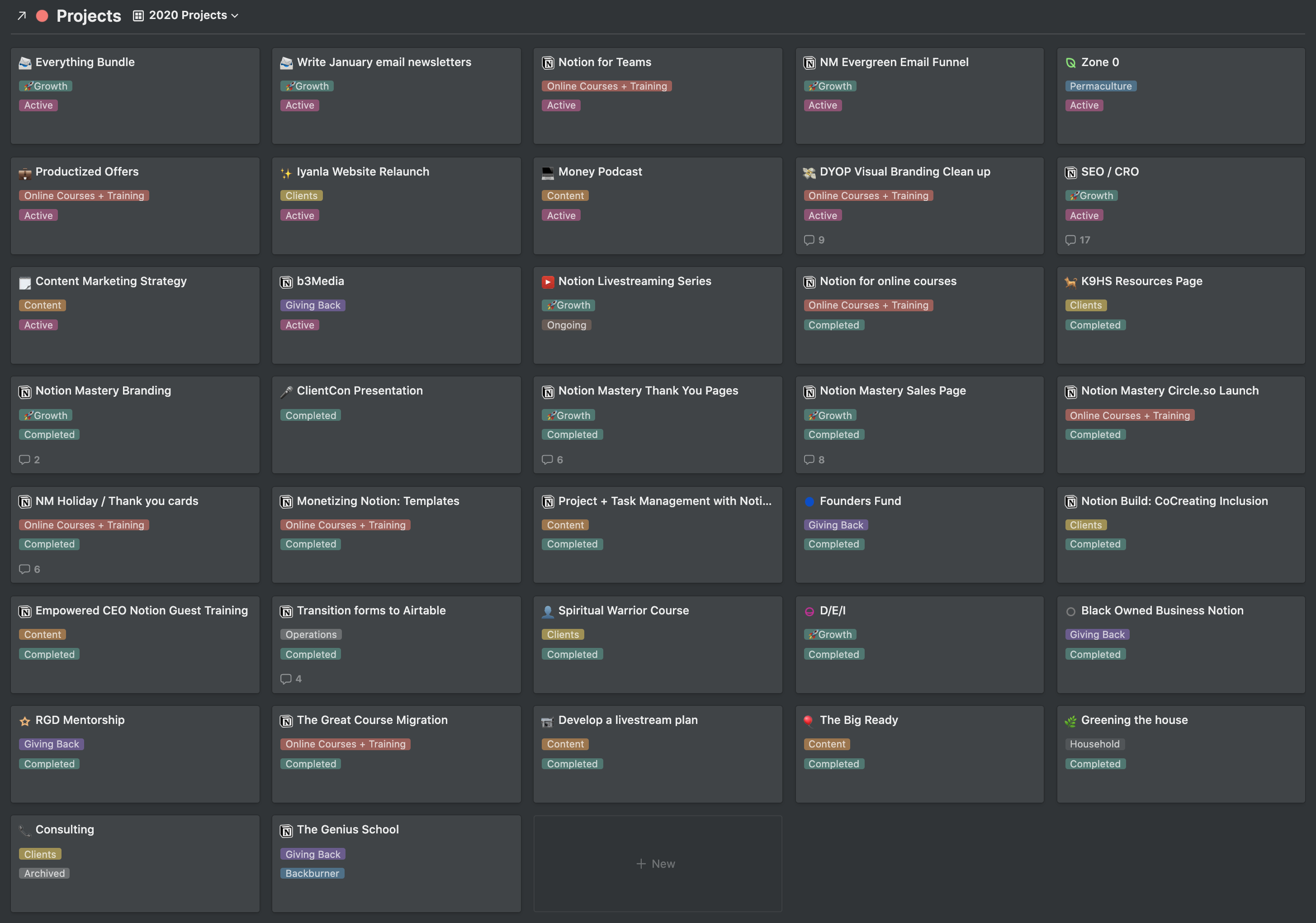 As momentum was building throughout the year, I started getting inundated with consulting requests, invitations to podcasts, technical support questions, and tons of random requests and both warm + cold pitches in my DMs.
I experienced huge growth across YouTube, Twitter, client engagements, and student enrolments, and I began to feel the "growing pains" that came along with that. I had to really double down on systems, and learn how to delegate. I definitely dropped the ball on a ton of follow-up. "I'll get back to you on that…!"
I simply hadn't accounted for the speed of growth and inquiries once I doubled down on Notion-related products + services.
I started giving my assistant Georgia more and more responsibility. I'd been a solopreneur for over a decade and was used to working on my own, so hiring was whole new territory for me, but I knew there was no way I could grow in a sustainable way without more support. I had officially outgrown my Company of One.
I'd often clung to the story that I was a terrible delegator, and this year I learned that was a shitty story I was telling myself. Delegation is simply a skill I hadn't learned effectively yet. Georgia made it easy to let go. She became a pivotal part of my business, and month over month I continued to give her more ownership and responsibility.
I really began to understand the power of working with people whose strengths and output complement your own. (This is another reason I signed up for Empowered CEO, to help me during these growing pains!)
Georgia was able to take on most of the day-to-day implementation and support that I was providing to my clients, as well as operational support for all the moving parts of the course.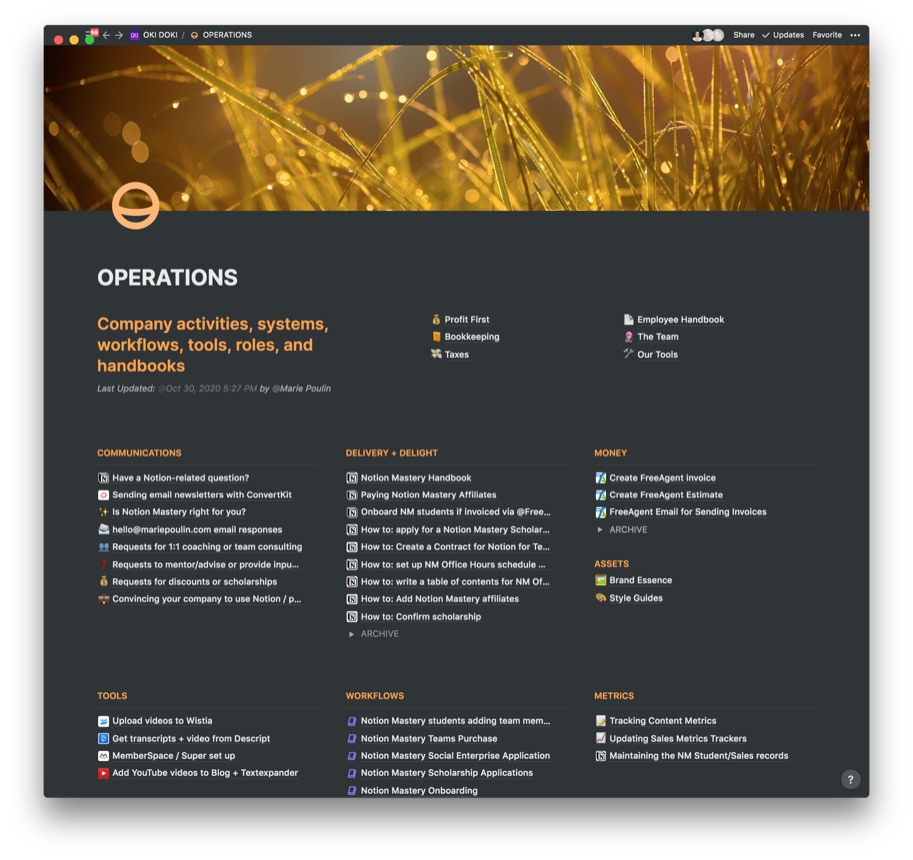 I had to reduce client work to make more space to improve and optimize the course. The more I reduced my consulting time, the more energy I had to focus on the course, and the more it continued to grow.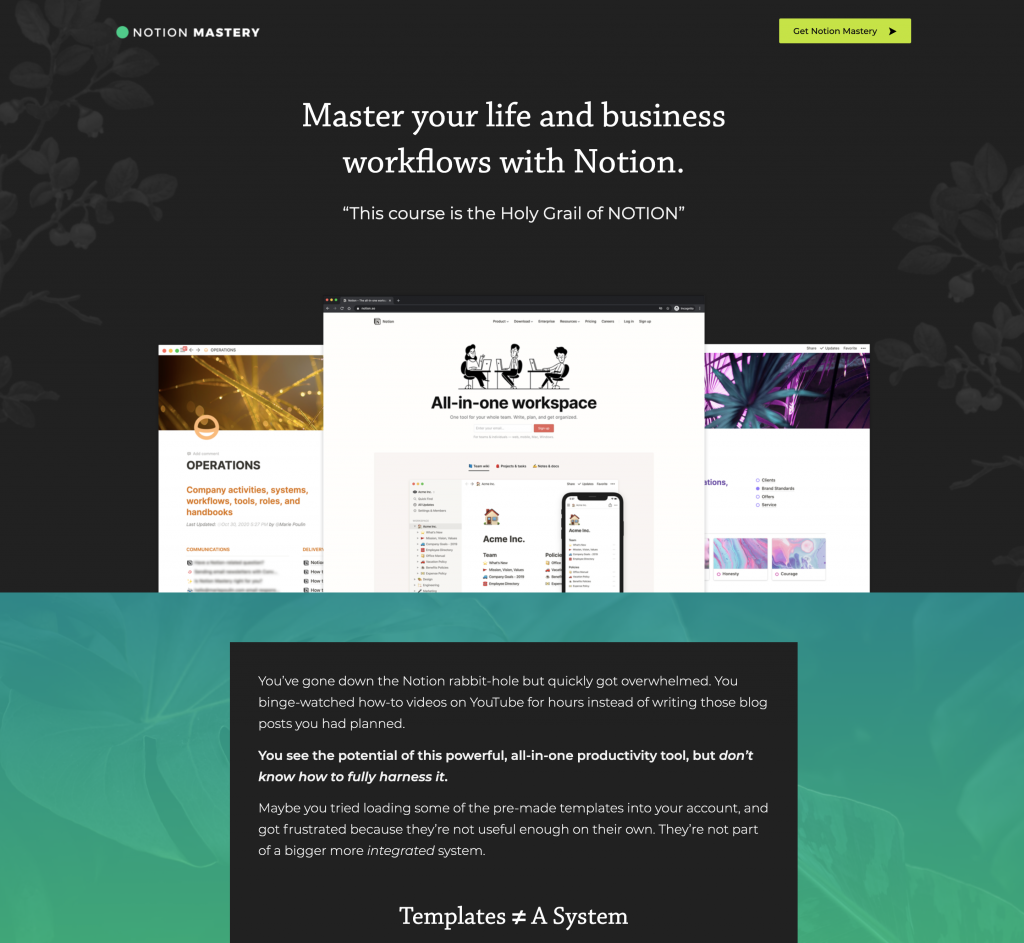 A few key decisions I made in the business this year:
Gave the course it's own URL (moving it away from mariepoulin.com and onto it's own url, notionmastery.com)
Hired a designer (Kayla Rose) to create a brand for it
Hired a photographer to get some up-to-date photos
Increased the price and opened up a few different tiers
ONLY offer consulting in conjunction with course
Opened up an online community
Hired an assistant coach
Offered parity pricing to make it easier for international folks and students to purchase
I knew that there were plenty of other people looking to get into Notion consulting, so an opportunity emerged: hire on assistant coaches!
In Q4 I brought on Sandra Halling (a super savvy Notion Mastery alumni) as an additional client services specialist to help me deliver more support within the course, including group onboarding sessions, book club, community support in our new Circle community, and to handle the various requests for 1:1 Notion consulting.
By the end of December 2020, I had over 700 active students in the course.
I truly never expected this level of growth, and it happened so fast that it took some time for my mindset, confidence, and systems to catch up.
One of the most rewarding parts of building this course has been meeting so many people with wildly different specialties, backgrounds, and interests, and collaborating with them to help give their projects more visibility.
My goal is that the course and community provides delightfully unexpected opportunities for people to shine a light on their own ideas and frameworks, and even provide new ideas for monetization.
I hope to continue to amplify the work of those who join the course.
One of my favorite moments was finding this "task" in my Actions database, created by Georgia.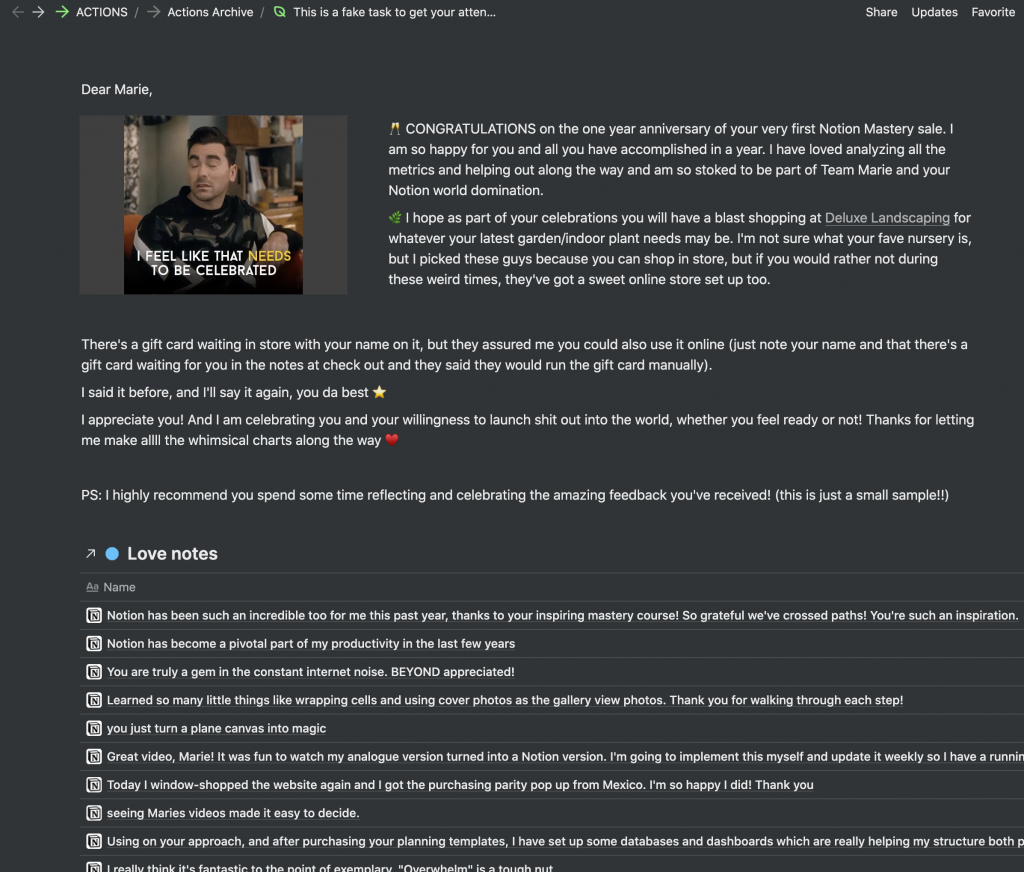 I could NOT have grown the course and my business the way I did this year without Georgia being my business wingwoman, which is why my first goal of 2021 is to make her my first full-time hire!
Masterminds
I have been actively part of several mastermind groups for the past 6 or so years, and masterminding is a huge part of my personal and business growth. This year I masterminded with some of these wonderful folks:
Mia Scharphie
Matt Durr
Jonathan Zacks
Jonathan Baillie Strong
Christian Genco
And I'm thrilled to have been invited into a new mastermind for 2021 with some POWERHOUSE women in tech/products/SaaS/copywriting!
I've also been a participant in some unbelievably helpful slack groups that have allowed me to tap into so much wisdom I would not have ever had access too on my own. Conversations about leadership, negotiation, business models, growth mindset, executive coaching, software, marketing etc. Grateful for all the wisdom and insights I've accumulated from these groups!
Hot take: Don't only do coaching/mastermind/courses with people who look like you or are doing the same work as you. I've kept an open mind and learned so much from so many different people with wildly different backgrounds and experiences. Don't only hang out and learn from people who look and think like you do.
Debt, Money, Investing
In the fall of 2019 we'd finally paid of all our personal debt (other than our mortgage). I'd been in debt since I left home for university just as I was turning 18 and got my first student loan, so I'd literally been in debt for my entire adulthood.
I still remember the first time I got my self-employed tax bill that I had NOT saved for. I didn't know anyone else who was freelancing full-time and learned about this the hard way.
I promised myself that once I finally paid off all my debt, I would never go back into debt ever again. I was ready to get SERIOUS about money in every way. Now that I was out of "survival mode," I wanted to understand investing, and what it would really take to retire some day, which had always seemed like an unrealistic pipe dream.
(If you're in this position, I cannot recommend enough: Living Debt Free and Worry Free Money by Shannon Lee Simmons! I credit Shannon's books, combined with Profit First by Mike Michalowicz with giving me a sense of wisdom and control of my financial future)
The timing was fortuitous; one of my very early Notion consulting gigs was helping Adrian, a day trader (and fellow shiba inu owner), create a weekly market reporting template with Notion.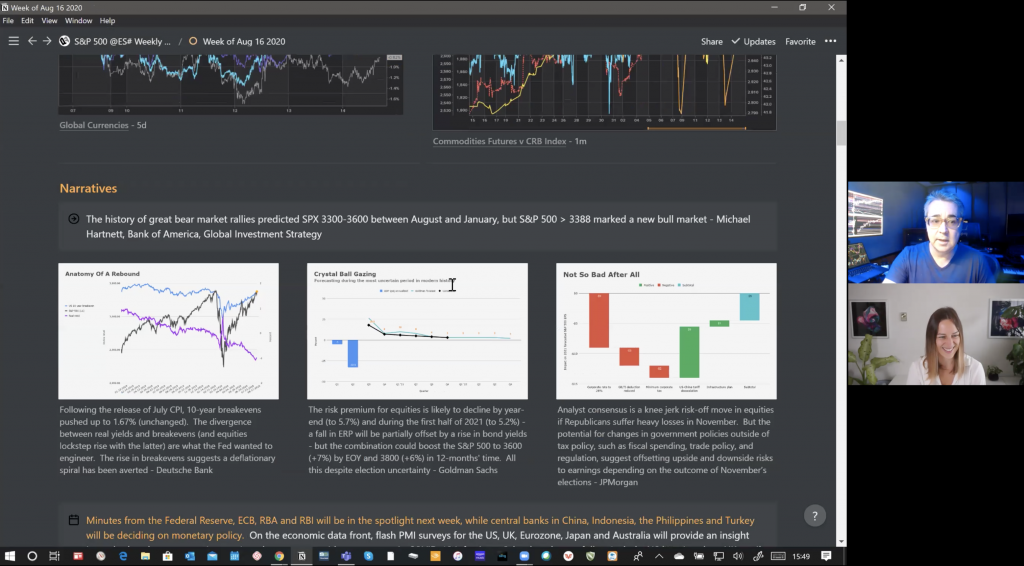 He became a supporter and mentor of mine throughout 2020, becoming a business and financial sounding board for me. He recommended a number of books and resources to me which helped me start to wrap my brain around the terminology and concepts. This was essentially my Q1 financial goal: learn how to become a competent investor.
I signed up for a WealthSimple account, as well as WealthSimple Trade, and began buying my first stocks and ETFs. I still have a lot to learn, but I now budget for this every month.
I committed to putting rock-solid banking systems in place, automating as much as possible, and learning more about investing week by week.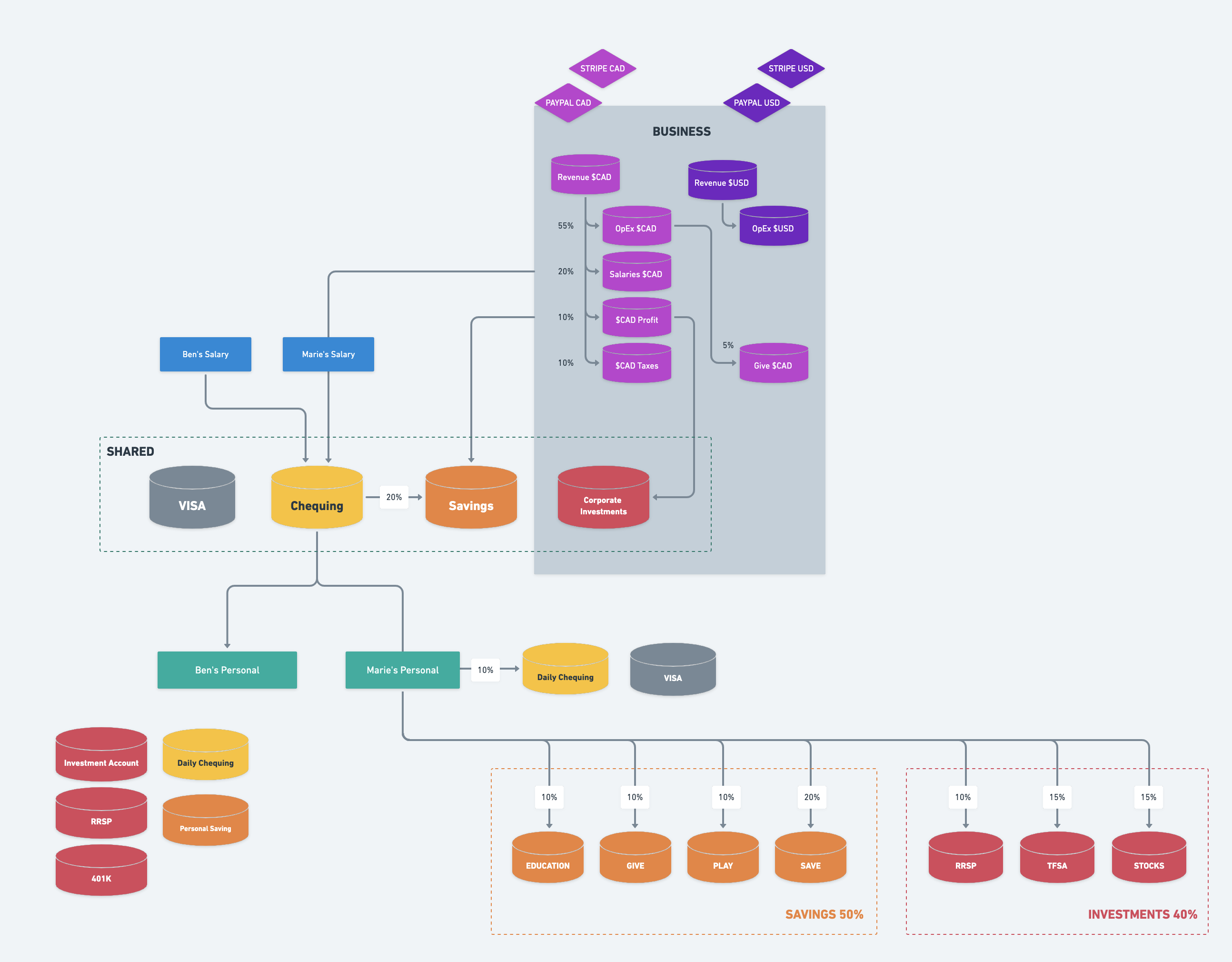 I was tired of feeling uneducated about money and investing, so I treated it like a project. I studied the crap out of it, read everything I could, and had conversations with ANYONE who was kind enough to talk honestly with me about how they manage their money, how much they invest and where, and what their goals were.
My hope is to help normalize conversations about money. It's still uncomfortable to talk about, but I think it's important to bring more honesty to these conversations.
A really fascinating read that Justin Jackson shared with me recently:
Money is the megaphone of identity. It's a long read but it's worth it.
Justin and I have a few podcast episodes forthcoming where we get very vulnerable about money. Stay tuned, and hit me up on twitter if that's interesting to you!
For the first time in my life, I'm no longer afraid of not having enough.
Visibility
My goal this year was to be more visible, and show up even if I was freaked out. Thus, the COURAGE theme again.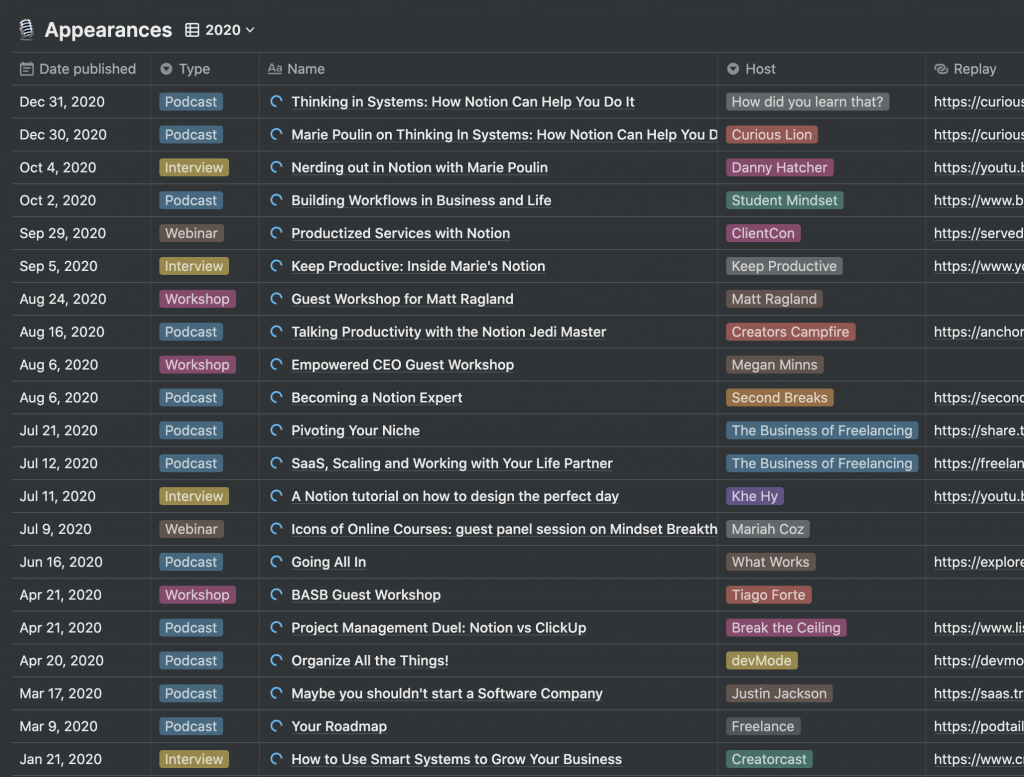 I was a bit caught of guard by some of the other aspects of higher visibility:
More and more people (mostly strangers) have opinions about your work, your ideas, your appearance. More email, more DMs, more questions, and more comments. More requests to "hop on a call," or pick my brain, or make an exception to my availability.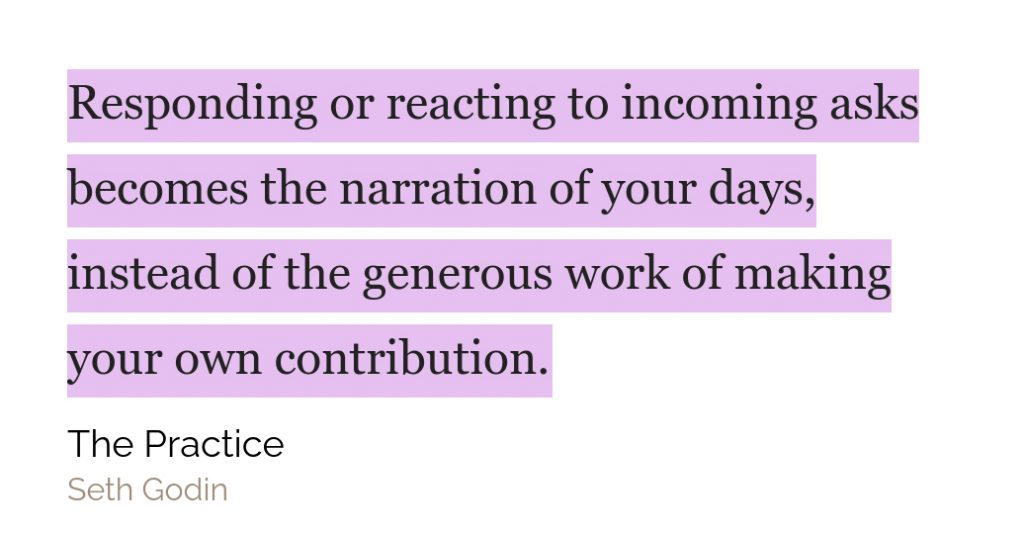 More rude comments on YouTube from people who don't give a shit that there is a human being on the other side of their computer, attempting to provide value to you… for free.
What you may not realize is that "being comfortable on video" or "on stage" is something I've been working on for my entire professional career.
My network, followers, and subscribers only really exploded in the last 18 months. It feels a bit like "10 years to overnight success," and you might not be aware of the devotion and commitment to learning the skills that have helped me along the way.
I've written about this before, but I like to reiterate this because I think it's important for folks to know that you can totally overcome your fear of visibility. Or rather, you can learn to act in spite of your fear. Things only get easier the more you do them; nobody gets to skip the hard part: the practice itself.
You can be an introvert and still learn to communicate your ideas and put your work out there. It hasn't been easy, but it's incredibly rewarding.
It took me 3 years to gather the courage to run a simple webinar in late 2019, and that one decision has led to incredible compounding returns ever since.
There is no shortcut to showing up over and over and over again, despite your discomfort.
Other fun business activities that happened this year: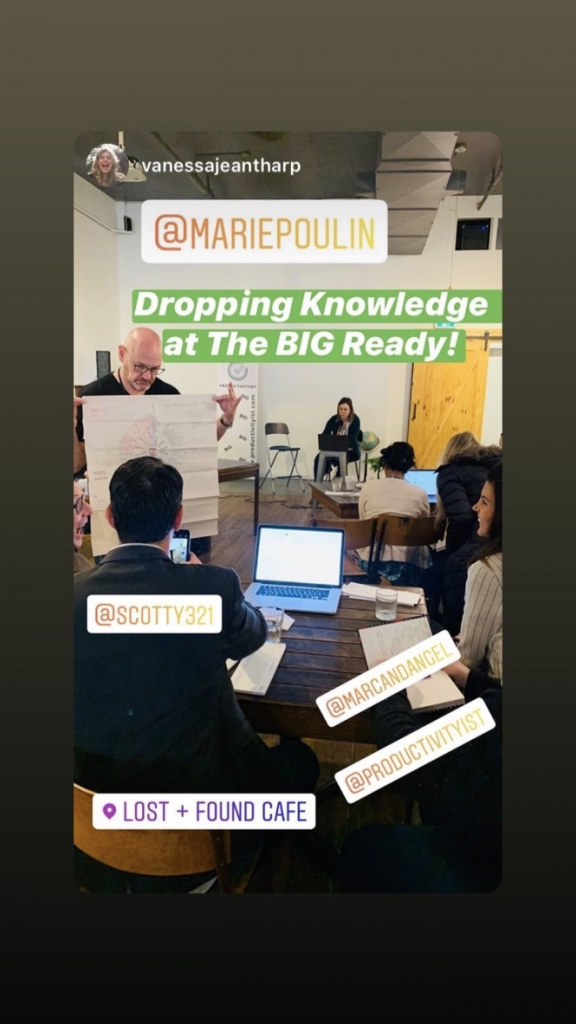 Livestreaming
I learned more about video production and livestreaming! It was scary at first, but I've really enjoyed it.
The first one I did was a live build-out for a training company. It was a total experiment, and I was working off an email that someone sent me with a big overview of their scenario, asking how I would approach it. Rather than answer by email, I figured, LET'S BUILD IT ON THE FLY IN PUBLIC AND SEE WHAT HAPPENS. I hope to do more of that in the future!
I did several others throughout the year, but my favorite was doing a livestream with my sister who has ADHD to show her how to use Notion! My sister is a HOOT.
Health & fitness took a bit of a dive
I can easily say that health + fitness is probably the category that suffered the most this year. I didn't take care of my body in ways that I have before in the past.
I love team sports; I have a decade of experience playing both Gaelic Football and softball, and had only just taken up dodgeball at the end of 2019. I'd also taken up dance classes at the local community center, rock climbing (bouldering) at the local gym, and the occasional yoga class. I had big plans for all the team sports I was so excited to join this year.
I need a ball or fellow human to chase, so I find it incredibly challenging to motivate myself to do physical activity on my own. Going to the gym? Ugh.
My saving grace this year was Steezy.co – online dance classes. My goal this year was to create a workout habit, and incorporate dancing 3x/week. While I didn't always follow through and hit those three days, looking at the calendar, I realize I did quite a few activities over the course of the year.

Another honorable mention in this category is the 7min Workout app.
Community
Obviously with Covid, in-person friendship and community took a bit of a dive, but nonetheless, I grew my online friendships and made some really incredible connections!
I discovered the Marco Polo app, and I now use it almost daily to keep in touch with friends both 1:1 and within small groups. Honestly, this app changed my life for the better this year.
Marco Polo allows you to do asynchronous video messages with friends, share wins with business buddies, and keep connected to others during a very isolating time.
It's more casual than a phone call, and yet more intimate, with the ability to see one another in real time, or catch up later when you have time.
I use this daily with my team and weekly to catch up with friends. 5 stars, highly recommend!
Notion Community
The community of Notion users has been incredible. I've met so many wonderful people through Twitter, Instagram, the official Notion Ambassadors Slack group, Notion Office Hours, and through my Notion Mastery course.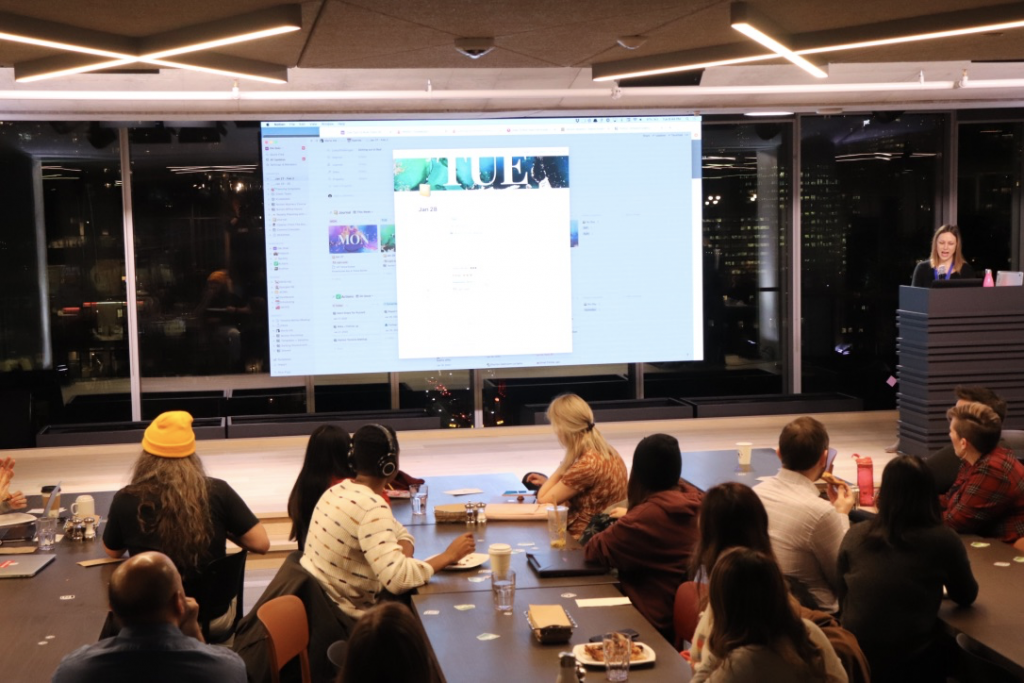 I've never encountered a tech-based community quite like the one that Notion attracted. I love seeing Notion become a tool for people to express their creativity, and understand their own thinking more deeply.
A super fun sidenote: I'm blown away by how many people bought me a coffee this year! If you bought me a coffee because you loved my Notion content, thank you, truly. I did a happy dance every time one came through!
I loved this service so much, I started regularly donating to other business owners as well. What goes around comes around 🙂
Social Justice
Like so many others, I was pretty horrified to watch what unfolded this year in terms of social injustice, racism. I committed to doing the uncomfortable work of acknowledging my own privilege, and asking myself what it means to be anti-racist.
For a long time I had been optimizing my business and life for my own comfort and what was sustainable for me. But once I reached a threshold where my financial needs were covered I realized that was no longer enough. I wasn't okay with simply designing a life of "ease."
I realized, I was way more interested in impact over ease, even if that meant less chill in my own life. More speaking up and speaking out. Redirecting more of my dollars to BIPOC-owned businesses, and highlighting marginalized voices.
Life isn't nearly as enjoyable when members of your own communities are suffering.
I listened closely as Rachel Rodgers called out problematic online business practices:

And was inspired by her Town Hall, a live event to open up a conversation about what it means to commit to building equitable, anti-racist organizations. (You can find a copy of the Small Business Anti-Racist pledge here)
Name white supremacy and the impact of racism on both our personal and professional lives
Engage in anti-racist education for you and your team
Commit to open-conflict and allow discomfort
Invest a portion of your monthly company budget to the Black community
Express your sincere, long-term commitment to becoming an anti-racist organization
I took all of this to heart, and it was definitely challenging. In the same week that I called out a racist video, and lost subscribers for expressing my support of Black Lives Matter, I had someone else accuse me upholding white supremacy. They trolled me for days, and made threats and demands in my DMs (This was the year I also discovered Twitter's mute button, thank goodness).
I also decided to work with a wonderful DEI consultant to unpack the situation, and I'm really glad I did, for my own peace of mind, research, and understanding.
At some point I had to accept: to some people you'll be radical, and to others, you won't be radical enough. The only thing you can do is make sure that your actions are aligned with your values. Engaging with trolls on the internet is not a constructive use of my time, and is not aligned.
We donated to organizations like Black and Brown Founders, The Loveland Foundation, Shine Bootcamp, Color of Change, 100+ Women Who Care, Kiva, as well as supporting a variety of indie creators, and created course sponsorships for non-profits and social enterprises.
One small project I worked on (to help make it easier to #4: invest a portion of your company budget to the Black community) is the Black Owned Business Directory for Entrepreneurs. Feel free to suggest any additions to the directory through the form at the bottom.
In late summer I closed my books to new consulting work, but then decided that I would only work 1:1 with non-profits or social enterprises. In 2020 I worked with two awesome people/organizations: The Genius School and B3 Media, with both projects continuing into 2021.
Friendships
Marco Polo was such a delight this year, and allowed me to keep in touch with friends, even if we weren't able to see one another face to face. (It also became my primary channel for communication with my team!)
I had several friends that I had daily check-ins with via Marco: sharing updates, celebrations, getting second opinions, and just keeping one another connected.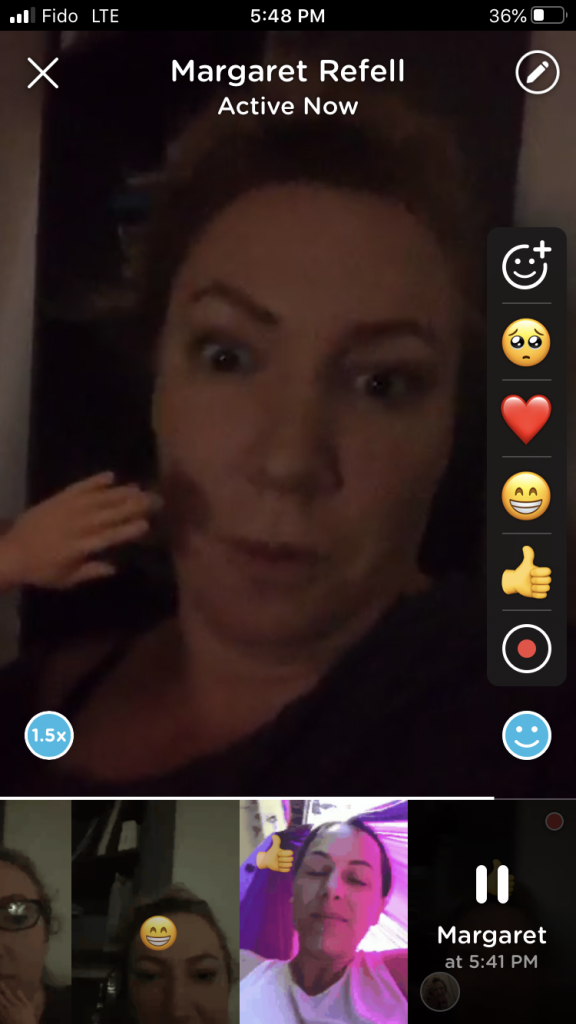 I also met so many fabulous new friends and connections via Twitter this year! Khe from Rad Reads, Anne-Laure of Ness Labs, Joel Runyun, James Stuber, Andrew Barry, and so many more I couldn't name them all here. I'm super grateful for the cool connections that have emerged!
Things I committed to that never happened
…because of #covid:
Speaking at the Slow Business Adventure in Norway
Re/Form conference
Craft + Commerce conference
2-week Plant-Based Culinary BootCamp at North West Culinary Academy
Mariah Coz's Ascend + Accelerate Conference
CTAConf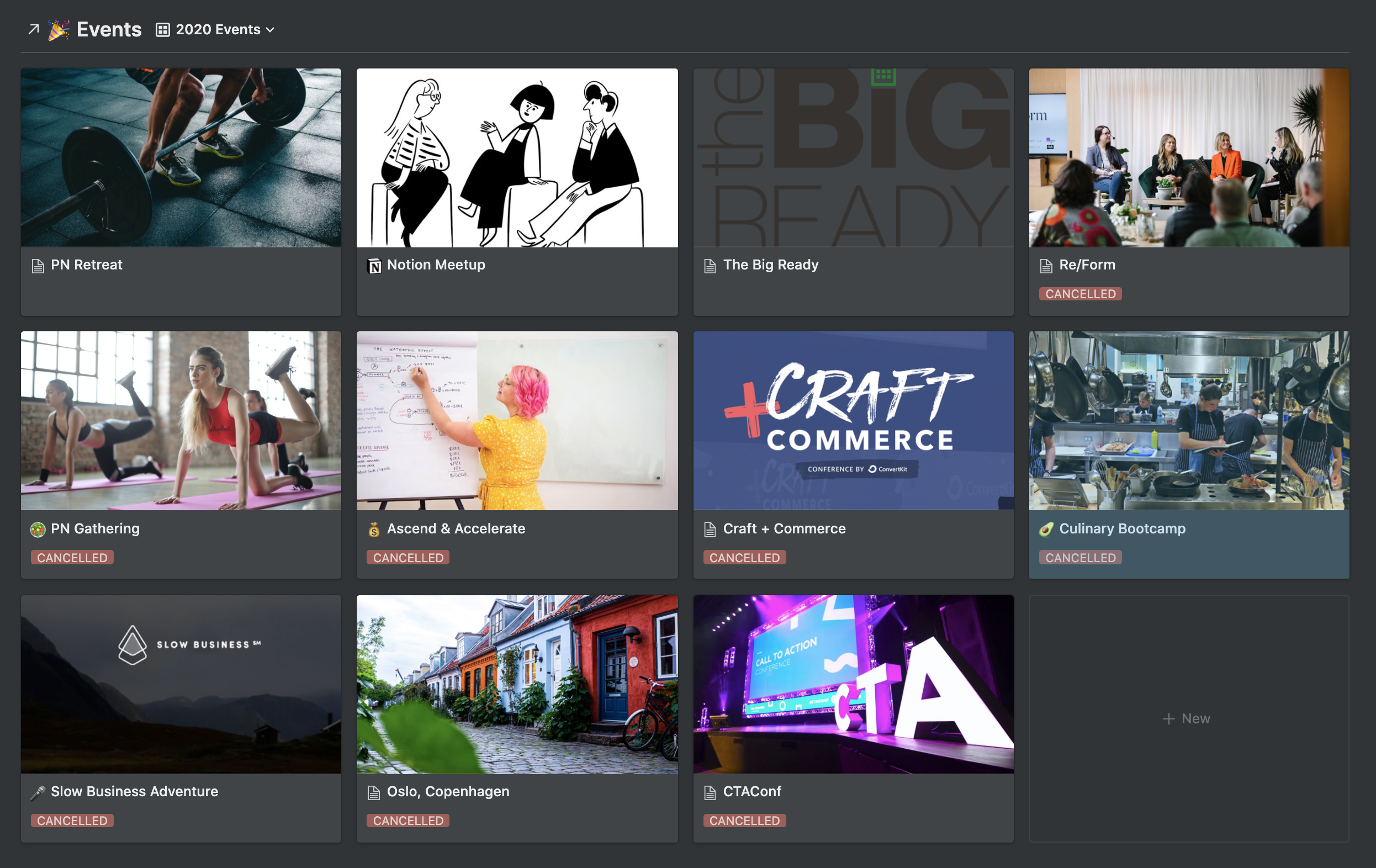 …because I overcommitted:
Launching Design Your Productized Offer
Joining the Everything bundle
Launching a Skillshare course
Overall, it was a strange year that felt like a blur. There was so much uncertainty and collective trauma… while simultaneously being my best year in business. I will admit that I don't think I would have experienced the same level of the success if I had done all the traveling I had already committed to before events were cancelled and the pandemic became our new reality.
It was definitely a case of making lemonade.
What's next?
Goals for 2021:
Hire Georgia as a full-time employee
Revamp and improve curriculum, offer unique "tracks" of the course to address niche use cases
Become conversationally fluent in Spanish
Learn to improve my drawing + sketchnoting
Launch my permaculture-business framework
Complete my permaculture diploma
Launch productizedoffer.com with Kai
Double down on YouTube as my primary content channel
Build my writing muscle
If you purchased my course and have been along for this growth journey, I want to express my sincere gratitude. The course would not be what it is today without your active participation and feedback! It is the most fun and rewarding project I have ever worked on, and I plan to continue to revamp and refine it in 2021.
If you made it this far, thanks for reading! Feel free to say hello on Twitter or Instagram, or follow my content on YouTube!
Have something you want to see more of, or have an idea for a video? Don't be shy!
---
[*For full disclosure, I'm a Notion Partner, so when you sign up with my link, you also help support me and my content!]