For the last ~2 years I've been using *Notion as my knowledge hub; a place to store what I'm reading, listening to, courses I'm taking, etc (You might have caught the office hours we did a few months back, which is still one of the most popular sessions we've had yet!).
I get asked a lot of questions about the knowledge hub so I thought it might be helpful to share a bit more about how I use it in a way that is effective for me, and not as a place to simply hoard data (the way I used to when I was using Evernote) or procrasti-notion.

While I've made very few changes to this knowledge hub database over time, I have improved my workflow in terms of how I use the knowledge hub. Not everything I read, listen to, or consume goes into the knowledge hub. The KH is sacred. It contains my "elevated knowledge": information, ideas, and learning that I know I want to refer back to, make notes about, summarize, tag, etc.
I do not tag or add meta data for everything I consume. Not everything deserves that level of care + attention!
As such, one small change I've made to my workflow is the addition of a GTD-style "Collect+Process" dashboard which contains a simple "inbox". The inbox has simply a title, date created, and URL field. You could certainly use a tool like Pocket or Instapaper for this (which is what I used to do), but essentially when saving things I want to read later, I use the Notion clipper to add them to the inbox.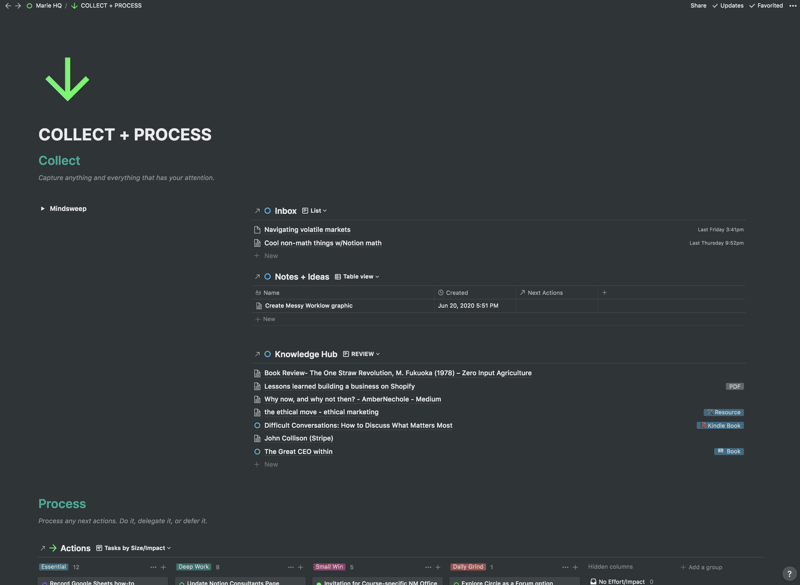 Then, as part of my daily end of day process (as well as my end of week routine), I go to this Collect + Process dashboard and I process the entries:
Read and process any articles that have been saved.
Decide if I want to elevate them into the Knowledge Hub.

Yes? Drag the item from the inbox into the knowledge hub below.
No? Delete the article/entry.

Add meta information like: author, tags, status, quotes, highlights, etc. (Most of these are related database properties).
Summarize the takeaways.
Add any new ideas that might have emerged into the Notes + Ideas database.
Add any next actions that might have emerged as a result of the processing (read X book, reach out to [person] for interview, etc)
If you do a process like this as part of your end of day routine (5-10mins), as well as your weekly review, your list of articles, books, and tasks will be a lot more useful to you, instead of turning into a digital filing cabinet.
I also use this space to create any relevant new projects or next actions that might have emerged after processing.
And, I include a more thorough "Reflect + Review" area that lives inside the bottom of every weekly agenda: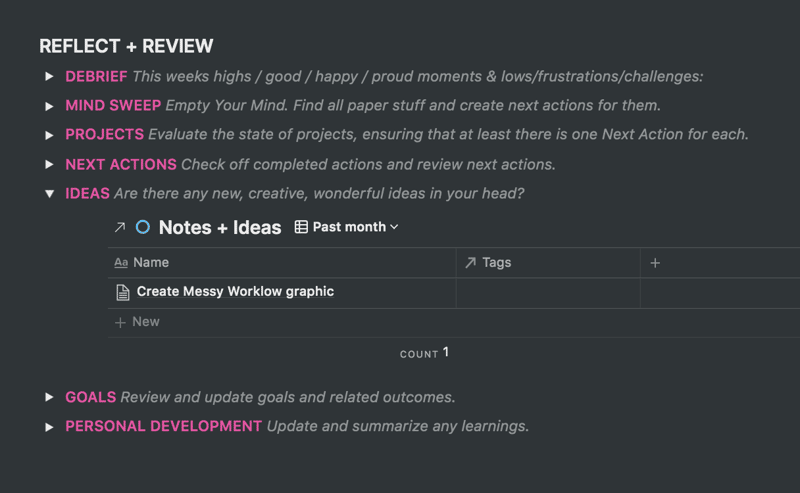 In many cases, the same information can be found in multiple places in my workspace, in slightly different variations. This helps reinforce the habit of reflecting, paying attention to what's on my plate, and ultimately, clearing things out of my brain to free up that mental ram!
This is a process I've been honing more deeply over the last year or so, and have been teaching to my Notion Mastery students.
Last week one of my awesome students, Michael Kilcoyne, reached out to me to share how he had taken what he had learned from the course and the Knowledge Hub approach, to create a SUPER Knowledge Hub:
Marie – first, I just wanted to say that since I've taken your Notion course, I have absolutely transformed my workflow.

I'm now using it for everything from daily task management, to managing relationships with clients, and I think it's a huge part of the reason why I've already read close to 20 books this year. Holy smokes!

I was sifting through some of your previous Notion webinars, and stumbled across the 'Knowledge Hub' one and found it quite helpful.

But then as time went on, I started to augment it more and more and now it looks like this. <– (link will be provided during the event).

I think creating SPECIFIC knowledge hubs around things that you're consuming A LOT OF – i.e. restaurants, movies, books, etc. – is super important.

I'd love to do a webinar with you breaking down my process for creating what are effectively Knowledge Hubs on Steroids.

Basically, databases that include extensive information that make them easier to sort through and things that are infinitely more shareable.

I like to think that if a 'Knowledge Hub' is for you, then a 'Super Knowledge Hub' is for you + the rest of the world.

Would you be open to that?
I am a HUUUGE fan of remixing what we learn—taking what works, and putting our own spin on things, so I was delighted. I also always get new ideas whenever I see how people apply their own values, ideas, and routines to their workspaces!
You can check out my latest Knowledge Hub template here 🙂
---
[For full disclosure, I'm a *Notion Partner, so when you sign up with my link, you also help support me and my content!]