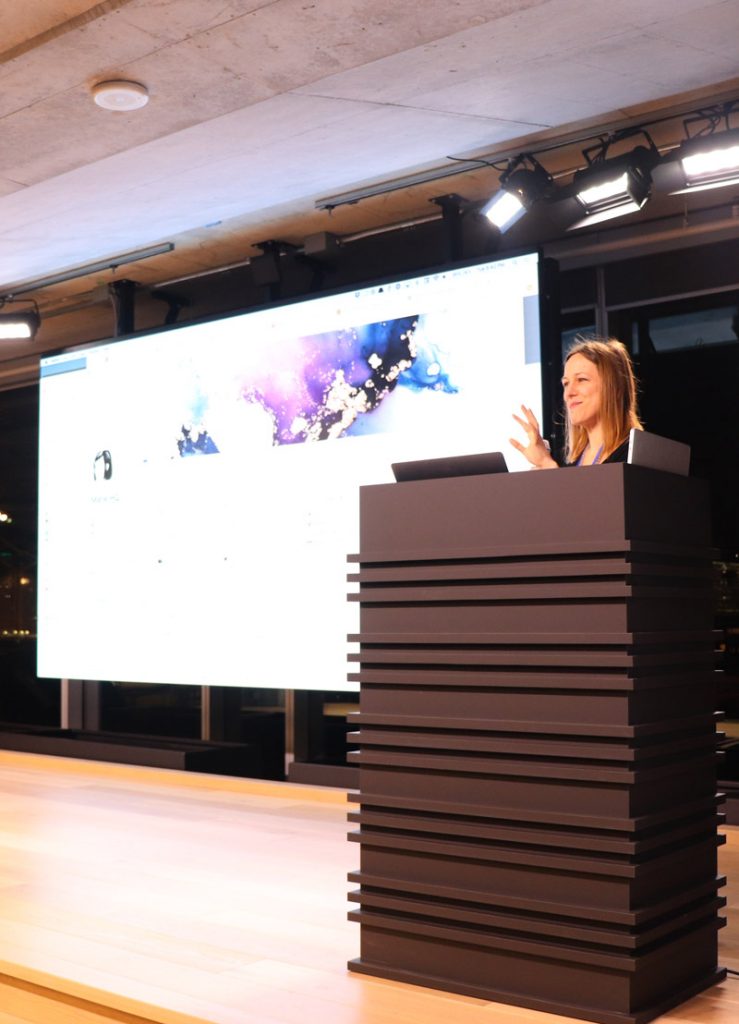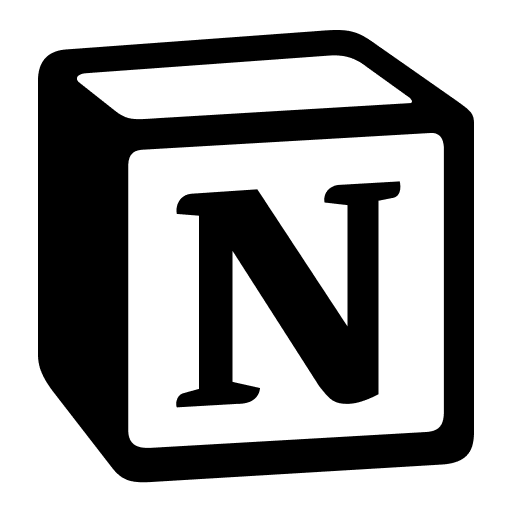 Conquer the Notion learning curve, so you can master your business and life
You've gone down the Notion rabbit-hole but quickly got overwhelmed. You binge-watched how-to videos on YouTube for hours instead of writing those blog posts you had planned.
You see the potential of this powerful, all-in-one productivity tool, but don't know how to fully harness it.
Maybe you tried loading some of the pre-made templates into your account, and got frustrated because they're not built for your use cases, and they're not useful enough on their own. They're not part of a bigger more integrated system.
Notion's greatest strength is also it's greatest weakness: you can use it to do nearly anything.
SO… where the heck do you start?
Any of these sound familiar?
You feel scattered across a ton of different tools and tech
Things often feel like they're "falling through the cracks"
You waste a ton of time trying to remember where you've saved your files
Your Google Drive, Dropbox, Evernote or local files are a mess
You feel overwhelmed, like you can't keep up your obligations
You don't have a consistent system for saving files, and tracking your tasks
You don't have standard documentation or templates
You make lists of goals and ideas at the beginning of the year… that you never revisit again
If you find yourself feeling scattered and spread across different platforms like Asana, Trello, Evernote, Google Drive, Dropbox, as well as paper planners and journaling apps, I promise, there is a better way.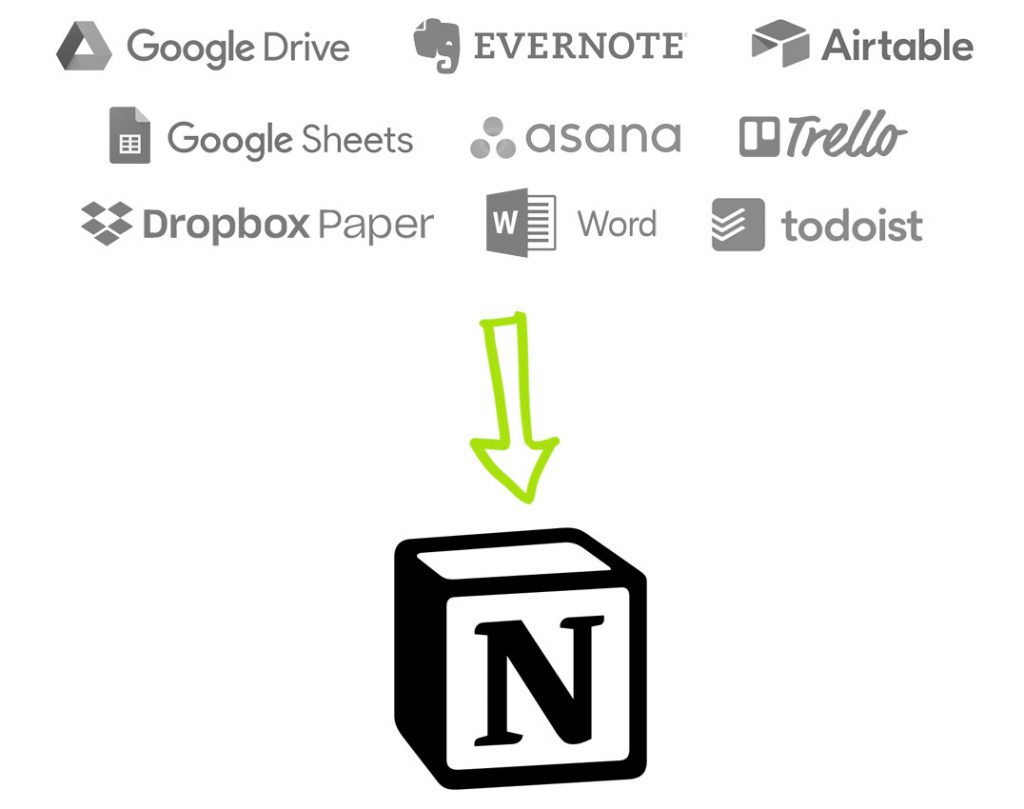 Notion offers you a way to unify your projects, files, ideas, and tasks all in one easy-to-find place.
It's the app I use every single day to manage client projects, do big strategic planning, daily journaling, task management, and build my second brain; everything has a place, and nothing gets lost.
However… if you don't already have solid systems, processes, and routines already in place, you're likely to get lost in the sea of functionality.
You've got to design your system in order for Notion to truly shine.
That's why I created Notion Mastery. For the last year I've been consulting with individuals and teams, helping them get the most out of Notion. I've seen the most common challenges, hiccups, and missing pieces that most entrepreneurs and teams struggle with when trying to move their operations to Notion.
If you're ready for an integrated business and personal productivity system you'll actually stick to, join me for Notion Mastery.
Together we'll:
Conquer the learning curve of Notion by starting with a complete walk-through of Notion's most powerful features.
Design a custom workspace that works for you, helps you visualize your big goals, and makes sure nothing falls through the cracks.
Build better systems for planning, managing, and reviewing your daily, weekly, and monthly tasks and goals.
Improve collaboration with your team by getting everyone on the same page with stellar documentation, custom workspaces, and systems that work.
Ensure you have a sustainable workflow, know where everything lives, and don't feel overwhelmed.
Surface your most important documents, routines, and habits so they are top of mind and easy to access, without feeling cluttered.
Start you off with a full set of beginner templates, and teach you how to layer in more complexity on an as-needed basis.
Learn how to supercharge your resource management, note-taking, and idea management.
Work through your unique workspace challenges in the twice-monthly office hours.
I include a set of template bundles which layer in templates based on specific paths and use cases. The templates included are a near replica of my own setup, and everything you need to adapt and build on these templates is included.
"HOLY COWABUNGA!!!! OMG!!!!! The Holy Grail of NOTION everything and anything any Notion prospect or user could ever conceive of having access to!!!!!! It's competing in the 100 meter yard dash for the gold, and I get to start at yard 90… Ha! so awesome!"
Edgar Stella-Turner
There is no one out there that is more equipped to upgrade your Notion experience in no time like @mariepoulin. All of her videos, including the official Notion Office Hours are absolutely fantastic!
Here a link to one of them:
https://t.co/QRZGLKUuP6

— Maximilian Schulz (@maxwschulz) April 20, 2020
Marie's setup has helped me to get started on my Notion database, and forms the core of what my system looks like until now.

Aside from her YT channel definitely check-out the @NotionHQ office hours, helped me with prompts and designing a system that works for me 🙌

— Celz Alejandro (is Building a Second Brain) (@celzalejandro) April 16, 2020
Why Notion?
Notion is the ultimate platform for personal and professional organization + productivity.
Notion is the most powerful all-in-one workspace; you can use it for nearly anything:
Task and project management
Collaborative documentation
Publishing + editorial calendar
Lightweight CRM
Resource library + knowledge management
Note-taking
Idea lists
Weekly progress tracker
Habit tracker
Personal wiki
Proposals and productized consulting
Onboarding documentation
Meeting notes
Daily journal
Study notes
Inventory tracking
Now, Notion's greatest strength is also it's greatest weakness: you can do almost anything with it. It's effectively a blank canvas that you need to design in order to take full advantage of. This often keeps folks from understanding it's full possibilities.
"I thought I would just learn how to use Notion, but Marie's systems thinking taught me so much more. From the beginning she teaches you how to create a system that works for you instead of merely going over the features of the app. That is where Notion Mastery shines. If you have tried ALL the apps and you still can't organize yourself, take Notion Mastery and with the help of Marie, create your own personal productivity system bending Notion to your will."

Luisa Nino, Artist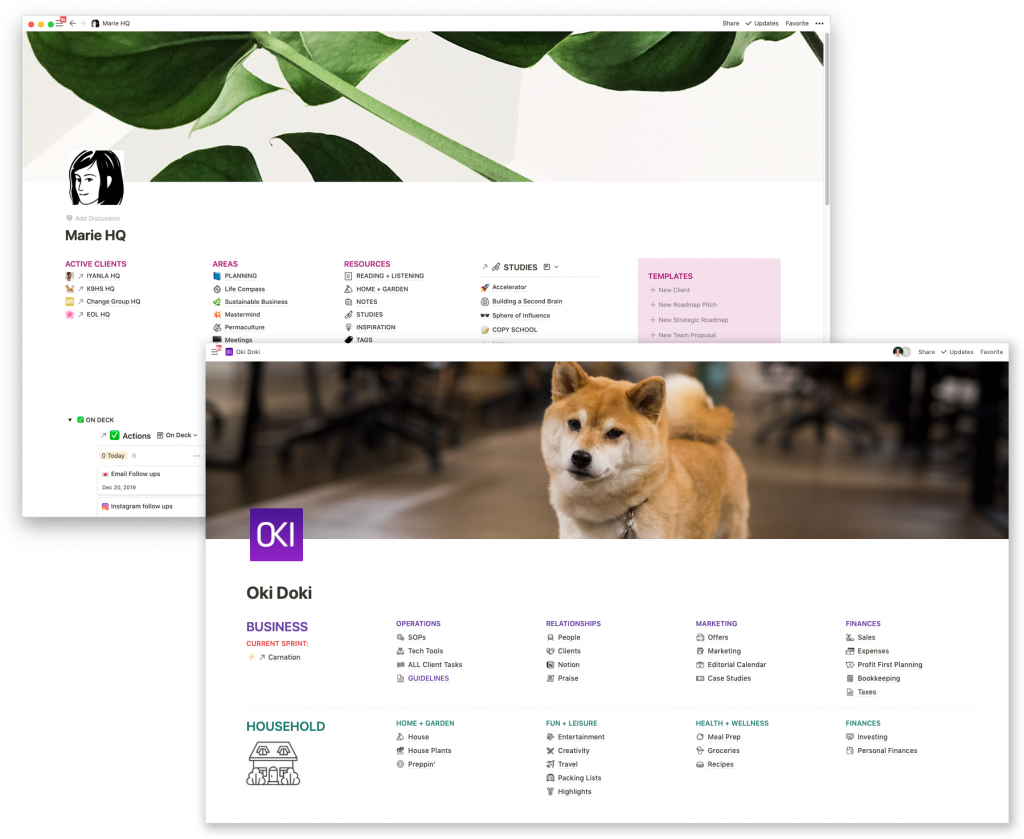 Inside Notion Mastery you'll kickstart your workspace with my go-to advanced business + life templates
Get Access to ALL of my favourite go-to advanced templates.
I've done the heavy lifting for you, and included a number of variations (because our brains work differently!)
Whether you are just getting started or you're an advanced user, you'll save a boatload of time and get ideas for new ways to streamline your workflow.
"I'm learning so much, and I am very impressed by the detail you are including. You have a real gift for teaching – the only way to be this effective is that helping people comes from your heart.

I never spend hundreds of dollars on a course, but after seeing a few of your YouTube videos, I figured what I could learn from you would save me many more hours of figuring it out on my own. And the rest of the story is I wouldn't have figured a fraction of this out on my own, if I devoted months of doing nothing else but trying to learn it!

Thanks again for the depth of detail in the material."

Sara Driscoll, Broker Associate, Pacific Sotheby's Int'l Realty
"Marie is fearless in the way she teaches which inspires. She gave me so much permission to play and iterate to learn Notion by simply doing. She always leads by example and refines her modules over time. Her content is rich and in depth, laced with great templates and variations for many use cases."

Sonja Leix, Digital Strategist
"This course has completely transformed how I use the tool, to say the least. I went from using it as basically a Notes+ app, to having now replaced almost every part of my day-to-day workflow… I work with my team, clients, plan my quarter, do all of my daily writing, script out videos, work on wikis, and, like, dozens of other functions that I often used like 5 different programs to complete. It's made my life infinitely easier and less stressful and a huge chunk of that was how Marie broke all of it down into incredibly simple, and easy to understand lessons. Marie is easily the best teacher on the Notion platform I've come across, and I've looked into dozens of other programs."

Michael Kilcoyne
What's Included:
A full walk-through of how to use Notion for your day-to-day activities
Video and text walk-throughs of Notions most valuable features
An overview of workflows, dashboards, and systems with a variety of examples, both personal and business
A look behind the scenes at how real businesses run on Notion
Twelve months of bi-weekly private office hours
An interactive Q+A discussion area where you can ask anything that isn't covered in the course, and influence future lessons/videos
Discounted consulting rates
All of my favourite templates including:
Task and project management
Collaborative documentation
Client "portals"
Publishing + editorial calendar
Lightweight + advanced CRM
Resource library + knowledge management
Note-taking
Idea lists
Personal wiki
Proposals and productized consulting
Onboarding documentation
Meeting notes
Daily journal
Study notes
Inventory tracking
and more!
Want a template or walk-through that you don't see included here? I frequently accept student suggestions, and add those to the resource library.
"Marie's Notion Mastery course provides not only the skills you need to truly master this complex application, but robust ideas for how to create a structural framework for all the goodies to sit on top of. Building a database is no joke, and without these guideposts learning Notion is like swimming in the open ocean when you can't see the shore. You can't really tell if you're making any progress or not! And this is all aside from the reality that the templates alone will SAVE YOU HOURS AND HOURS OF WORK and are worth the investment!"
Sandra Halling, thedatamavens.com
Tired of feeling scattered across your digital tools?
Let me show you how to supercharge your Notion workspace to manage your entire life and business. You will never be as productive and present.
Don't just take it from me…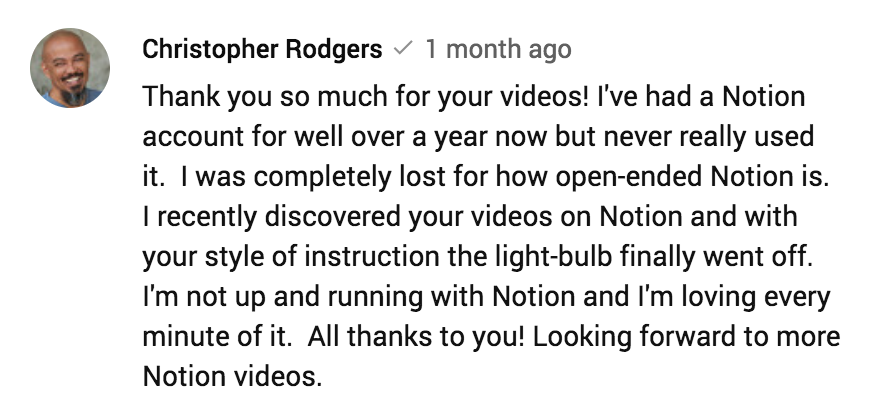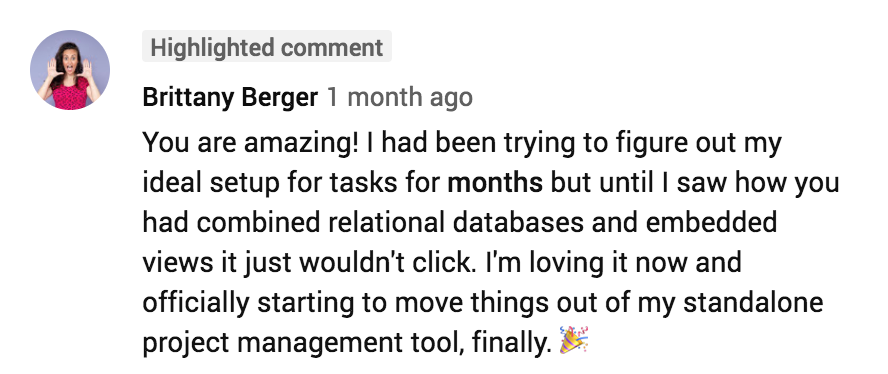 "I just wanted to say the last Office Hours for the Course, which was my first, was freakin' awesome! I didn't want it to end. 🙂

I've now been through a couple other training offerings, and I can say without a doubt that the training and resources you provide can be directly attributed to how far I've come with Notion and catapulted my ability to use and leverage Notion for a host of purposes. I find that I resonate a lot with the thought processes and ideas that have driven your setup and the changes it has gone through as well over time, which has monumentally expanded my initial foresight of use cases and has been greatly shaking up how I manage my digital information."
Chris Davis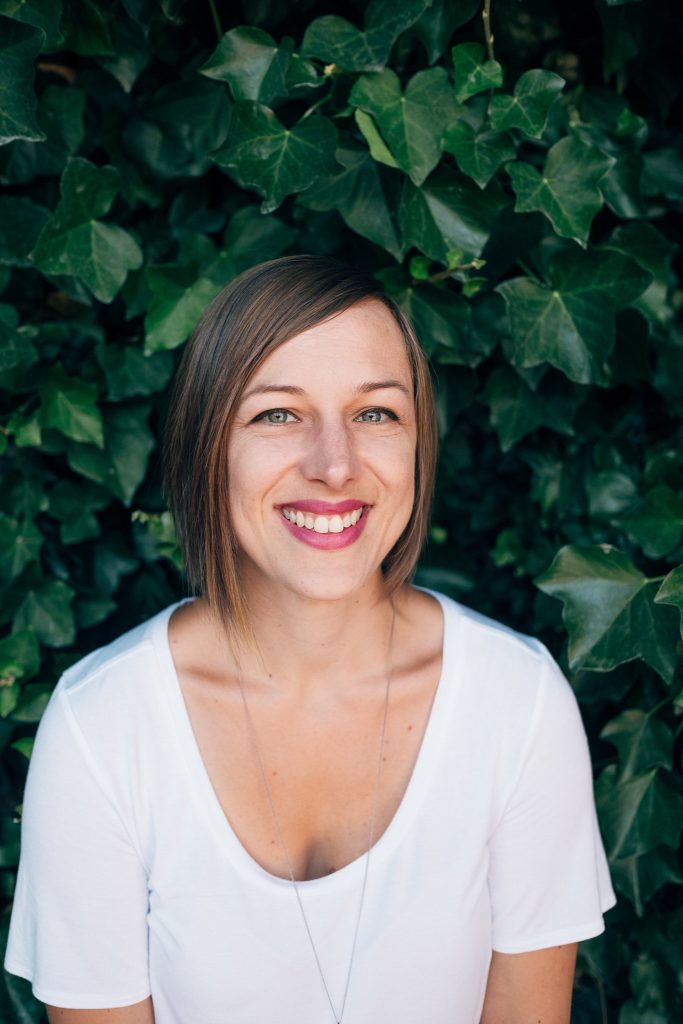 Hi, I'm Marie, Notion Pro and host of Notion Office Hours.
Back in 2017 I tried Notion for the first time, and it didn't quite "click". I knew it had potential, but I wasn't sure how to harness it.
It wasn't until I decided to try using Notion to help me plan my Permaculture diploma (a messy, long-term project requiring lots of documentation, resources, imagery, notes, and both short + long-term planning) that I began to see what was possible, and why this tool was so incredible.
As a die-hard (paid) Evernote + Asana + Dropbox + Google Drive user, I was frustrated that my planning, tasks, files, and resources felt disconnected and fragmented. I knew Asana wasn't a great for high-level thinking and ideation, and Evernote wasn't great for task management…
I took a chance and moved all of my life and business processes, tasks, and documentation over to Notion, and it was a complete game-changer.
I can honestly say that moving my systems to Notion has changed my life and business for the better. I've become more aware, more present, and more productive because I was able to build a system that worked for my brain.
I was able to get a better grasp on my own bandwidth, and really see where my time and efforts were going (compared to where I thought they were going).
You may also know me as the official host of Notion's weekly office hours, an ongoing weekly virtual event that attracts hundreds (sometimes thousands!) of Notion users who are eager to learn how to get the most out of this tool.
I also consult with both individuals and teams, helping them supercharge their workspaces to be more effective, fun, and collaborative.
Some of our past events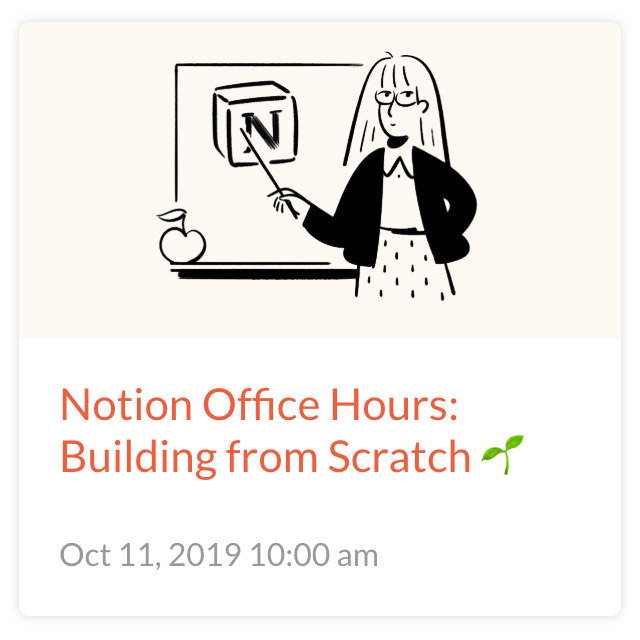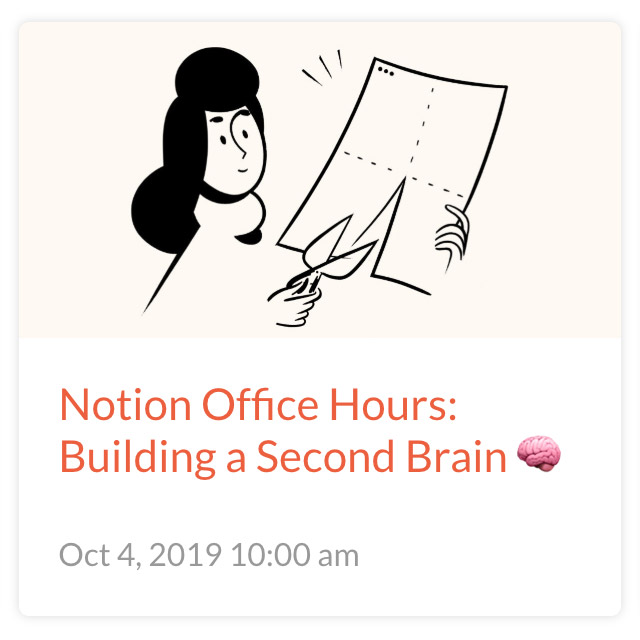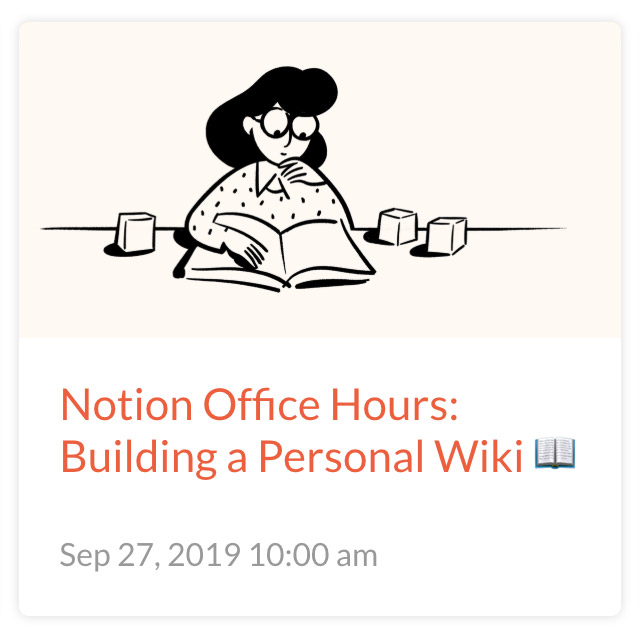 Notion is the only tool I've found that has truly enabled me to bridge the gap between bigger long-term goals and day-to-day actions, all in one beautiful and accessible space.
Getting your small team on board with Notion? You might want to get a team license and support, or additional customization time. Learn more about Notion for teams here.