Using Notion for Weekly Meal Menu Planning
Today I want to share with you the *Notion meal planner and the template we use so you can see it in action. I've been using this Notion meal planning template for our weekly food planner and can honestly say it has changed my life! My partner and I have been attempting meal prepping and planning for at least a decade without much success. Now that we are using Notion, we've really been able to streamline our family's process.
Our old weekly meal planning system didn't work.
Working from home and planning weekly meals got boring. We were eating the same foods over and over. (Sound familiar?) We had the same grocery list almost every week and we'd eat the same chili or soup every week for lunch, followed by the same dinners. We wanted to be healthy and plan ahead … but we also craved new meals.
What's to Love about this Notion Meal Planning Template
I love using Notion for my weekly meal planning because of its versatility and that it works well with my digital brain.
The best parts about using Notion to organize our meals:
I can add recipes from friends, our collection, or Pinterest
It's easy to create grocery lists
We can quickly re-use our favorite weekly plans
PLUS it saves us time! Every Sunday my partner and I decide what we will eat for the week and it only takes us about a half an hour.
Notion creates a grocery list for what we need for the week. It's so simple!
Finding Balance based on our weekly time constraints
While there are meals that we select that require a lot of preparation, we also found recipes that require little prep so there is balance. We also wanted a variety of meals – quick on-the-go lunches and more complex dinners, as well as flexibility. Sometimes we eat dinner leftovers for lunch the next day, for example, so we wanted a meal planning template that allowed for that.
Finding balance and a good meal planner meant being open to using one ingredient in different dishes. Sticky cauliflower rice for lunch and mashed cauliflower for dinner are good examples of what we do.
While planning our weekly meals, we even consult our Weekly Agenda to make sure that on our busy days we have a quick option, and when we have fewer meetings, we can savor that cooking time together to try something new and different.
Using your Notion Meal Planner Template
The magic of this system is that you create your own recipe database so you're eating the foods you love. Built over time, we add recipes and ingredients, and add related tags. If you love Mexican food, tag them as such so you can find favorite recipes easily, or create a tag with where you got the recipe or from whom so that you can easily search for it again later.
Add recipes from multiple sources to your own personalized database
Choose the meals you want for the week
Grocery list is the master list of ingredients that you might ever buy.
Sort the list for the ingredients you need for the week.
Check current inventory to determine what you need.
Head the grocery store!
Check off items as they go into the cart and watch the list shrink!
Prepare foods like vegetables and fruit so they are ready for use.
Cook and enjoy!
Seriously, it's that simple!
You will see as you go through the Notion meal plan template, there are different ways to utilize the features. There are two modes that I love and illustrate in the video.
The Planning Table. I add all the meals for the week on Sunday.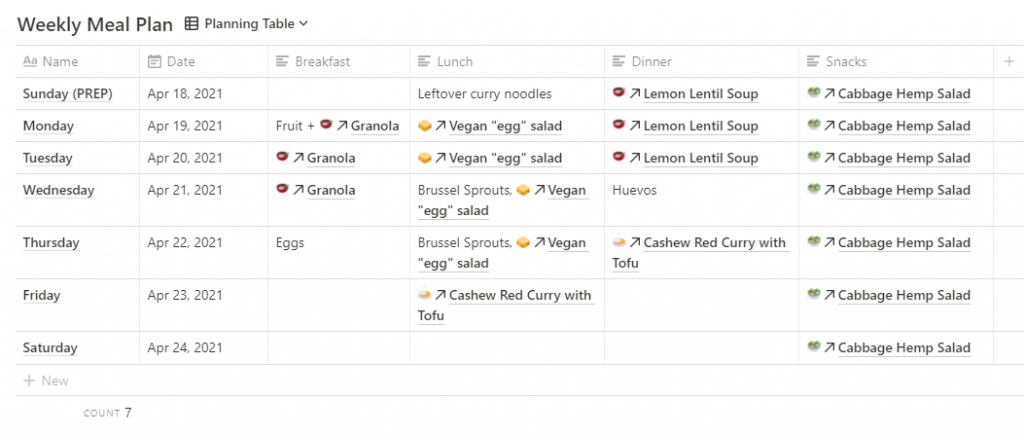 Calendar Mode. Then I switch to calendar mode where I can see what we've planned for the week using specific dates. It's a database within a database, so it's kind of like database inception!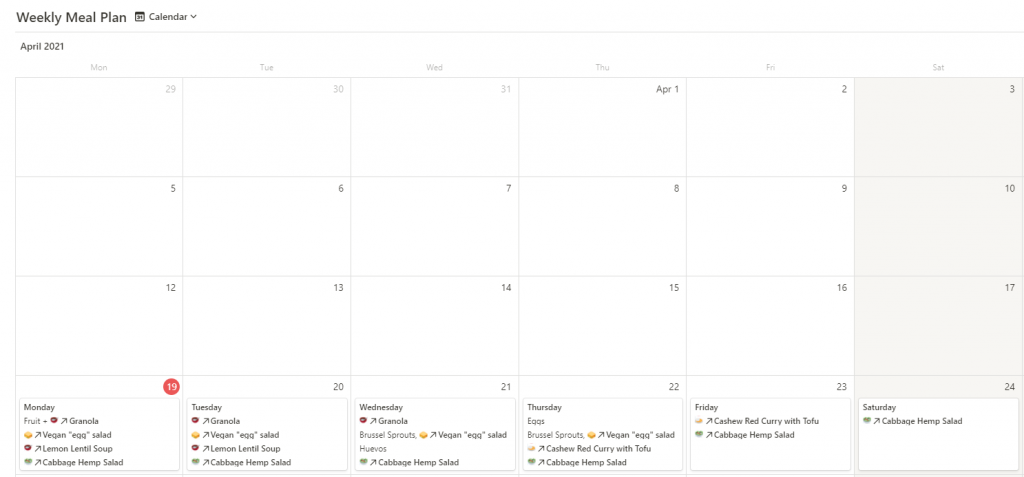 Using it this way, you will not see all Sundays and all Mondays, only the days and dates chosen.
I can also choose recipes and add a single, simple ingredient. I can mention granola and see the granola recipes. I can also add a recipe for coconut curry ramen plus the single ingredient brussel sprouts. We also add recipes and/or change the order of the recipes. During busy weeks, I might also add a note that we will need to chop more veggies on a certain day.
Designing meal planning system that works for you & your family.
My partner and I love using Notion to plan our meals. The entire process takes us a couple of hours, with only 30 minutes for choosing meals; it used to take us many more hours using other meal planners. We love when we can reuse our favorite meals or weekly plans as well as add new recipes. This meal planner has saved us hours of time and we're eating foods we love..
You can modify it for what makes sense for your family. Happy meal planning!
---
[*For full disclosure, I'm a Notion Partner, so when you sign up with my link, you also help support me and my content!]