Spring is in full swing here: the sun is out, the weather is changing, the birds are chirping, and flowers are beginning to bloom. There's a feeling of optimism in the air.
And yet… in most of my inner circles, communities and masterminds, there are major shifts happening.
In the online creator space, products and services are not selling with the same ease they once did. People are shrinking their teams, cutting costs, and being more discerning with their dollars. The same old marketing "formulas" aren't working; disposable income has evaporated for many.
Friends are changing careers, going back to school, revamping their business models, and generally shaking things up.
The introduction and rapid acceleration of AI has also added an increased sense of panic for many. There's an immense amount of pressure to keep up with changes that are happening faster than we can reasonably adapt to. Many folks are quietly suffering with the same feelings of anxiety and uncertainty about where things are heading, and how we're meant to keep up.
I don't have an answer for any of it; I'm in the same boat of uncertainty as many other creators, knowing that change is inevitable. But how fast is reasonable for us to adapt?
Minh-Phuc's twitter thread above it worth a read. I'm certain he's not alone in his feelings.
Embracing Seasonality
Our business has always been somewhat seasonal.
As a team we shift our energy between internal projects (revamping our operations and project processes) and external projects (running live workshops, shipping Youtube videos, creating content), as well as between administrative projects and creative projects.
We go through cycles of rapid output and production followed by rest, reflection, and recovery. We know that slowing down and leaving time for reflection is a necessary part of long-term sustainable growth.
And for some seasons, growth means our personal growth, not just business growth.
This is one of the many topics we dug into in our interview with Arvid Kahl: Digital Permaculture that came out this week. We talk a bit about the "breathing business," building a business as a couple, and the challenges of building an info product on top of a shifting platform:
Personally, I find it helpful to think of my time in terms of seasons or themes. I theme my years, quarters, and months to help create containers of permission. Some weeks/months/quarters are for exploring, gathering inputs, and consuming knowledge, while others are for going inward, getting creative, and publishing work.
Sometimes a creative surge will take us in a different direction than we were expecting, and we know that beating ourselves up for going astray only steals precious energy.
If a week or a month doesn't feel effective, we can ask ourselves:
Does this just need to be an explore month?
Do we need to create some space to let ideas percolate?
How can we make things more enjoyable?
Creating More Joy
A commitment that Ben and I made for this year was to bring in more joy. One such way we're doing that is we are planning a month-long trip to Japan in November, and we're currently studying Japanese.
As part of my learning and discovery process, I uncovered that the Japanese ancient calendar has 72 seasons!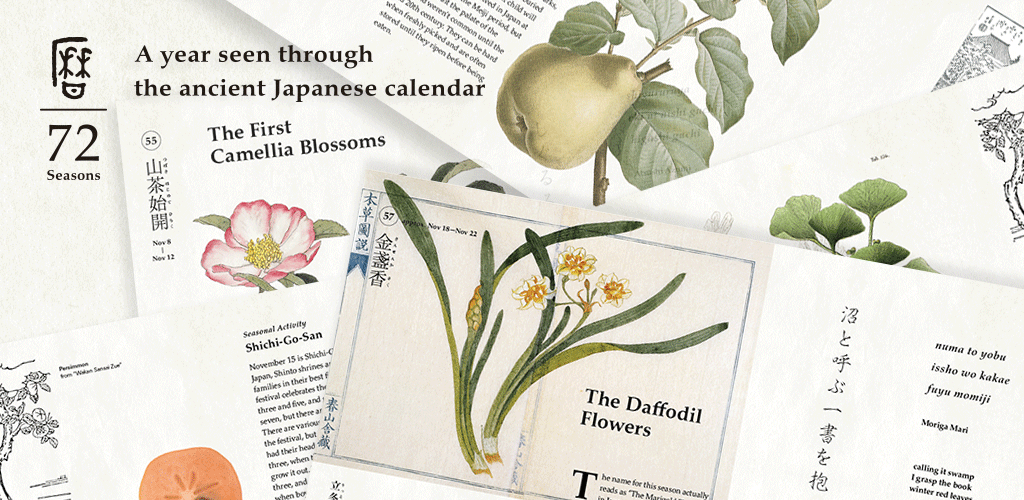 There are 24 seasons each divided into three more to create a 72-season calendar, each with a different name, and lasting five or so days. These seasons attempt to depict the more subtle and delicate nuances of changes in nature and how they influence our daily life.
In business we often tend to think of things in quarters or months, but there's something really interesting about looking at things through a much more micro-lens.
Last week, for example, my niece (who I haven't seen in well over a year) was visiting, and I found myself describing the week as a "write-off."
I noticed how my language implied that I was judging my week only through the lens of business/productivity, and not what was happening in my life holistically.
What if I looked at this week as a beautiful micro-season dedicated to being in connection with family? It certainly feels much better than thinking about it as a "write-off."
It was a really important week to simply be present with my family (we made a TikTok).
After all, my word this year is Presence 😉