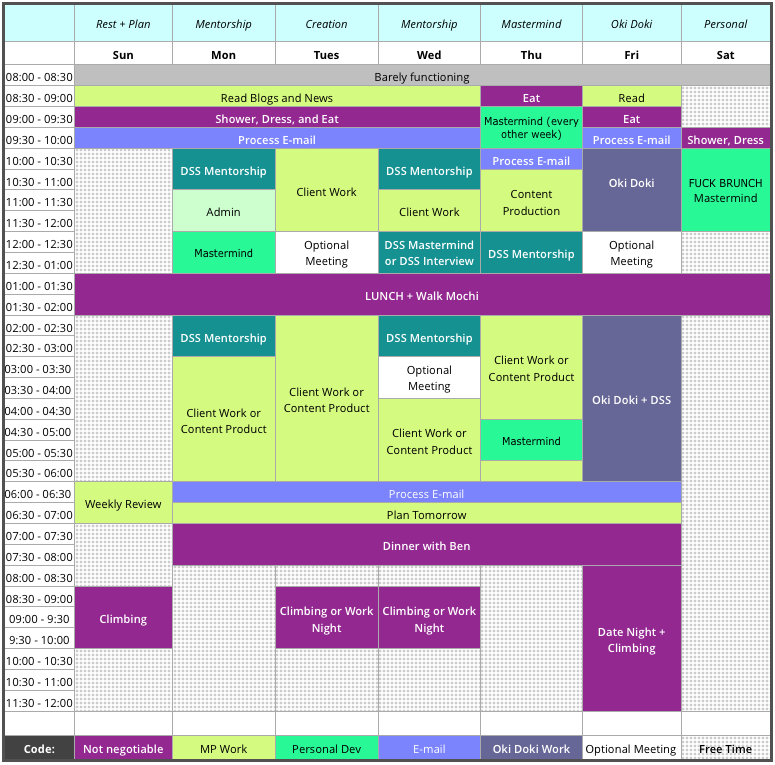 "You have a choice in life. You can either live on-purpose, according to a plan you've set. Or you can live by accident, reacting to the demands of others. The first approach is proactive; the second reactive." — Michael Hyatt
I love that quote by Michael Hyatt. I had googled "design ideal week" and stumbled upon his post: How to better control your time by designing your ideal week. I've been planning a week ahead of my schedule for the last year or so… but what I hadn't really realized is that I wasn't really sticking to the schedule I had set out for myself, and still always felt busy. My weekly ideal schedule had become more of a pipe dream, and I was still operating in reaction mode.
Finally after stumbling upon Michael's post, I had a much clearer idea of how to create a framework for my week that would empower me to feel more focused by theming days of the week, and even parts of the day. SO simple, I know. Some of you have been doing this for ages and you're already a pro, and some of your who saw my schedule said "woah, that's so rigid, I need more flexibility!"
Here's the thing: this structure GIVES me way more flexibility. This allows me to be in proactive mode.
Structure enables flexibility
I do not naturally conform to structure; structure is not something that comes easily to me (I know some of my students might tell you otherwise). It's something I study over and over again, so that I can find the environment that enables me to thrive naturally.
What I realized since launching Digital Strategy School is that my schedule had become way too unpredictable. Students were able to book their sessions with me almost any time and any day of the week, provided my calendar was empty. This would sometimes result in weeks with 2 meetings, followed by weeks with 8 meetings, sometimes with only a 15 min buffer in between (it was a big transition from client work to mentoring almost overnight!). I also didn't have a consistent day or time in which I would conduct my DSS Interviews. I realized I needed some structure so that I could plan my time better, and make sure I was giving the best to my students, and also be realistic about how many hours I actually had available week to week.
In planning my ideal week I mapped out all of my weekly, monthly and even yearly commitments, and began to plot out what a typical week could look like. I set up 2 days per week that I would set aside for mentorship (at the same time each day, one in the morning, one in the afternoon).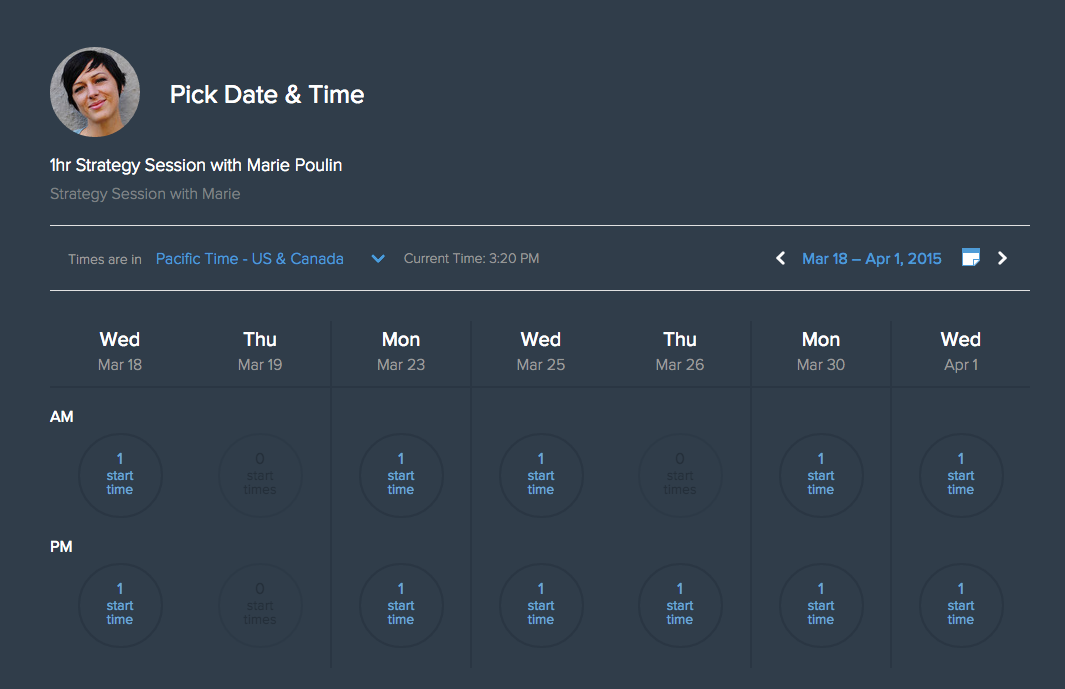 I also participate in a number of masterminds, some of which are every other week. In this case, I've blocked it out on my calendar, so on the off weeks, that time can be used for content creation, or admin.
Track your time
If you're not sure how much time you are actually spending on various tasks, use a tool like Rescue Time (their free version is excellent!) which runs in the background and tracks where your time is being spent. It can even send you weekly reports so you know exactly how much time you wasted on Facebook, or spent in your email inbox! You can assign different websites or programs/applications on a scale of very distracting to very productive, so you can see at a glance things like: which days of the week you're most productive, which times of the day you're most productive, and the sites on which you're spending the most distracting time. Turns out I'm consistently "in the zone" around 3pm in the afternoon; so instead of trying to tackle highly creative work first thing in the morning (when my brain is barely functioning), I handle it in the afternoon, when I know I'm at my peak!
I manually track my time spent on general client work, meetings, and personal projects using Timely app, while leaving Rescue Time running in the background so I have a general sense of how much time I spent between apps and within different websites. With these 2 tools, I have a pretty good sense of where my time is going week to week.
Theme your days
Using Michael Hyatt's week as inspiration, I themed my days in a way that made sense for me:
Sunday: Rest and plan for the week
Monday: Mentorship
Tuesday: Creation
Wednesday: Mentorship
Thursday: Mastermind
Friday: Oki Doki work day (new business development, design, content creation, community building, brainstorming, etc)
Saturday: Personal day, kick-started with an "In Real Life" Mastermind with friends from Screw the Nine to Five, Constance Lynn Hummel, and her partner Harrison.
Mondays and Wednesdays are now set aside for Digital Strategy School work/mentorship, Tuesdays and Thursdays are now my major work and content creation days, while Friday is entirely set aside for Oki Doki work and planning. This is just a loose theme for the day, that still allows me some flexibility with how I spent my time each day.
Commit
I mapped out all my non-negotiable personal time as well.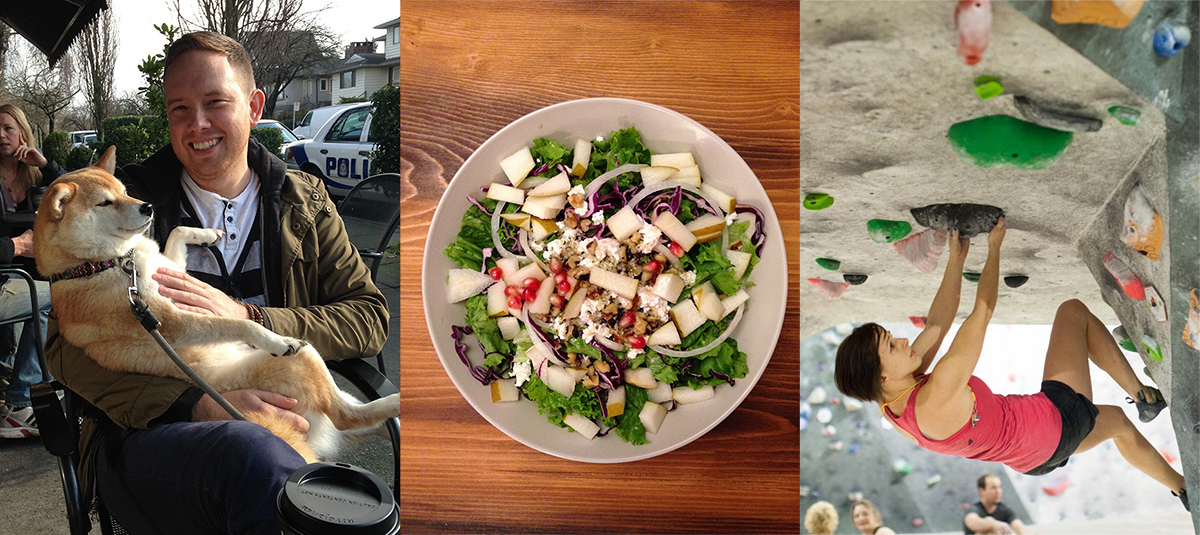 This means no skipping lunches to keep working, and making physical activity a must. It's easy to put that stuff on the backburner when things get busy, but physical activity is so essential to my sanity, that only by mapping it out into my schedule do I actually really feel committed to it (reminders and all).
If you have a system that already works for you, that's great. But if you find yourself feeling a bit frayed, it might be worth taking some time to re-evaluate your calendar, and plan out your week.
I can now say goodbye to weeks that look like this: (YIKES.)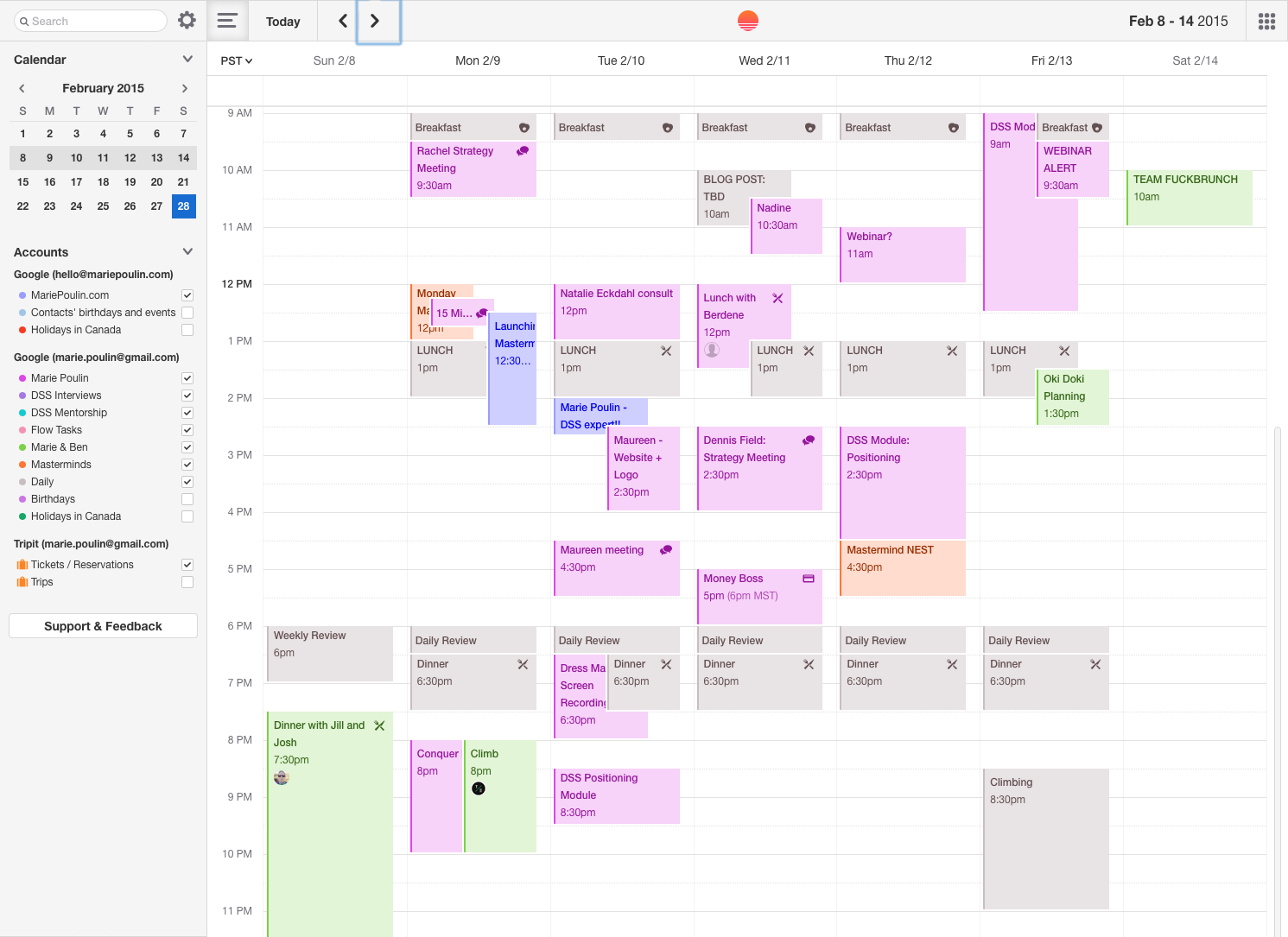 And into weeks that look a little closer to this: (I used Michael Hyatt's excel template in Numbers for Mac and adjusted everything to work for me… since there is no way on earth I'm even remotely going to be alert before 8am!)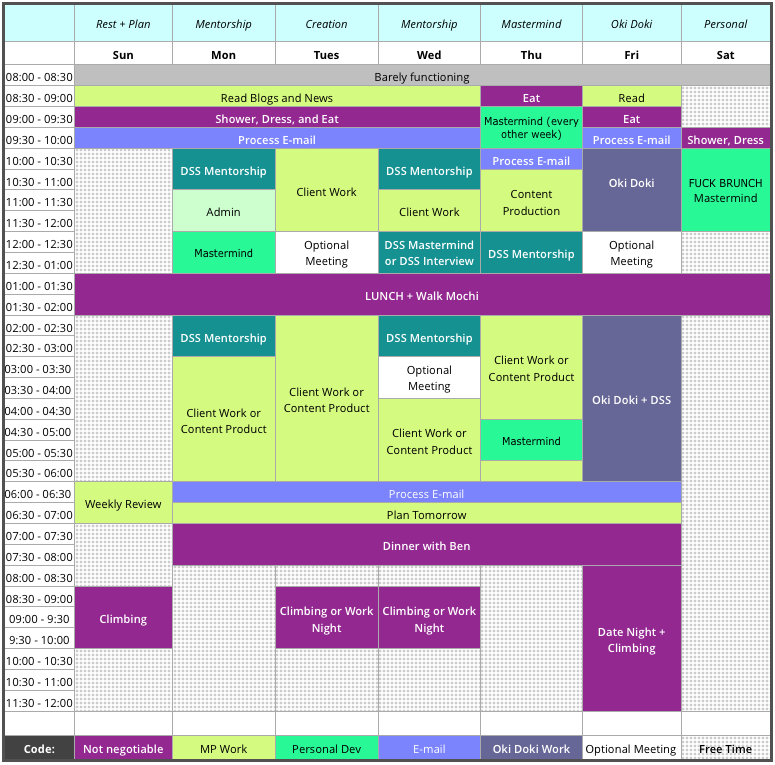 My schedule will always be a work in progress, but simply by limiting the times I'm available in my scheduler system, I've managed to create more space for content creation, brainstorming, planning, designing, and just life in general. I'm looking forward to testing out this weekly theming.
Do you theme your days, or do time-blocking like this? I'd love to know what works for you!