*Notion has ignited a whole new marketplace.
You may not know this about me, but I'm super passionate about helping people create new revenue streams with digital products.
I grew up in a combined household (7 of us, sometimes 8) that um… struggled financially, and where being broke was kind of "the norm."
We always had food on the table, and we made it work, but even as a child I knew that money was a source of stress in the household. I also remember hearing about the concept of the "starving artist." I could be an artist, but that meant I would suffer financially.
I ended up going to design school because that seemed like the only way to leverage my natural artist skills in a way that could be commercially viable.
In many ways the stress of financial instability was highly motivating. I knew I wanted to do things differently.
Digital products for me have been a way to level the playing field through a little creativity, risk, and bravery.
The market rewards creativity.
Digital products:
can be fairly quick to produce
don't require any overhead/support
can be an easy yes for customers
a great way to build trust
are inexpensive to produce
something you can create once, and benefit from over and over again.
Here are some awesome examples of people making cash in creative ways:
💻Traf, who runs Super.so, just launched an icon set using Gumroad, Notion, and Super (his own product) to make some money while he slept: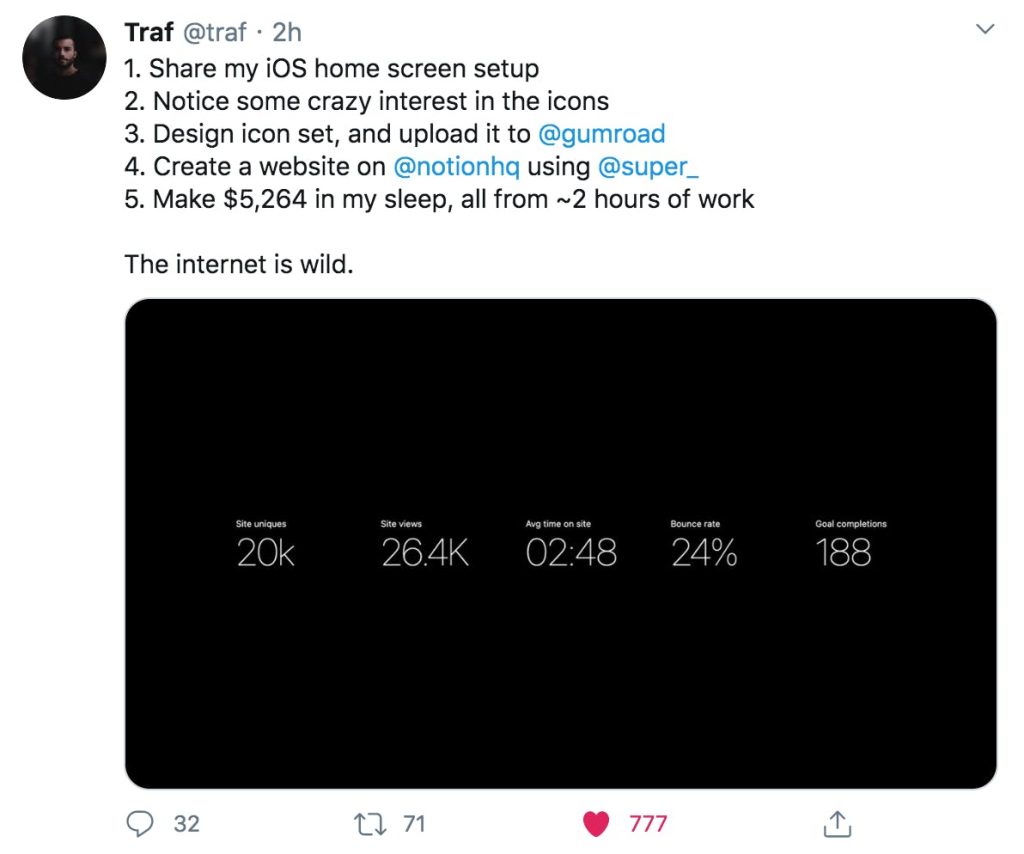 If you want to buy the icon pack, Traf gave me coupon code Marie to use at checkout to save $10.
👨🏻‍💻Ben Issenman created a Notion Freelancer Template Pack and made $1k in 9 days on his pre-sale: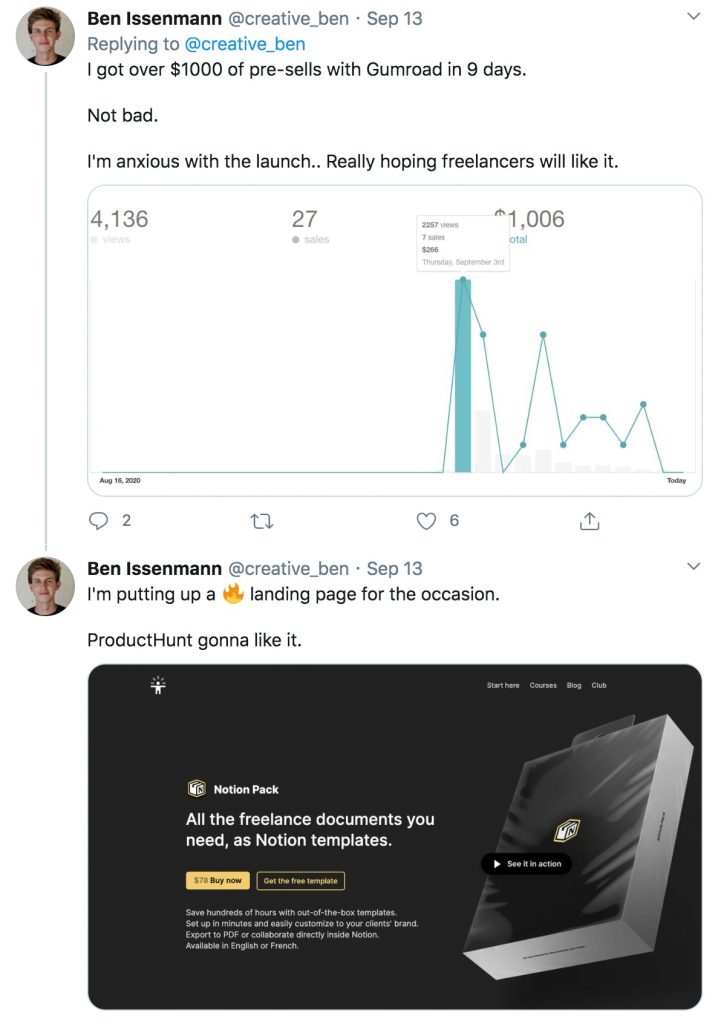 I bought the template pack and it is substantial! Join us for a live tour of this template pack with Ben on my YouTube Channel on September 26:
​
🎭Liz Wiltsie created an awesome Field Guide to Naming Your Needs at Work. Liz will be featured on an upcoming Notion Office Hours, Friday October 2nd to share her project with us!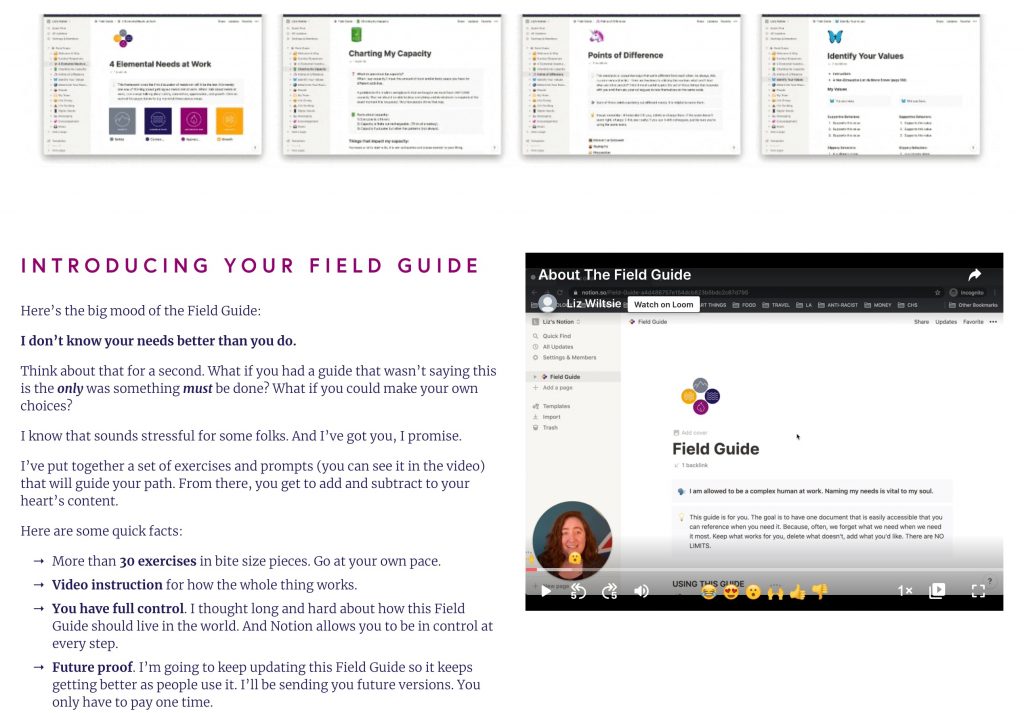 👓Tara McMullin created a profitable Leadership Dashboard ($49):
Note the language she uses: "complete system for flexible planning." She's not just selling a template, she's selling a system; the template is a tool that helps with the implementation of that system. I think Tara may have even surprised herself with how profitable this template system was!
​
Jere Carroll has a template for managing the interview process.​
William Nutt has a whole suite of Notion templates available, both free and paid, as does Danny Hatcher, Alex Sherwood, Jonathan Stewart, Frances Odera Matthews, and Rui-Qing.
Now, admittedly you need some kind of distribution channel to share your creations. For me, that has been YouTube + Twitter. For others, it might be Instagram, email, Pinterest or Facebook.
It might be a simple link you include in the signature of all your emails, or it might be a warm email you send to friends.
If you're willing to get a little creative and put yourself out there, you can find ways to bring in a little extra cash. ESPECIALLY if you're selling a Notion template!
Do you have a unique approach, system, or style of doing something in Notion? Make it available for sale! I guarantee you could at a minimum make back the hours you spend creating the template.
We forget that what's become intuitive for us is still super valuable for other folks.
In early 2020 I created a set of Planning templates (before the Pandemic, hahaha…) followed by a Gardening Dashboard. You may have even purchased these from me already – THANK YOU!
Since Jan 1, these templates have generated over $11,000 😱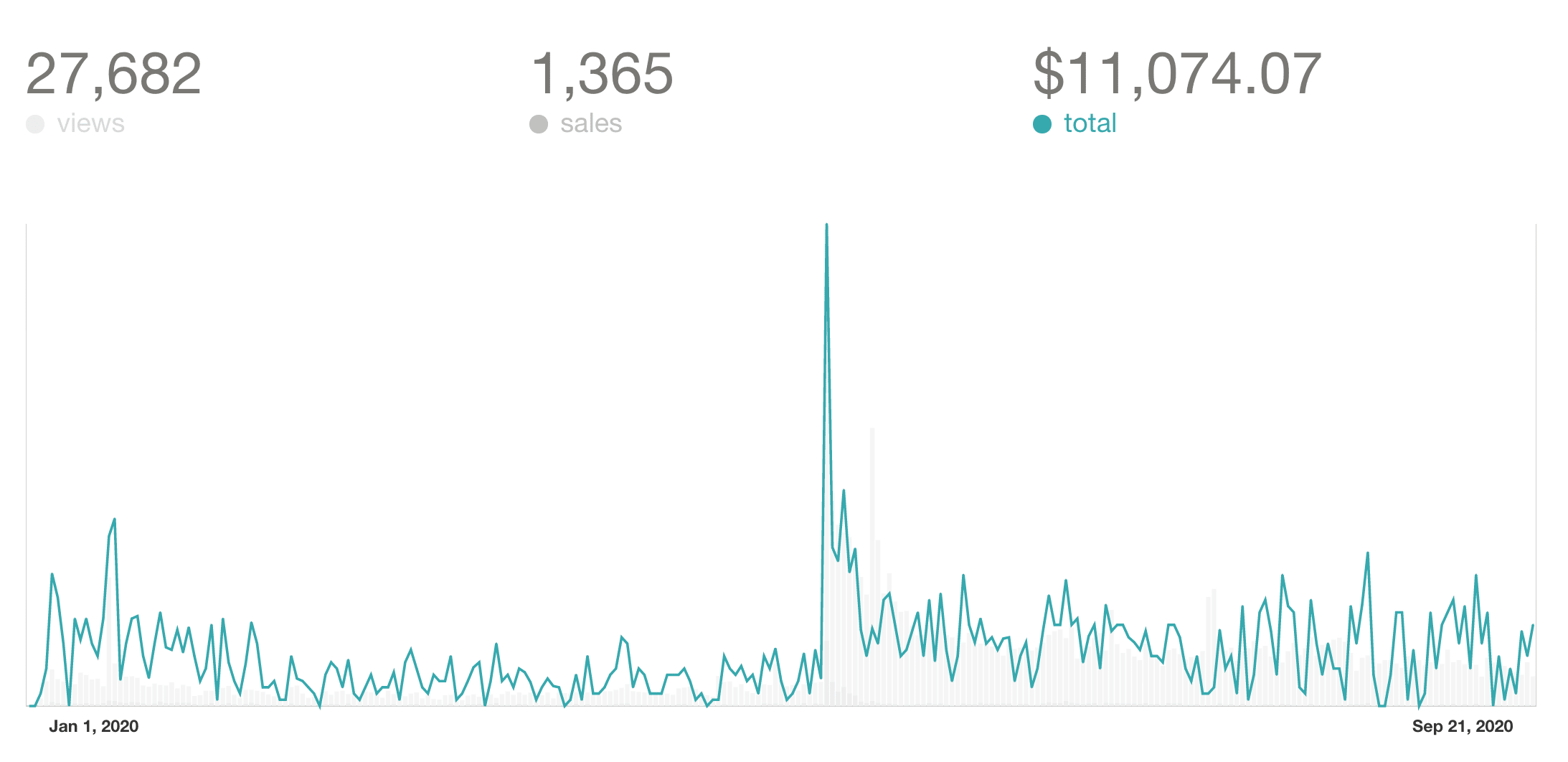 I sometimes still think about the one refund request I got… 😂
Now, that's not "quit your job" money, but that is a NICE trickle of income that comes in on autopilot. You do the work once up front, and reap the benefits over time.
"Making the ask" can be uncomfortable, but my favourite reframe is from Tanya Geisler: "Who is not being served by you playing small?" OOoof.
It's so much easier to share what you're working on when you consider: who needs this? Who isn't getting what they need when I don't share this with the world?
If you're not sure where to start, consider doing a pre-sale. Gumroad makes it super easy to sell + deliver digital products. You can sell your idea/concept/template in advance and only release it on a particular day. This is a great way to kick-start your idea and make sure it's worth pursuing. (Gumroad is also a marketplace, so if your product is tagged well, it can be recommended to others who are browsing).
I purchased Chris Johnson's Dividend Income Empire and Steph Smith's Doing Content Right as pre-sales. The content wasn't ready yet, but I was sending in my "vote" for the creation of that content, and received them a few weeks later.
What is something you know a lot about, that many others don't? You don't have to be the foremost expert in a thing — you can also teach beginners.
SO, friend. What is keeping you from launching a digital product?
[*For full disclosure, I'm a Notion Partner, so when you sign up with my link, you also help support me and my content!]