This year brought a ton of challenges and change, and with it, a lot of major personal growth.
One of the things I wanted to make more time for this year was self care. Slowing down, paying attention to my needs, and getting more in tune with my body. My word of the year was Alignment. I wanted more alignment between what I say I want, and the actions that I take. Between how I want to feel, and the decisions that I make.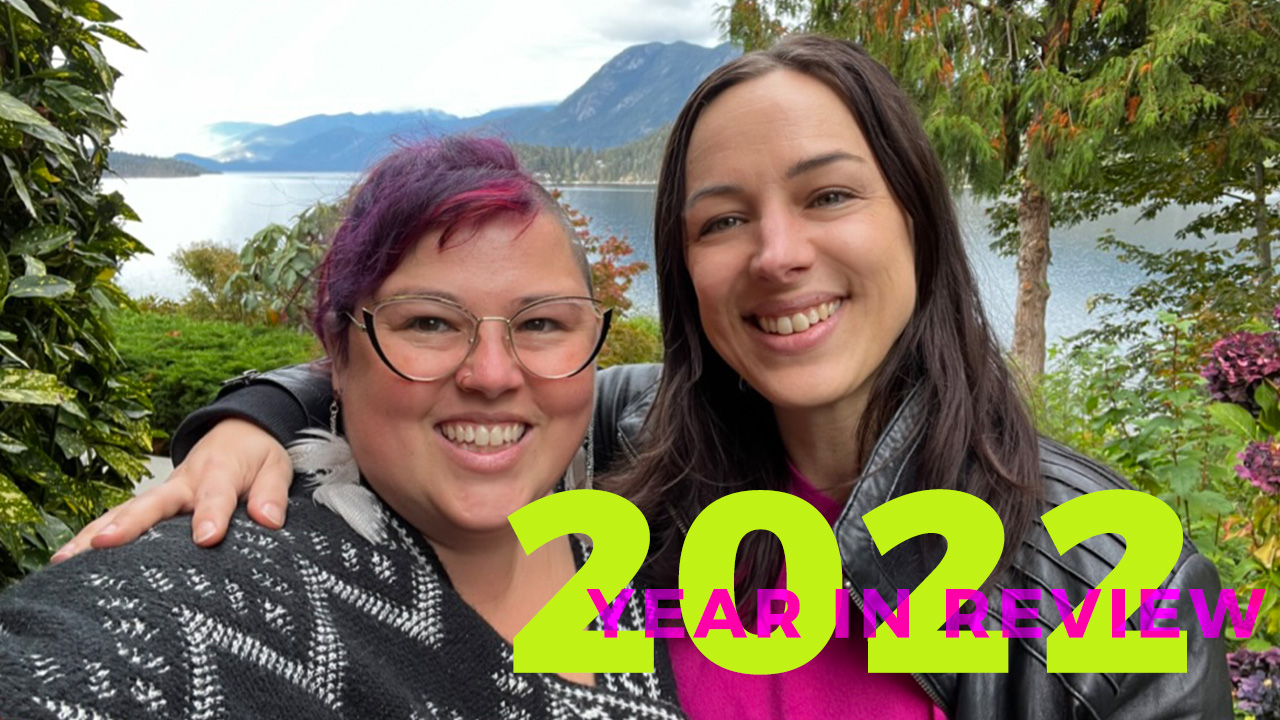 Best of the Year
Personal Highlights
My sister (+ her family) moved here to the Sunshine Coast.
I've lived apart from my sister and my nieces/nephews for most of their lives, and now they live just a 10 min drive away! My sister even sometimes needs to drive past my house as part of her work, which means occasional drive by hugs! I still have a hard time believing it, I'm so grateful. It's been such a joy watching her build her career and really thrive out here on the coast!
I'm also so grateful to have a chance to be more involved in my nieces and nephews' lives.
I joined the local Softball league.
I haven't played softball in years, and honestly this was such a highlight this year! I signed up for every season and team available (Spring, Summer, and Fall ball) and every tournament I could, for a total of 6 different teams. When I get excited about a thing I get EXCITED about a thing. This was such a great way to meet more people on the coast and make new friends!
I took up mountain biking.
Ben had already been biking for the past year or so, and I finally decided to give it a try with one of our friends' hand-me-down bikes. I even went to the downhill park a few times and had an amazing wipe-out which has left me with a fun little mark on my back that is still healing!
Presenting at Notion's Block by Block.
I got to share some of the ways that I "take *Notion to the max" in my day to day. The event drew a huge audience, and the production was really impressive. I couldn't keep up with the chat! You can check out the session here.
Team retreat near Banff, Alberta.
I'd never been to that area of Canada before, and it was spectacular. We got to see Banff, Canmore, Lake Louise, Ghost Lake, and more.
VIP day with Tanya Geisler
Ben and I had a mag VIP day with our leadership coach Tanya Geisler, who we've worked with in various capacities over the years. She helped us clarify our vision for our company, and gave us a renewed sense of confidence. I'm eternally grateful for having access to her and her wisdom.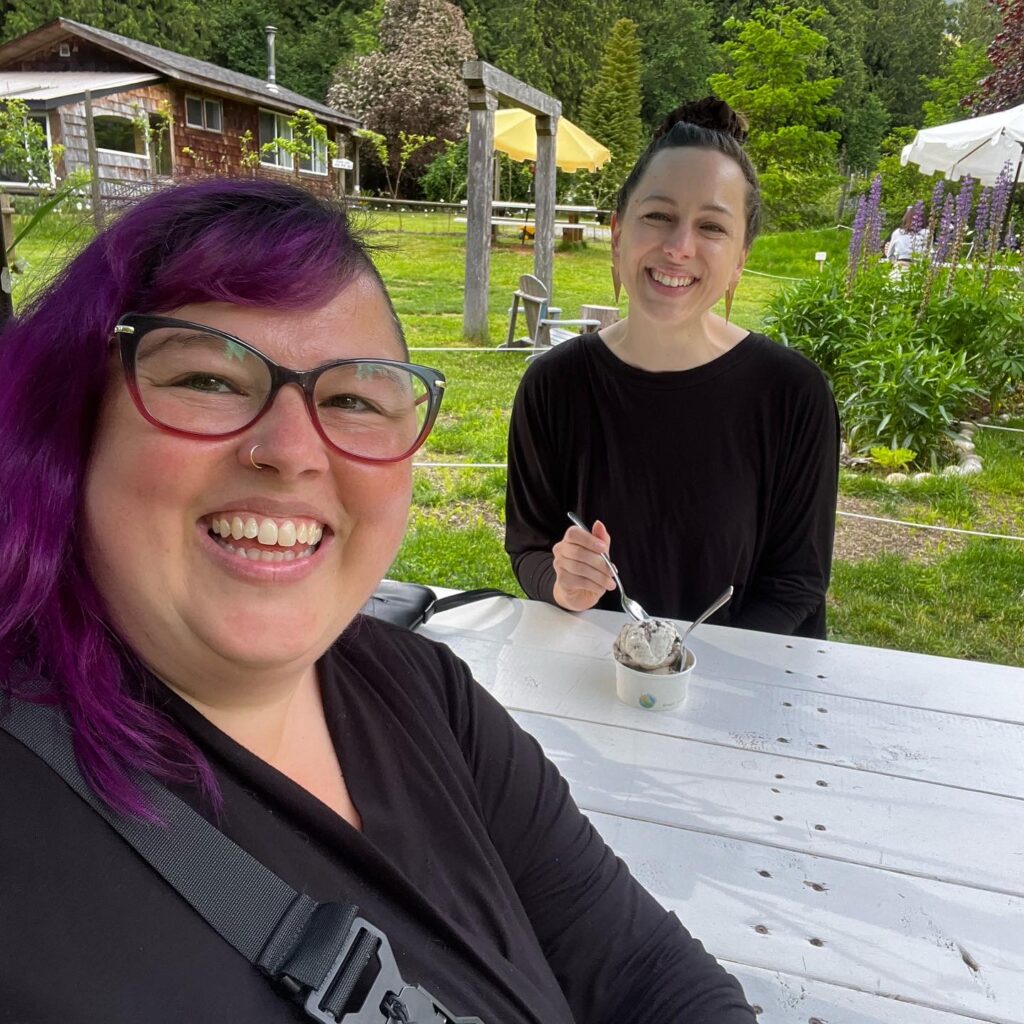 Entertainment
Best Movie: Everything everywhere all at once
Best Show: Severence
Best Album: Paradise Lost, Brother Tiger
Best Song: Pyre, Brother Tiger
Learning
Courses I studied:
Relating Between the Lines by Norman Tran
This is a course about improving your interpersonal relationships, emotional intelligence, and communication. It was absolutely outstanding, and I cannot recommend it enough!
Patterns for Self Organizing Teams by Rich Bartlett and Nati Lombardo
This is an excellent course for anyone managing a remote team. They cover everything from creating a team culture, to decision making, communication protocols, conflict management, and finding your rhythm as a team.
Unschool Educator Certification with Leyla Acaroglu
This is a 15-month ongoing certification program to master leadership, facilitation, and experiential education practice.
Conflict Resolution Skills for Leaders by Facilitated Solutions
A great little bundle that covers elements of conflict management, giving feedback, and building conflict-positive leadership skills.
Permaculture Diploma with Delvin Solkinson
This is an ongoing educational experience. Through Delvin's mentorship I am continuing to explore the ways that we can apply the principles of permaculture to business design.
Books I read:
An Everyone Culture: Becoming a Deliberately Developmental Organization, Robert Kegan, Lisa Laskow Lahey, Matthew L. Miller, Andy Fleming, Deborah Helsing
Dare to Lead: Brave Work. Tough Conversations. Whole Hearts., Brené Brown
Four Thousand Weeks: Time Management for Mortals, Oliver Burkeman
Untamed, Glennon Doyle
Unbound: A Woman's Guide to Power, Kasia Urbaniak
Atlas of the Heart: Mapping Meaningful Connection and the Language of Human Experience, Brené Brown
I also re-visited a number of books, including: Principles by Ray Dalio, Designing for Growth by Jeanne Liedtka, Tim Ogilvie, and Rachel Brozenske, and the 12-Week Year by Brian P. Moran among others.
Skills
Professional: This year I focused on teaching, presenting, video editing, communication & interpersonal skills and leadership.
Health + Wellness
I focused heavily on learning about proper skincare this year. I've struggled with problem skin I was a young teenager. This year I committed to taking my skincare seriously, learning about what different ingredients do and why. I researched and tested products, and developed a skincare routine for the first time in my life. It's been incredible what a difference this has made to my self confidence.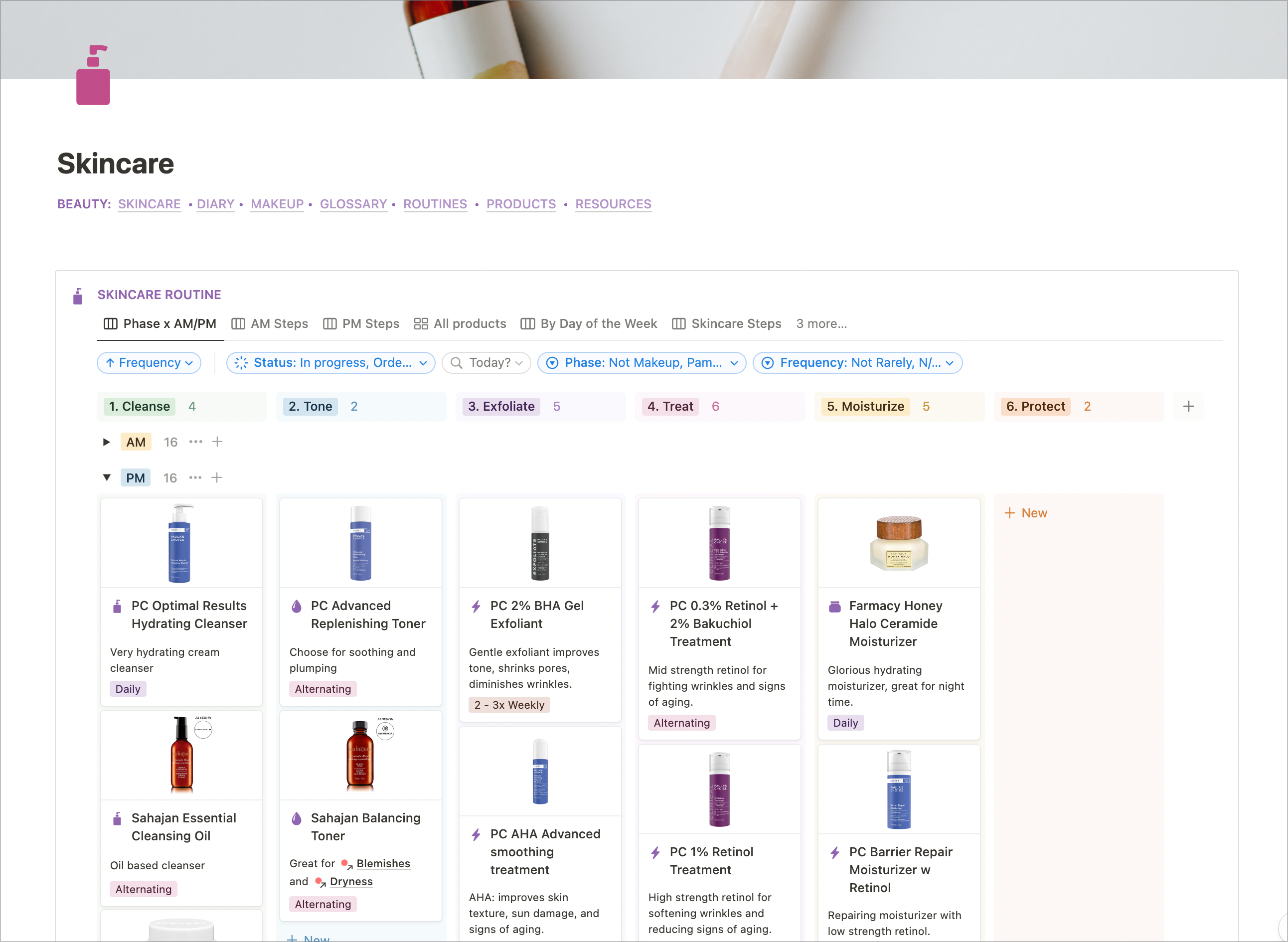 I took a make-up free selfie every day for almost a year while I used *Notion to track what products I was using, and log issues like blemishes, dryness, irritation, redness, hyperpigmentation, etc.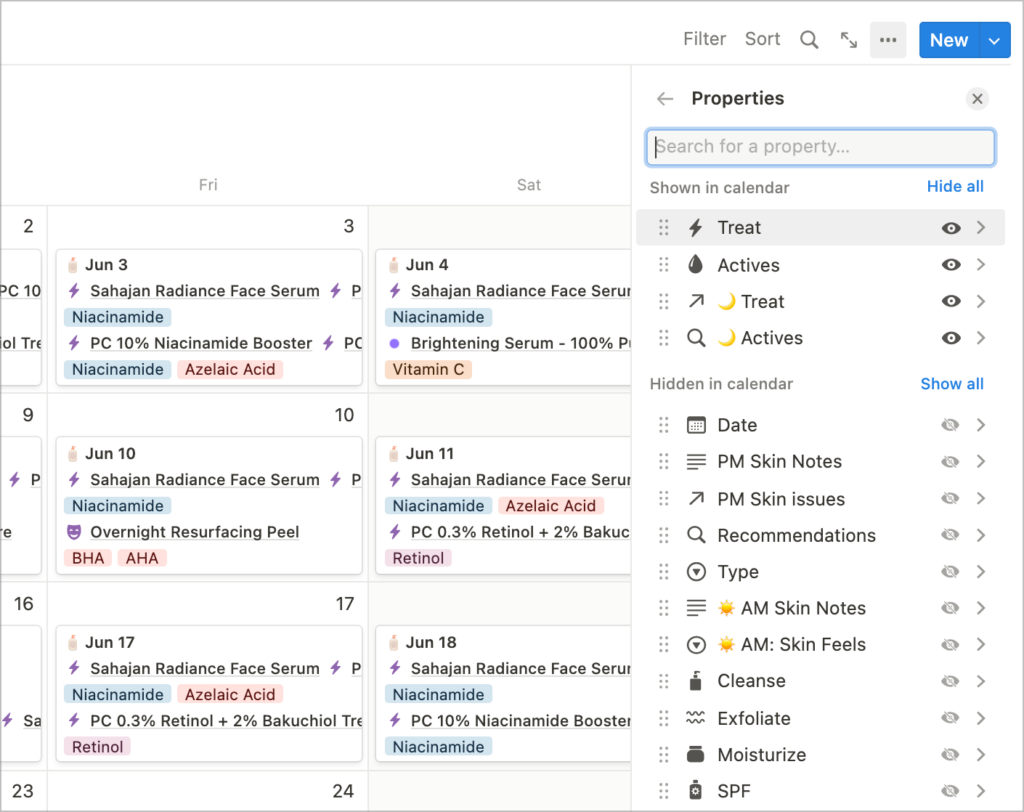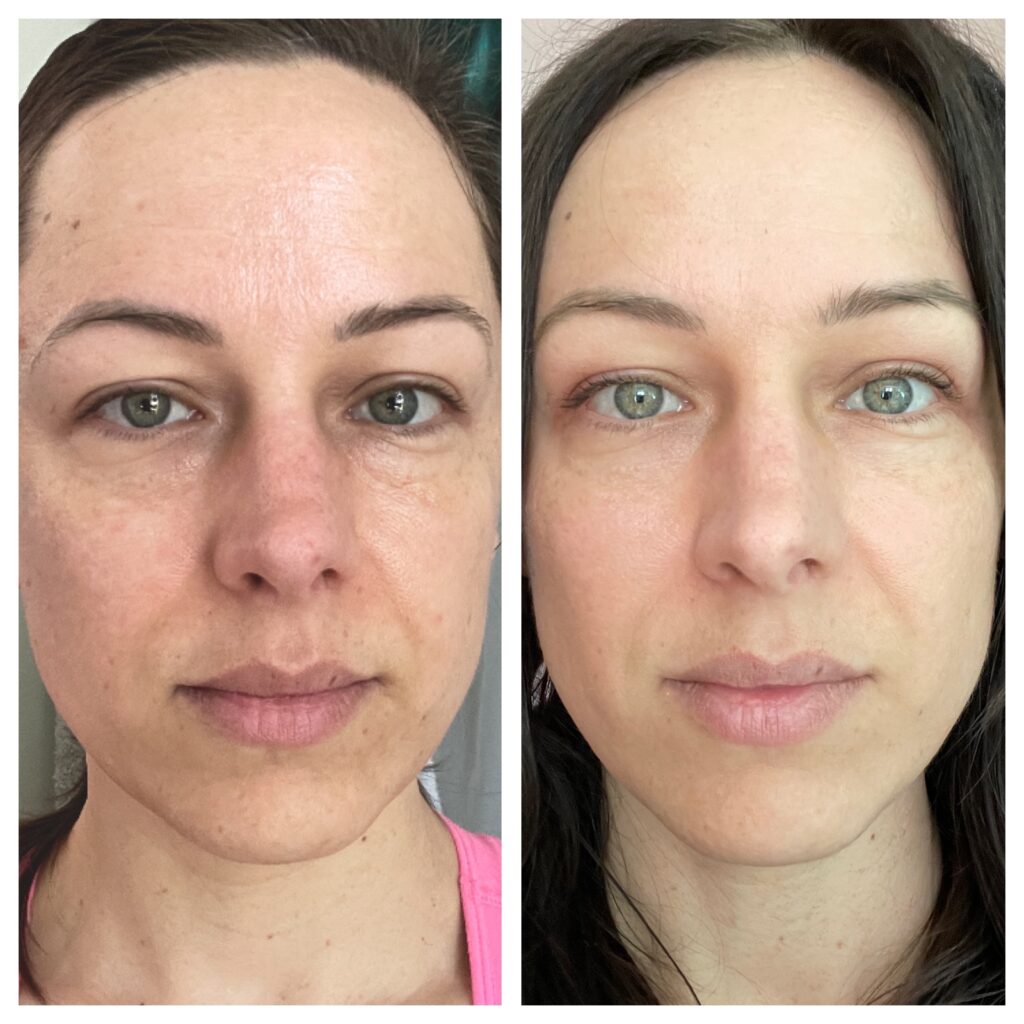 I now wear SPF on my face daily, and have been consistently following a skincare regimen that I do no matter how tired I'm feeling! My AM routine consists of a cleanser, toner (optional but I enjoy it!), Vitamin C serum, moisturizer, and SPF. In the evening, I cleanse, exfoliate (or use a treatment), and moisturize. I've been enjoying brands like Farmacy, Paula's Choice, Sahajan, and Supergoop.
In the past I wouldn't leave the house without makeup on; now I do so freely, and feel like I look less tired overall. Skincare has become part of my self care.
I do have a template for tracking products in Notion; it just needs some cleaning up but I will eventually make this available over at https://notionmastery.com/templates.
I'm very grateful that team sports have returned since being cancelled during Covid. Softball, Pilates, and Mountain Biking helped me keep my body moving, though admittedly, I don't do much working out outside of team sports and the occasional hike.
Pilates is something I've been doing weekly with a trainer and I absolutely love it. It helped me heal a 15+ year long knee injury in less than a month!! So I plan to keep doing this in conjunction with other movement and activity.
Looking at my Oura data, I got pretty good sleep, but wasn't terribly active day-to-day. This is something I am committing to shifting next year!
I've also been journalling for almost 1400 days in a row, tracking everything from my energy levels, to feeling in "flow," to workouts, physical pain or symptoms, and feelings. Having done this for years I can see interesting patterns, even noticing things like which days of the week tend to be more energized, and when to plan meetings or more creative days. I have no plans to change up my journaling habit!

Favorite purchase(s)
Almond Cow
Make any kind of nut milk (or Oat milk) faster than you can boil a kettle. I was skeptical at first, but decided to give it a shot because we go through a lot of nut milk, which adds up to a lot of money and a lot of packaging (which we have to recycle ourselves here on the coast; there's no pickup!).
Sure, you can absolutely make nut milk at home using a blender and a cheesecloth, but it takes time and effort, and is just plain annoying.
The Almond Cow is the easiest thing in the world to use; it seriously takes less than two minutes to make a batch of milk and clean up! I use it every 2-3 days to make a new batch of milk. I've made everything from vanilla pistachio milk, to cashew cardamom milk, almond milk, hazelnut milk, oat milk, and more. I even made a pecan pie latte!
You can use my referral link to get $25 off your order: https://prz.io/9go5NaOhX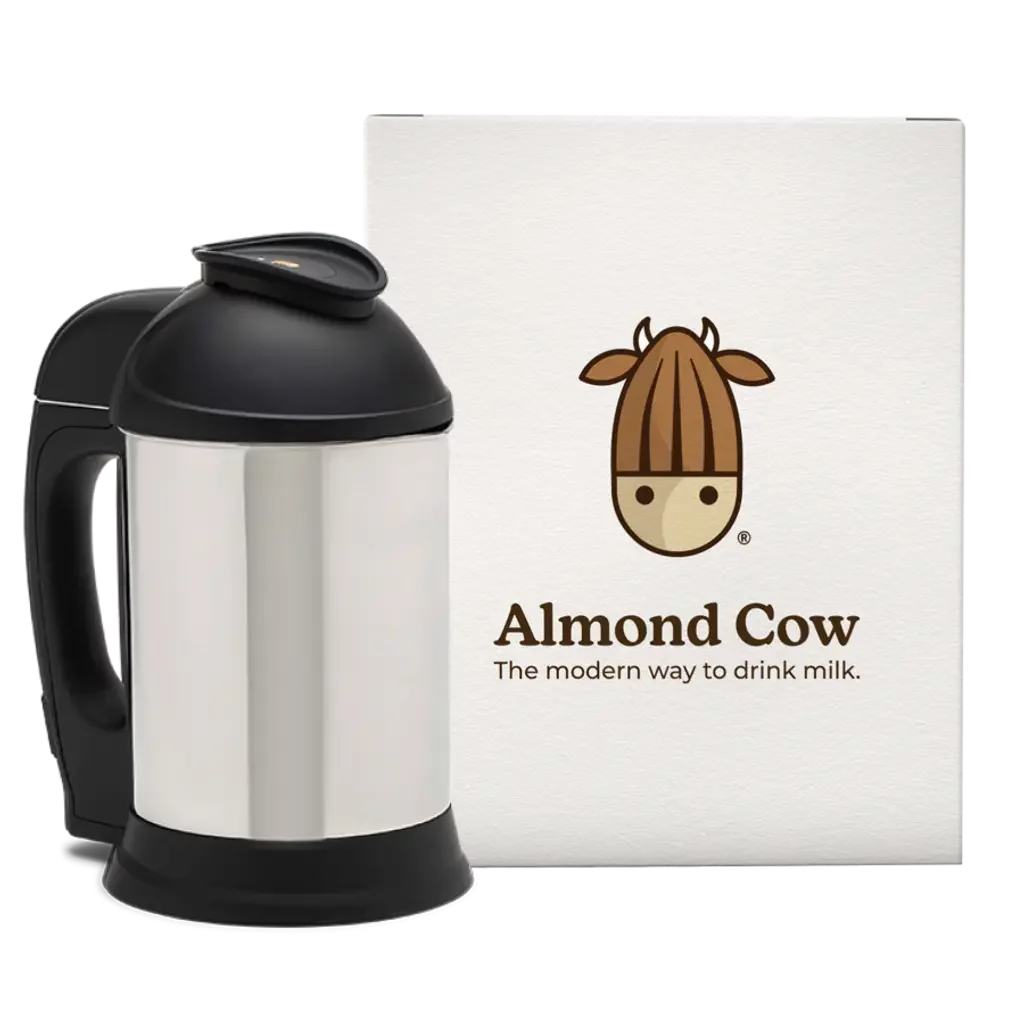 Lululemon Studio Mirror
I bought a Mirror in early December, and it has been transformational. I know that I struggle to do any kind of workout outside of sports. If I don't have a team, a personal trainer, or a dedicated class to go to, it's highly unlikely I make the time to workout.
The Mirror allows you to pick any kind of workout: boxing, cardio + strength, weight training, yoga, tai chi, stretching, dance, etc, at any level or length of time.
It's the closest thing to having a personal trainer at home! I find it incredibly motivating, so much so that I've been doing a workout every day, even if some days are just a simple 15-min workout.
It integrates with tech like Apple Watch and the Oura ring so you can automatically track your health data.
You can add other family members as well, so we're both able to use it and track our own workouts and health stats separately.
I really want to step up my overall fitness and increase my strength, so I'm excited to build a workout routine for myself using the Mirror.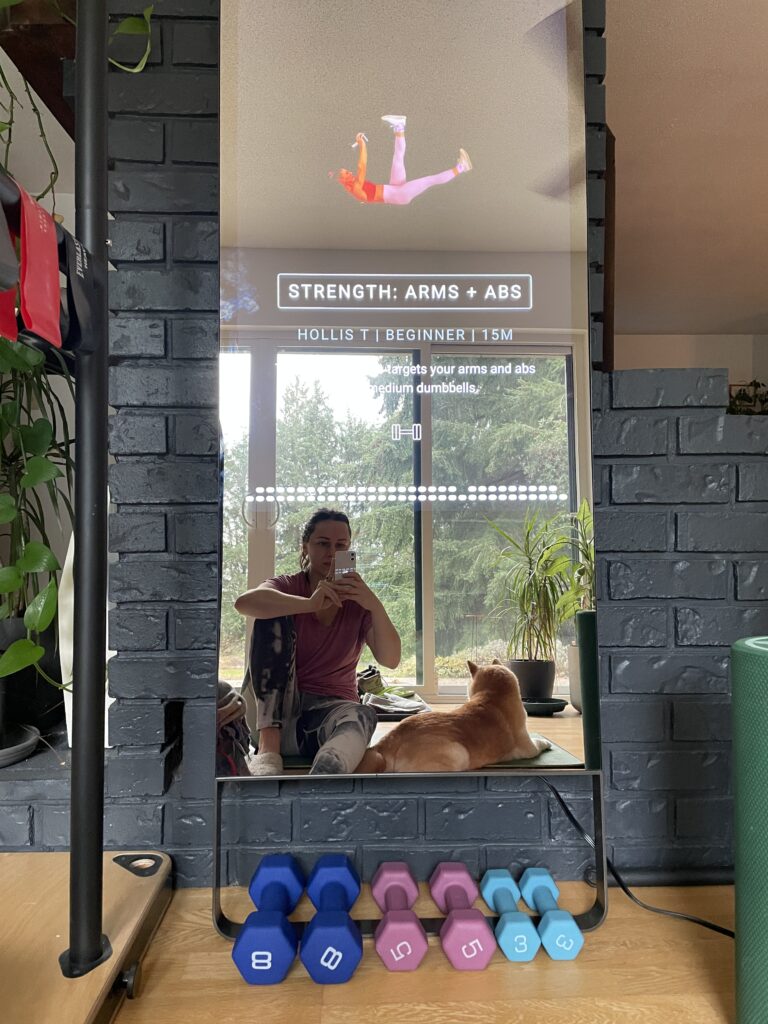 Lomi Composter
I bought the Lomi composter ages ago as part of a kickstarter, and it finally arrived earlier this year. We use this every few days to make compost from our food scraps!
It's easy to use, and it's pretty wild how fast it can transform scraps into usable compost for your garden.
It is a bit loud while it's running, so we keep it in the laundry room, and transfer the finished product into a large tupperware, which we then transfer outside into our compost bins.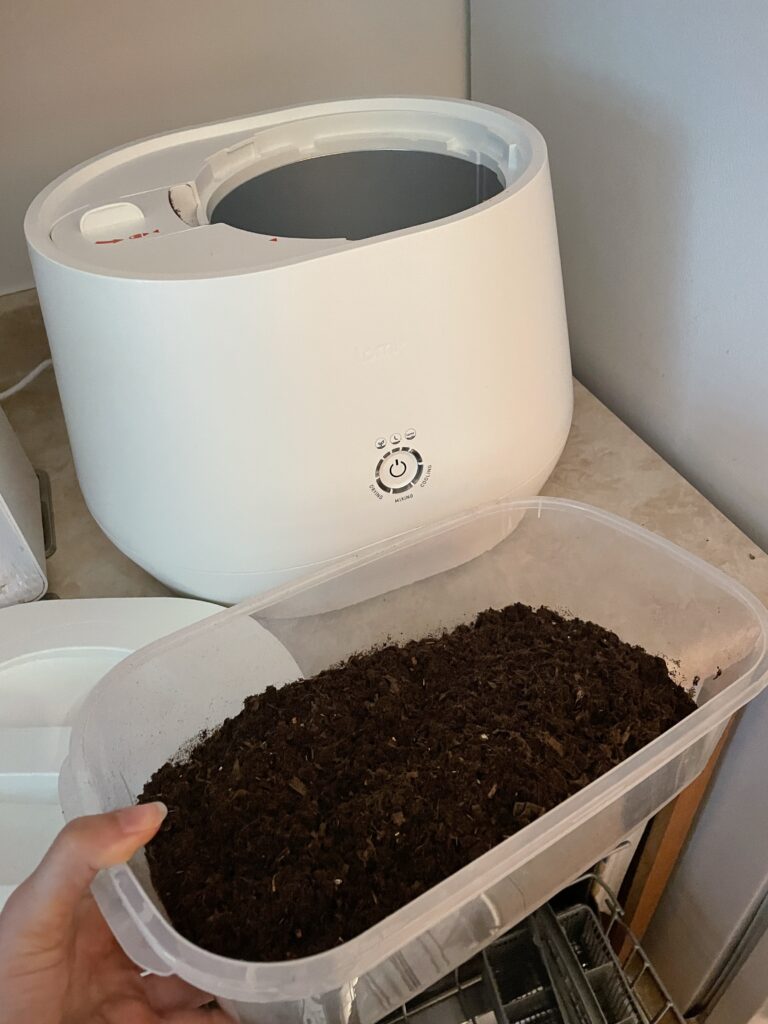 Professional
Notion Mastery continued to be my primary focus for 2022, adding 830 new students! At the beginning of the year Ben (my husband) also returned to the company full-time after two years of working as a lead engineer. I feel incredibly grateful that I truly enjoy working with my husband. Our brainstorming and discussions are very energizing, and our ideas feed one another's creativity.
The Notion landscape is always rapidly changing, and we weren't entirely sure what his focus would be during the first half of the year.
Eventually Ben really found his groove with Notion consulting for teams. It's been amazing to add his expertise and perspective to the course.
One of the biggest challenges we face with the course is just how fast Notion has been making updates to the product. Sometimes these changes are small, and sometimes these changes require major curriculum updates.
We dipped our toe into Notion corporate trainings, but these are challenging to do without first doing some customization and/or consulting. You can teach people Notion the tool, but it's much more difficult to teach new folks how to work with their team's unique systems and processes without first standardizing elements of those systems.
This opens up a number of opportunities business-wise, especially with teams, but as a small team ourselves, we have to check in with ourselves:
Do we want to offer these services?
To what extent?
Do we have the capacity?
How would this support our existing product ecosystem?
For now, our number one focus is streamlining the course and making it more resilient/future-proof, and continuing to improve the overall student experience through our curriculum, workshops, and office hours led by both myself and Ben.
Even with all the ways we know the course can be improved/elevated, we continue to get amazing feedback from students. Helping people through this course is truly one of my biggest joys! This work is what makes me most excited and motivated to get out of bed.
This is the best money I have spent on myself in a long time.

Alyssa Mansfield
Congratulations to the Team💫 for such an amazing job preparing this course!!Anyone can tell there is so much effort, care and brain on it. I've just started and I'm already in💚.

Marta Gonzalez
You are constantly delivering and sharing incredible value with your Notion Mastery Course (which by now may be rebranded as Life Mastery Course) as your team and you go way beyond Notion.

Diego Solis
This course consistently blows my socks right off with every single lesson. It's a productivity nerd's dream. 🤓 Also, the support is aaaaaammmmmmaaaaaaazzzzzzzing.❤️

Aniebiet Udom
We'll continue to streamline and improve the course next year before adding any other events or commitments to the calendar.
Though an in-person event is definitely on my mind for 2023…
What's next?
Personal
More movement is my top priority in 2023. I also want to slow down and be more present, so I can listen more closely to my intuition and my body.
Dodgeball starts up again in January (after a 2+ year hiatus), and I've organized a team called Riff Raff. I also had a bit of fun designing our team's t-shirt!
Cooking and meal prep. Something I had to put on hold when Covid began was an amateur chef bootcamp in Vancouver. It's running again in the summer, and I want to make time for it. I've always had a passion for cooking, and I'd love to continue deepening my culinary skills!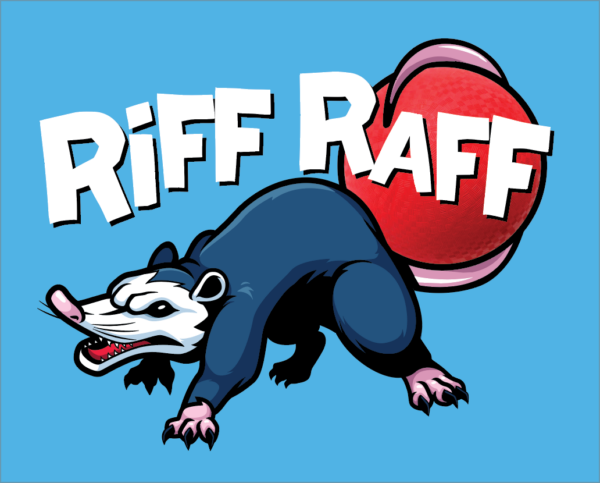 Meal prepping and batch cooking is definitely a waterfall habit that sets the whole week up for success, so I plan to take this even more seriously in 2023.
Gardening + Permaculture. I plan to continue learning about permaculture, and improving my gardening skills, including my Tower Garden.
Family. I am excited to make more time for my nieces and nephew, treating them to experiences, getting to know them better, and helping them become their best selves. Being able to go on little adventures with my sister, and explore the coast has been such a highlight this year, and I'm excited to make more time for family adventures!
Professional
Notion Mastery continued to be my primary focus for 2022, along with workshops and youtube videos that support the content. My focus is on streamlining and finessing the course, and really leaning into my unique teaching style.
Youtube will continue to be the primary platform that I focus on for content creation, and I may start experimenting with TikTok as well. I'd like to find a creative outlet where I can share more of my experience and thinking outside of Notion. I'm unsure about how Twitter will look next year.
I also finally started taking my email list more seriously this year, and got support (thank you Matt Ragland!) in order to send emails more consistently (which my readers definitely noticed!). One of the things I experimented with this year was sharing more about my experience with ADHD, as well as my thinking around permaculture. Both of these topics have led to a lot of interest and an increase in interesting and kind replies from readers! I plan to continue exploring these topics in my personal newsletter.
One thing that Ben and I are doing together is planning less. We're focusing on smaller intentional bursts of activity, while leaving lots of room to adapt and evolve. In such a rapidly changing market, we're not fussed about planning so far in advance. We are focusing more on our intentions, desires, and values, and worrying less about how we get there. We're both looking to slow down to speed up.
The word I want to embody in 2023 is Presence.
I am drawn to this word because to me it represents both being present and having presence.
The state or fact of existing, occurring, or being present in a place or thing.
Having presence: "People who have presence have an inner radiance, since they are comfortable and content within themselves. They seldom walk or move in haste. Their gestures are timed and controlled, as if rehearsed. They rarely seek approval from others…" Source.
I'm grateful for all the unique challenges that 2022 brought, and how they have shaped my growth and perspectives, and I'm looking forward to an interesting 2023!
---
[*For full disclosure, I'm a *Notion Partner, so when you sign up with my link, you also help support me and my content!]