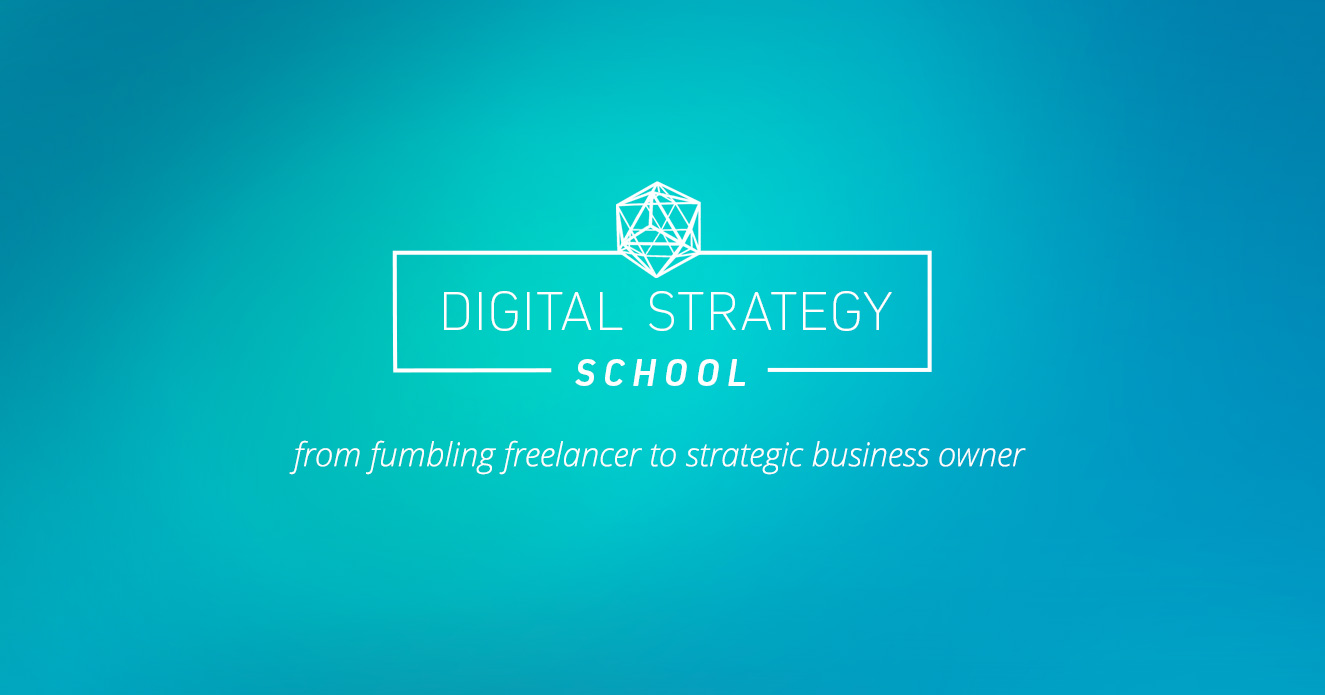 Digital Strategy School is a design business accelerator that helps designers transition into trusted advisors to their clients. We help designers run better businesses, position themselves more confidently in the market, and help them create their own strategic process.
In this online mentorship program, you'll learn how to run a thriving business as a digital strategist.
I'll show you a complete "behind the scenes" of how I run my businesses, complete with real numbers, real strategies, and real results (the good, the bad and the ugly). With over a decade of experience working on the web with tons of successful clients and incredible project launches, I've seen successes + failures, epic launches, and massive flops. I've seen what works, and where there's room to grow.
Get ready to take on a leadership role with your clients, run your business with more confidence, and learn how to integrate digital strategy into your workflow. You'll get a sneak peak at how other established business owners run their design projects from start to finish, with insights into building (and improving) your client base, managing clients, scoping projects and proposals, budgeting and scheduling, streamlining your work processes, and understanding how to position yourself in the market.
Over 70 designers have gone through the program, and have been raving about their experience and results:

"Coming at projects as "business improvement" instead of "web design" was a revolutionary idea to me, even though it was how I was approaching projects already and not charging for it. Marie is not just changing individual lives, she's changing the industry." — Rachel
---
"This is a course that delivers waaaaaay more value than you're paying for. Marie is a wealth of creative ideas for how to look at all aspects of your business and even though the course content is already so deep, she seems to have a magical never-ending library of worksheets, podcasts, blogs or anecdotes that help with the exact issue you may be facing. One of my favourite parts about the course content is that it's inspiring; I can see business opportunities I hadn't considered in all of the modules." — Linsey V.
---
"If you are a creative freelancer struggling to break through to that next level where you can raise your prices and add value to your clients bottom line, your search has ended. The mentorship I received through Marie in DSS has been invaluable, and has been a turning point in my entrepreneurial journey. I cannot recommend her enough." — Chrissy M.
---
I now see it's no longer just about design, but about building a solid system that brings the right people in and keeps them in your world because you keep adding value to their lives. If you are a designer or developer ready to start taking your business more seriously and finally step into your expert role, this is for you. If you are done with the fumbling, and are ready to find the clarity you've been searching for, the clients you love and the reputation that comes along with an expert status, go sign up! — Hilde K.
---
I could go on for pages about how amazing the community is, but let's just say this: I've found the designer to re-create my branding in the DSS group, I found another designer in DSS who I've booked 3 gigs with and we are making some of the most beautiful sites I've had the pleasure of coding, I've been put on a few designers "roster" of go-to developers, and I am collaborating with a DSS designer to build out a product. Needless to say, I would not be where I am without Marie and the DSS community! — Margaret R.
---
Mostly, DSS feels PROFESSIONAL. I think of it as akin to being in a guild – it ups my game, holds me accountable, and introduces me to a whole lot of 'what's possible and doable'. It's refreshing. I now bill at two or three times the rates I was at before because I'm not quoting by the hour anymore, but by value. — Laurie
What we cover:
[one_half]
Track 1: Prepare Your Business
BUSINESS AUDIT
Introduction, auditing your business, setting goals, and laying the foundation for big shifts in your business.
POSITIONING
Understand how to clearly and confidently define your position in the market. Rework your copy, portfolio, services and products.
CLIENTS
Learn how to identify and work with your ideal clients, attract better leads, and manage expectations like a pro.
MONEY
Shift your money mindset. Get real about your revenue planning and get comfortable pricing your services.
PROPOSALS
Learn how to scope and price projects, and develop a proposal that both delights your clients and increases your bottom line.
WORKFLOW
Map your process and customer journey, and learn how to optimize your workflow, reduce scope creep, and increase your productivity.
[/one_half] [one_half_last]
Track 2: Practice Digital Strategy
DIGITAL STRATEGY: OVERVIEW & SCOPE
Introduction to digital strategy for small businesses, what you should include in a strategy, and what it means to think like a strategist.
DIGITAL STRATEGY: TOOLS
Know the tools of the trade, and learn how to conduct valuable consumer research.
DIGITAL STRATEGY: CHANNELS
Know what channels are available, and identify the ones that align with your client's business goals.
DIGITAL STRATEGY: MEASUREMENT
Understand how to set measurable and achievable goals based on your client's needs and goals.
DIGITAL STRATEGY: IN PRACTICE
Case Studies and sample strategies to show you what is possible, and help you develop your own documentation and process.
DIGITAL STRATEGY: TYING IT ALL TOGETHER
Hone your process; tie all of your knowledge and experience together to form a cohesive strategic process as part of your workflow.
[/one_half_last]
I asked Digital Strategy School Masterminders, what has changed since you took the program?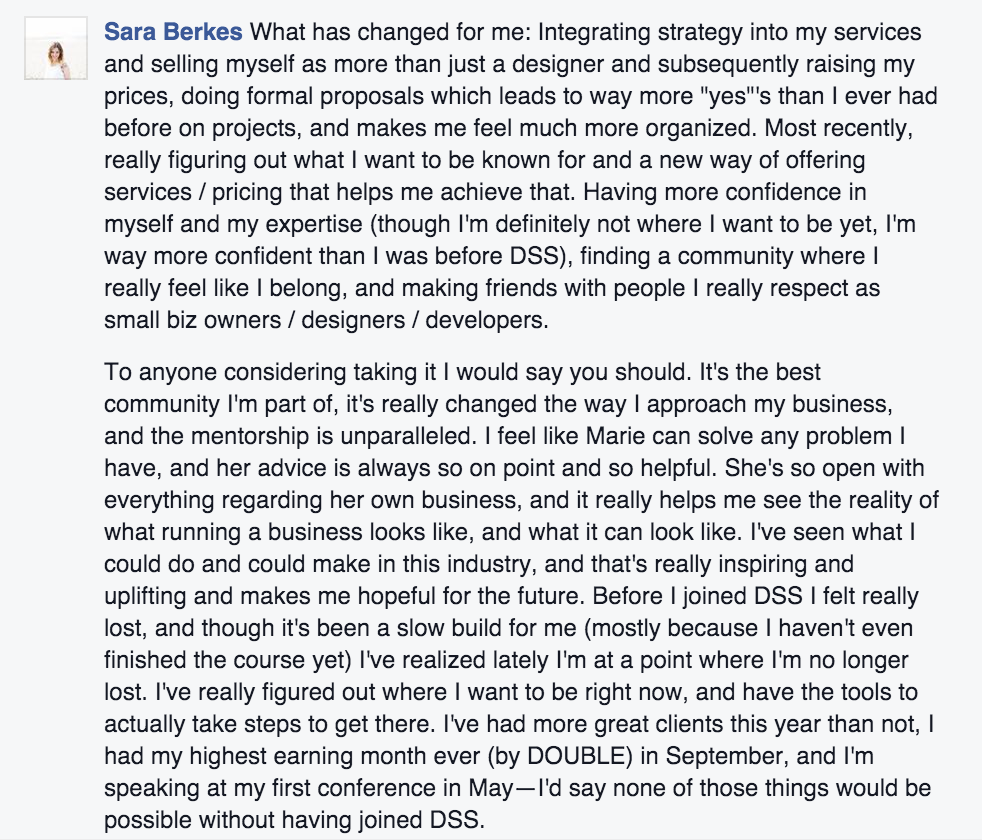 The next mastermind starts Feb 26, 2016.
Will you be joining us?
There are both self-study and Mastermind versions of the program.