It begins in Seoul, South Korea
Well, I began my journey with a 3 day visit to Seoul, South Korea, before heading to Bali on the 11th of February.
To recap… I've been spending the last 2 months living on a friend's couch. I sold all my worldly possessions, and bought a ticket to Bali for 3 months. Because, hey, why not. It's cheaper than living in Vancouver to say the least, and since my work allows me to work from anywhere… enough said.
So it starts in Seoul. Lucky for me, friends put me in touch with someone who is currently living there and was more than happy to show me around! So I arrived in Seoul and Brent came to meet me, for which I was eternally grateful. The public transportation is really well organized, but I will admit that I would have been a bit intimidated to figure it out on my own right away! I arrived around dinner time after an 11hr flight. At that point I'd had maybe 3 hours sleep in the previous 48 hrs, so I was exhausted, and running on pure excitement and adrenaline.
The best part about my Korean experience was that my friend likes to travel like me (doing as the locals do), so we started off with some tasty traditional Korean food and sake. Brent did most of the ordering, as most of the menus had no English. The food surprised me, I must admit. As a vegetarian, I was expecting to eat mostly rice and kimchi, but there were a surprising amount of tasty options for me. Though my first meal was far spicier than anything I've ever consumed before! I think I put on a brave face (and went through an entire box of kleenex).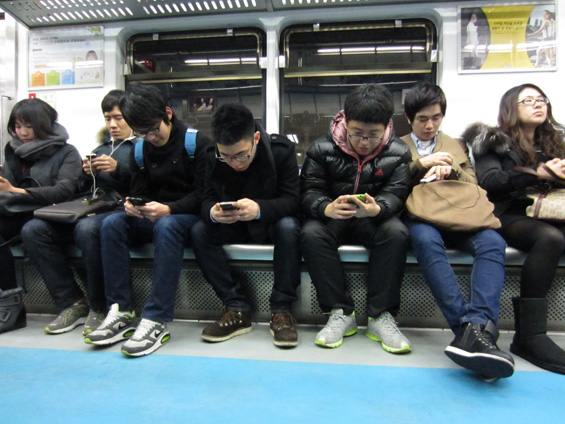 Sidenote… the advantage of living in Vancouver is that no matter WHERE you go, EVERYTHING is always so much cheaper.
After our delicious meal and drinks, Brent took me to a fantastic little bar called Nabi. From the outside it looked like a hole in the wall.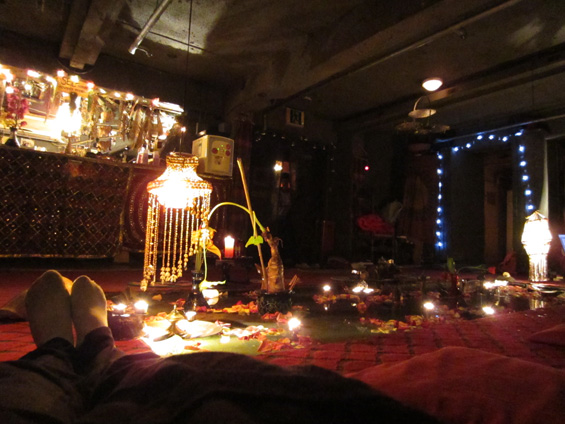 On the inside it was incredibly beautiful and serene, with candles, flowers and lights everywhere, and pillows and cushions on the floor. We ordered a drink and smoked hooka (a first for me, as I don't smoke… but it was surprisingly pleasant!) This place was pure bliss. The unfortunate thing was that by this point it was a struggle to keep my eyelids open! The time difference, the sake and the jetlag were hitting me like a ton of bricks. Sigh.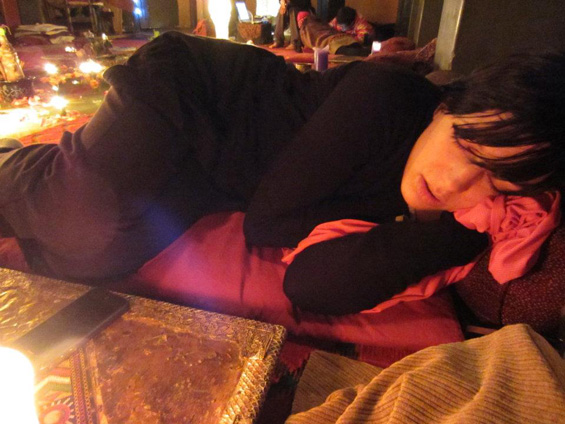 I FELL ASLEEP AT THE BAR. I'm so sorry Brent 🙁 It really was heavenly in there…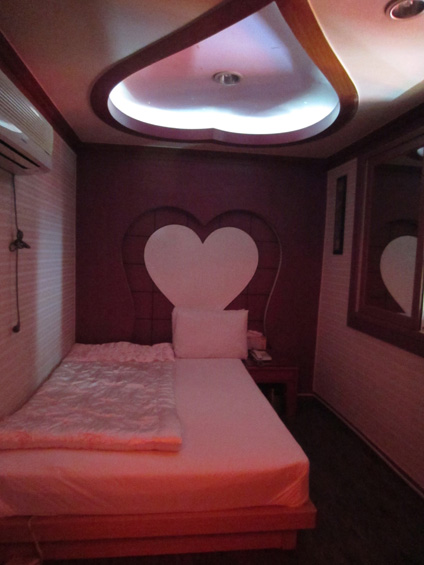 We then made our way to find a motel for me. I got one for about $40/night. They gave me the honeymoon suite 😉 Heart shaped cut out behind the bed and in the ceiling.
Brent swung by in the morning to lend me his winter jacket. My Bali wardrobe was not going to cut it. Holy, it was surprisingly cold! It was only -10, but it felt like a typical Ottawa winter day to me. Bali would be 26-30 degrees… nearly 40 degrees of difference!!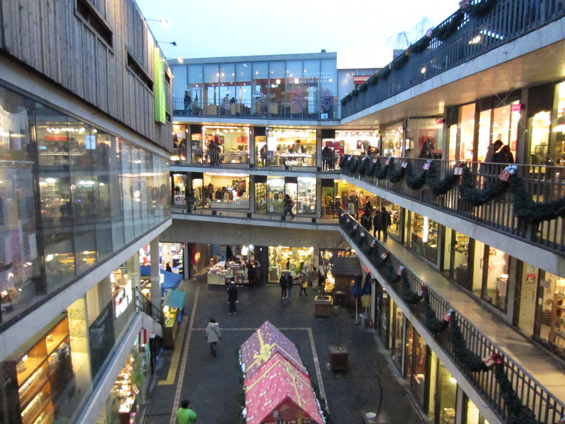 I headed out to the local Starbucks (I know, I know, but I needed to make sure I could connect to the internet) for coffee and breakfast. Pretty much everything had meat in it except an almond croissant! If it wasn't for Brent, I would likely have had a very difficult time finding enough variety of things to eat, at least at the more traditional Korean places.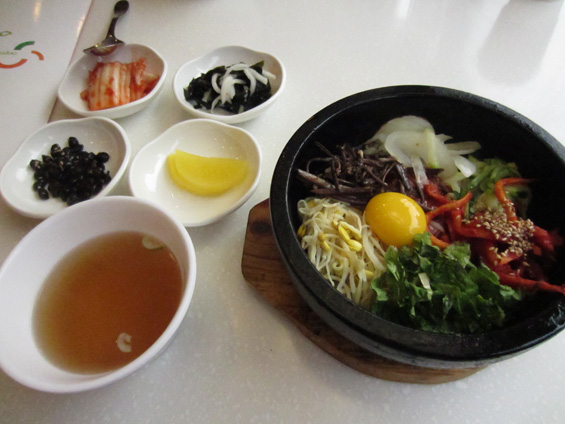 Brent was able to finish work early, and took me on a tour of the city. We saw a fabulous dance on the street that involved some very elaborate, traditional Korean clothing. Then it got even better when they combined some more modern dancing that involved breakdancing and backflips! They would occasionally pull members of the audience in to join them and participate. Seeing the juxtaposition of old and new in this unique "dance-off" was a really interesting introduction to the city for me, and not something I ever could have planned to witness. I was smiling ear to ear.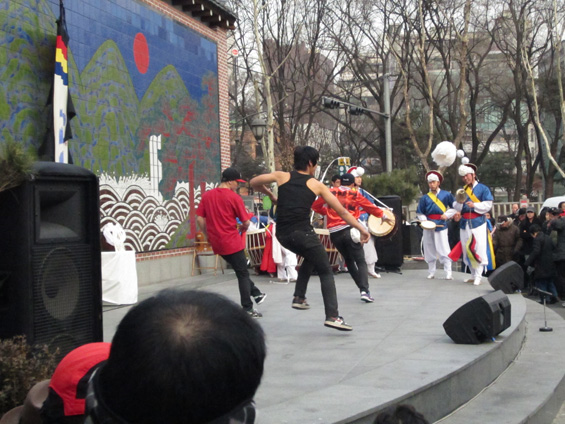 I admit I had no idea what to expect of Korea! I have been to Thailand and Hong Kong, and I figured Korea would be fairly similar to Hong Kong, but I was very wrong! It had a completely different vibe, and was much more "designy" than I anticipated. I expected sensory overload like Hong Kong, but in fact, the signage was impressive; the streets were wide, and there was a lot of really beautiful typesetting everywhere. I was surprised by the lack of English, although it was never a huge problem. You can usually make your way with gestures! (Brent knows Korean, so when I was with him, it was never an issue)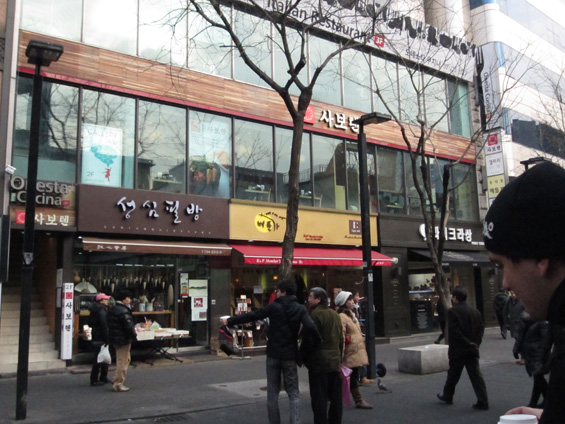 We had a fantastic lunch, and then went for tea. It was so nice to sit inside on cushions on a heated floor after walking around outside in the cold. The food is VERY affordable, especially compared to Vancouver!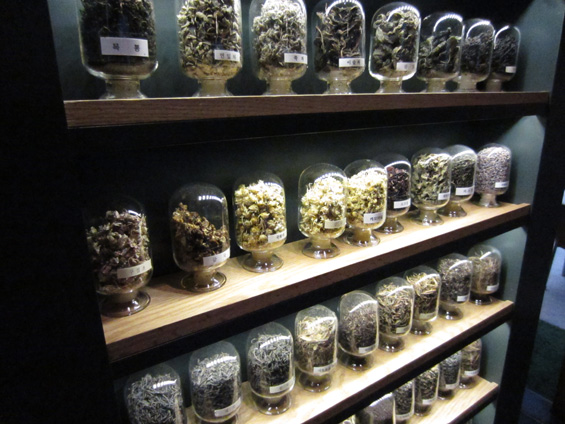 The next day I had to fend for myself on the subway, which turned out to be no problem. I headed to the National Gallery, which was surprisingly FREE. I spent most of the afternoon there, there was so much to see! Brent met up with me there and we then went to the Samsung Gallery of Modern Art, which was also fantastic! I highly recommend seeing both if you ever get to South Korea.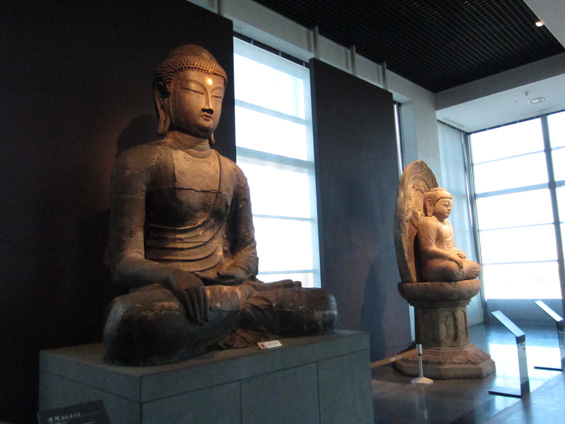 One of my favourite places that Brent took me to was Berlin restaurant. Amazing food, music and atmosphere. One thing that seemed pretty common in a lot of the restaurants was for them to bring free food samples. This time we got a blueberry cheesecake dessert – my favourite!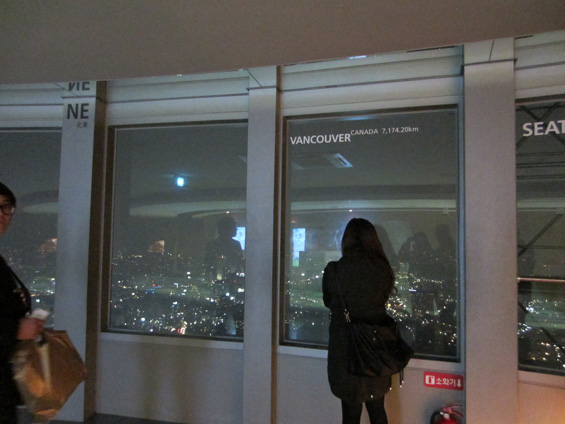 We also checked out the famous Namsam tower, a lookout point with a 360 degree view of the entire city. Along the top are fences made of "love padlocks", symbolizing everlasting love between sweethearts.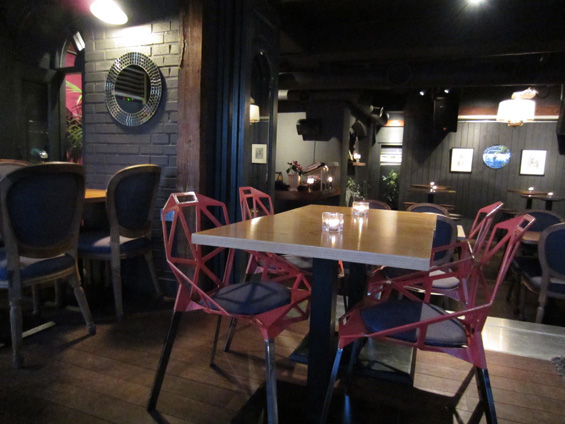 I managed to coordinate with another friend of mine who has been teaching for 2 years in Seoul, and the 3 of us met up for drinks at a VERY traditional Korean restaurant/bar. We ate kimchi, tofu and rice and drink Makoli, which is a kind of rice wine. It wasn't bad! Apparently most people don't like it when they try it for the first time. Couldn't believe I was sitting at a traditional Korean bar in Seoul with 2 Canadian friends. The best part of the night was when it came time for them to close and they needed to boot us out… the server came over wearing a Beavis and Butthead t-shirt, and showed us an iphone that had this message on it: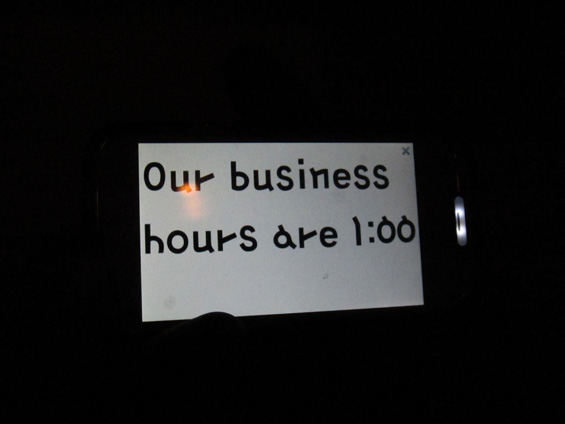 Before I know it, it's time to catch my flight to Denpasar, Bali!
Korea, it's been a blast. Maybe one day i'll be back again…?
Stay tuned for more updates…