Proposal Makeover #1: Brigitte Theriault, White Apron Chef
If you work in a service-based industry, you've likely had the distinct pleasure of putting together a proposal or two for your clients at some point or another.
And by pleasure I mean stress, yes?
I've written, designed, and received many, many proposals in the last decade or so. I've seen really well-designed but poorly written proposals, and I've seen really high value proposals put together in a simple Word or Google doc.
Your proposals are a powerful device to set expectations, and make a killer first impression.
Are you using them to their fullest potential?
Enter Proposal Makeover:
My good friend (and meal planner) Brigitte needed to put together a proposal for her new offering: coaching for personal chefs.  She shared her initial Google Doc with me, and my mind immediately went to the all the possibilities:
She's got amazing photography, why doesn't she leverage it?
What are next-steps if a client wants to "accept" this proposal?
How does the client pay for this service?
What are the intangible benefits of Coaching for personal chef? What value does this really provide?
Brigitte was focusing more on the specifics of what would be covered in the coaching calls, and less on the "results" her clients would experience through working with her.
I helped edit her copy to be more results-focused (saving them time, having a focused strategy, having all their questions answered, accountability, etc.)
Using a simple (and cheap) pre-made InDesign template from Creative Market, I customized it and pulled in her gorgeous photography, creating a beautiful branded document that sets the tone for what kind of quality interaction her clients can expect.
I added a call-to-action (linking to a Paypal Payment button) at the end of her proposal so the client knew exactly how to proceed. (Pro tip: Make it SO easy for them to pay you!)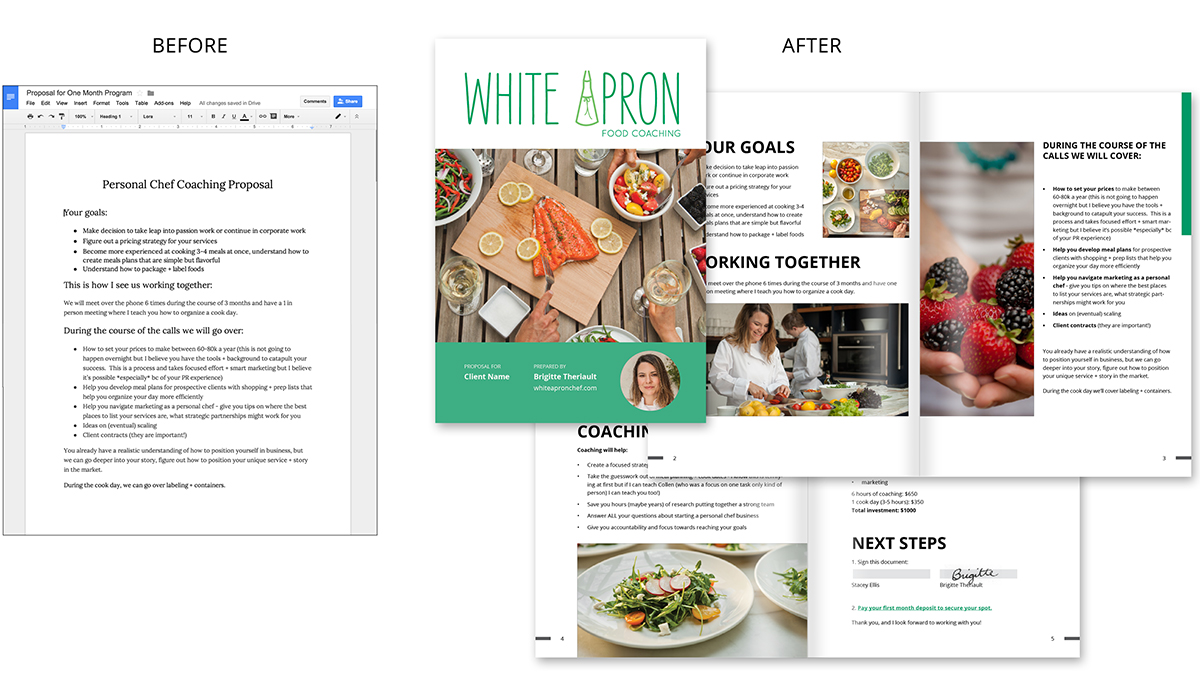 We took her boring, features-focused document, and turned it into a much more visually appealing, results-driven proposal that she can re-use over and over. It can grow and adjust over time as she adds new services, as the template we used contained a number of page layout options.
Designer or not, the proposal is the first chance (after your portfolio) the client has to see what you're capable of. I design my proposal just as I would design any other ebook or document. I create it with care, and a designer's eye. I want them to receive the proposal and be excited to dive in. Forget creating technical documents with 8pt type that feel like a contract full of fine print. I make sure it's easy and pleasant to read, beautifully typeset, and even use images or icons where necessary. I walk them through the possibility that is our collaboration.
Most importantly, you want to make sure that you are painting a picture of what their life and business looks like when they choose to work with you. What hesitations might they have that you want to address? What do they want/need to hear?
The key to a winning proposal:
Make your value to them clear.
Give your client a vision of what the future could look like. You'll demonstrate your thinking, and that you've really heard their concerns.
Focus on your client's results (and not on how awesome you are)
Don't get too detailed about your process (this can be overwhelming! They need to know what, not how)
Make the next steps clear.
Break large projects/services up into phases.
Consider using price tiers to offer multiple ways to work with you (if they can't afford the top tier, at least you have alternate ways to work with you).
See your proposal through your prospective client's eyes.
This of course assumes that you've had a pretty thorough conversation about their goals first-hand (I won't get into that in this post—that's a whole other can of worms!).
If you're not a designer, and still want a quality proposal template, considering using a Proposal Creation service like Nusii.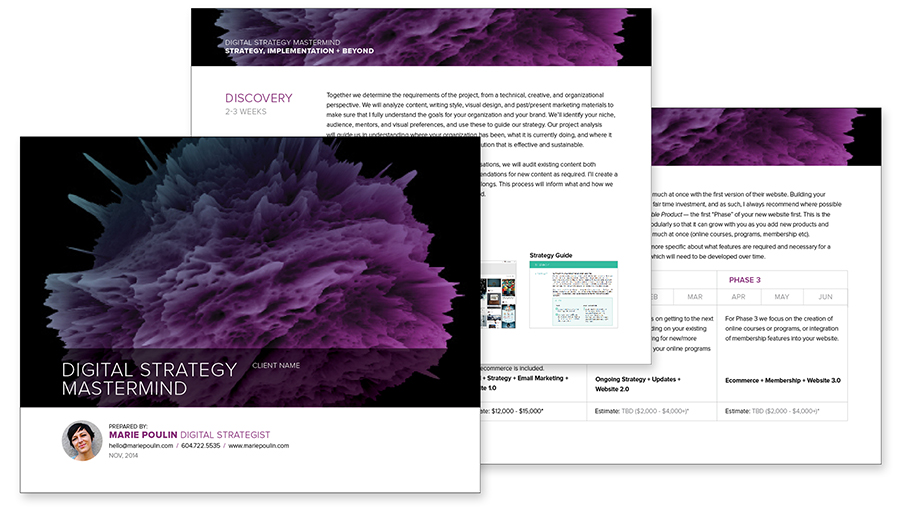 In Digital Strategy School, I cover Proposals extensively, helping designers (and developers) completely rethink their proposal process (among other things). I help them consistently land higher value projects with this new way of approaching their proposals. I also provide access to all of the actual proposal and retainers that I use in my business.
One designer earned more money in a deposit alone (using my template) than she ever had before on an entire project. Curious? Learn more.